What the Folk?: Folk Film Gathering 2015
"Is there a folk cinema?" Jamie Chambers, curator the Folk Film Gathering, the world's first festival of folk cinema, considers this question
Curated by Scottish arts collective Transgressive North, the inaugural Folk Film Gathering is set to take place in Edinburgh this May. With its idiosyncratic programme promising rare screenings of unheralded international gems, the festival will doubtless satisfy a broad range of tastes. At first glance, however, its lineup may seem disparate and lacking in cohesion. A gritty 1965 offering from Ken Loach is hardly an obvious choice to accompany Russian offering Celestial Wives of the Meadow Mari, Alexey Fedorchenko's ethereal exploration of femininity.
Even the event's press release casts doubt over the proceedings. "Is there a folk cinema?" it asks. Organiser Jamie Chambers certainly seems to think so, though welcomes dialogue with the curious punters his selections are likely to attract. The festival, he suggests, is as much about the films shown as the discussions they generate.
"I think it's very important for any notion of 'folk cinema' not to become 
some sort of bourgeois, museum-like thing," Chambers tells us, "and for it to retain a sense 
of dialogue around people-centred, working class, subaltern culture, 
whether that's just in content, form, or both."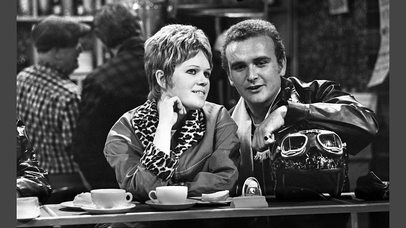 Up the Junction (Ken Loach, 1965)
When pressed for a definition of folk cinema, Chambers is wary of offering anything too prescriptive or simple. Instead, he diplomatically alludes to there being several possibilities as to what the concept may refer. "Our programme," he says "represents one of those possibilities, which is moments in world film history where the art film has engaged with folk culture as its subject matter."
As he acknowledges, this concept could be stretched to breaking point by the argument that even the most hack, mainstream Hollywood fare possesses a kind of folk credibility so long as they're speaking to, and being experienced and patronised by huge popular audiences. It's much easier to assess a movie's folk credentials by considering the circumstances surrounding its creation.
"Pretty much all of our films were made by mavericks who were either 
working outside the system, like the Amber Collective [Dream On, from 1991, screens, followed by a Q&A, on 3 May], part of whose 
core ethos is 'distrust institutions', or they were made by maverick 
filmmakers who have uneasy relations with institutions. Like the example of 
Ken Loach, who's obviously very much his own man. Despite making Up the Junction [2 May] for the BBC, Loach shot it entirely on 16mm film, a lot of it on location, in a kind-of handheld cinéma vérité style that was pretty much unheard of at the time, and 'rocked a lot of boats'!
"Then you have films like Play Me Something [1 May] and Celestial Wives... [6 May], which were made as art cinema productions, where the directors were awarded a considerable freedom and auteur status – so again, there's a certain amount of freedom from the machine there, even if they're still technically making films as part of the industry."
In theory, then, the Folk Film Gathering's goal is to exhibit work that brings the concerns and cultures of working people to the screen, with minimal interference between the source and the final product. But with working class culture being a dynamic, mercurial phenomena, Jamie considers whether capturing it for posterity might have a damaging effect.
---
"Pretty much all of our films were made by mavericks who were either 
working outside the system" – Jamie Chambers on the Folk Film Gathering programme
---
"Largely, notions of folk culture conjure a sense of oral tradition, such as storytelling, songs, spoken poetry etc. These forms are a lot more 'soft-edged', and permeable than the relatively 'hard-edged' form of cinema. From a purely aesthetic perspective, film does freeze culture and social impulse into a definitive form in a way that oral forms don't.
"Certainly film doesn't fit organically into what we think of as folk culture, with the same ease other mediums do. But, having said that, I think there are many very interesting ways in which film engages with a sense of orality." Timothy Neat's Play Me Something is cited as being particularly significant in this regard due to its narrative being reliant on oral storytelling.
"The fact that Play Me Something doesn't have a greater audience and hasn't been canonised in the same way other British cinema has... it's an all too familiar story of a really brilliant Scottish film falling through the cracks into relative obscurity," suggest Chambers. "A lot has been said in the Scottish press recently about the problems with filmmaking in Scotland, but I think equally there are some serious problems with the way Scottish films are valued, celebrated, canonised, and generally looked after following their immediate release."
If all goes to plan, the Folk Film Gathering will cause us to reassess important works of art that have so far been met with neglect, as well as notions of our own cultural identity and place within the world. "Is there a folk cinema?" It doesn't really matter.
---
More from The Skinny:
The Folk Film Gathering takes place at Filmhouse, Edinburgh, 1-7 May
For full programme details, go to www.folkfilmgathering.com