Get The May Issue of The Skinny!
Looking for a copy of our May 2022 magazine? Here's where to find one in Edinburgh, Glasgow and Dundee
Arriving in the Royal Lyceum this month, Red Ellen is a play inspired by the life of 20th-century workers' rights activist Ellen Wilkinson. We meet playwright Caroline Bird to learn more about what inspired her to delve into this historical character at this point in time. The parallels between the political battles Wilkinson was fighting in 1930s Britain and the present climate are impossible to ignore – workers' rights being eroded, debates around school children being fed, a corrupt government and widespread resistance to immigration all feel very 2022. There is also a desire to memorialise this impactful female leader, and prevent her struggles from being forgotten.
Inspired by this, we are marking May Day (or multiple May days because this magazine lasts all month) with a look at how the current climate – the 'cost of living crisis' and erosion of said rights – is impacting creative workers. In a context where bills are rising but wages are not, it becomes increasingly impossible for those without private wealth to survive in the cultural sector. It was already near impossible; now we are looking at the very real possibility of a mass exodus from the creative industries. And to be clear, a diverse cultural sector is essential – surely the pandemic proved its value in offering solace to the nation in times of crisis. As well as all its other demonstrable benefits. It shouldn't be a luxury for people to do jobs they like and are good at.
We speak to creative workers at different stages in their careers and it is clear they are all struggling. The exponential rise in bills is crippling people and forcing them to make hard decisions about how they work and where. It's been said many times, but cancelling a Netflix subscription will not fix this.
In Glasgow, a group of historians, artists, writers and teachers are working together to revive the Red Sunday School, a place for learning and community building from Glasgow's radical past. Non-religious, non-party-affiliated, the school creates a space for children to explore, learn and think about the world around them. They are teaching them about the city's history of protest and resistance, topics seldom covered within the formal curriculum, and finding the positive, the space for individual agency, to inspire a new generation to make things better.
Beyond the theme, we talk to Kathryn Joseph, appearing this month at the Great Eastern festival, about her pain-filled new album, for you who are the wronged, penned in lockdown and recorded in the Highlands. We talk to Stuart Murdoch and Chris Geddes of Belle and Sebastian about their latest album, A Bit of Previous, their first to be recorded in Glasgow since 2000.
This month's Spotlight falls on Edinburgh-based artist and musician Swiss Portrait, who's playing our stage at Kelburn Garden Party in July and has just released a new EP, Safe House. A group from Edinburgh-based anti-racism charity Intercultural Youth Scotland have been working away, putting together a new zine which unapologetically platforms the perspectives of their young members. Called No Permission Needed, its first issue launches this month and they've kindly allowed us to share some of the proofs. We continue to celebrate independent publishing as Books meets Glasgow-based BHP Comics' Sha Nazir to learn about their new Bold Collection which creates stories that aren't being published elsewhere.
Comedy meets Flo & Joan aka sisters Rosie and Nicola Dempsey to hear about their upcoming UK tour, Sweet Release, a feel-good show that isn't purposefully feel good. Clubs meets DJ Haram and Moor Mother, back after a four-year hiatus to revive their collaborative project 700 Bliss with a debut album, Nothing to Declare.
In Art, we welcome new section editor Harvey Dimond. Their first feature is an interview with curator Saoirse Amira Anis, whose exhibition Mis(sing) Information is on display at Perth Museum & Art Gallery until June. The show platforms Black artists and poses urgent questions around the decolonisation of museums, reparations and repatriation.
In big The Skinny news, we are branching out to launch a new monthly Film Club at Summerhall. The first event is on 18 May, and features a retrospective of the work of Glasgow-based filmmaker James Price – dubbed 'The Springburn Scorsese' on these very pages – alongside a screening of the Safdie Brothers' Good Time. You'll find a discussion of Price's work on p27.
We close the magazine with The Skinny On... Kathleen Hanna, who shares many inspiring and enlightening words alongside the news that she could probably batter Danny DeVito.
Get your copy of The Skinny May 2022 from one of the places listed below...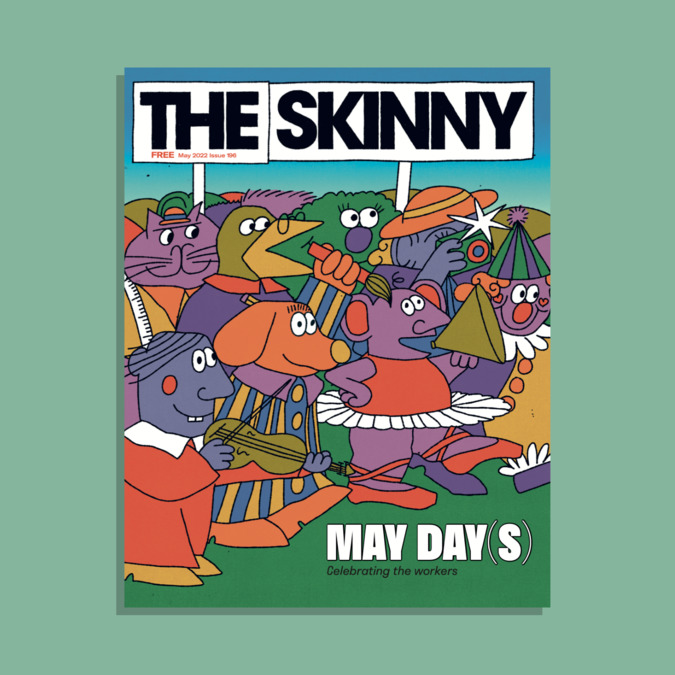 These are our regular distribution locations; copies make their way around Edinburgh, Glasgow and Dundee in the first week of the month, but if you can't find a copy at a location on the list, drop us a line on Twitter or Instagram
Get The Skinny in Glasgow
Sainsburys Buchanan Galleries, Buchanan St, G1 2GF
Sainsburys Partick, Crow Rd, G11 7RY
Morrisons Crossmyloof, Titwood Rd, G41 4DA
Morrisons Crow Road, 900 Crow Rd, Anniesland, Glasgow G13 1HY
Morrisons Paisley Road West, 1760 Paisley Rd W, Cardonald, Glasgow G52 2BW
Tesco Rutherglen, Dalmarnock Rd, G73 1NY
Tesco Maryhill, Maryhill Rd, G20 9SH
Asda Govan, Helen St, G51 3HR
Asda Forge, 1300 Duke St, Parkhead, Glasgow G31 4EB
Asda Clydebank, 31 Britannia Way, Clydebank G81 2RZ
Sainsburys Drumchapel, Allerdyce Rd, G15 6RX
Sainsburys Braehead, Kings Inch Dr, G51 4BT
Tesco Burnside, Stonelaw Rd, G73 3RJ
Morrisons Newlands, Riverford Rd, G43 1PU
Tesco Silverburn, Barrhead Rd, G53 6AG
Tesco Barrhead, Kelburn St, Barrhead, Glasgow G78 1LS
Tesco St Enoch, 205 St Enoch Square, Glasgow G1 4BW
Tesco Byres Road, 300-304 Byres Rd, Glasgow G12 9BG
Co-op, 123 Sauchiehall St, Glasgow G2 3DD
Co-op, 132 Union St, Glasgow G1 3QQ
St Lukes, 17 Bain St
Barras Art And Design, 54 Calton Entry
George St Apartments, 155 George St
The Hug & Pint, 171 Great Western Rd
Inn Deep, 445 Great Western Rd
Coopers, 499 Great Western Rd
Oran Mor, 731 Byres Rd
Hillhead Bookclub, 17 Vinicombe St
Hillhead Library, 348 Byres Rd
Oxfam Books, 330 Byres Rd
Tennents Bar, 191 Byres Rd
Mixed Up Records, 16-18 Otago Lane
The Alchemy Experiment, 157 Byers Rd
Oxfam Music, 171 Byres Rd
Bag And Nail (ex Partick Tavern), 165 Dumbarton Rd
Colab Store, 11 Dowanhill St
Maxs Bar, 73 Queen St
Tinderbox, 24 Charing Cross Mansions
Nice N Sleazy, 421 Sauchiehall St
CCA, 350 Sauchiehall St
GFT, 12 Rose St
The Project Café, 134 Renfrew St, 2-1a Fleming House
SAE Institute, 85-87 Portman St
Some Great Reward, 520 Victoria Rd
Tramway, 25 Albert Drive
The Rum Shack, 657-659 Pollockshaws Rd
Langside Library, 2 Sinclair Drive
The Glad Café, 1006a Pollokshaws Rd
Cafe Strange Brew, 1109 Pollokshaws Rd
It All Started Here, 75 Deanston Drive
Dr Martens Store, 50 Sauchiehall St
Vans Store, 185 Buchanan St
Fopp Records, 19 Union St
Solid Rock Café, 19 Hope St
Stereo, 20-28 Renfield Lane
Old Hairdressers, 20-28 Renfield Lane
Rufus T Firefly, 207 Hope St
Bar Bloc, 117 Bath St
Butterfly & Pig, 153 Bath St
Slouch, 203-205 Bath St
Guitar Guitar, 36 Trongate
Record Fayre, 13 Chisholm St
Mono, 12 Kings Court, 103 King St
13th Note, 50 King St
103 Trongate, 103 Trongate
Merchant City Music, 60 London Rd
Get The Skinny in Edinburgh
Scotmid Tollcross, Leven St, EH3 9LH
Sainsbury's Murrayfield, Westfield Rd/ Gorgie Rd, EH11 2QW
Tesco Leith, Duke St/ Foot of the Walk, EH6 8HL
Tesco Canonmills, Broughton Rd, EH7 4EW
Asda Brunstane, The Jewel, EH15 3AR
Sainsbury's Meadowbank, Moray Park Ter, EH7 5TS
Tesco Corstorphine, Meadow Pl Rd, EH12 7UQ
Sainsburys Craigleith, Craigleith Rd, EH4 2EB
Tesco Newington, Nicholson St, EH8 9EW
Tesco Hermiston Gait, Cultins Rd, EH11 4DG
Real Foods, 37 Broughton St
Treacle, 39 Broughton St
Villeneuve Wines, 49 Broughton St
Artisan Roast, 57 Broughton St
Banana Row, 47 Eyre Place, Canonmills
Coffee Angel, 24-27 Brandon Terrace
The Blackbird, 37-39 Leven St
Oddbins Bruntsfield, 176 Bruntsfield Place
Bross Bagels, 165a Bruntsfield Place
Project Coffee, 196 Bruntsfield Place
Edinburgh Bookshop, 219 Bruntsfield Place
Cairngorm Coffee, 41a Frederick St
Fopp Records, 7-15 Rose St
Dr Martens Store, 76 Princes St
The Black Bull, 43 Leith St, Leith Walk
Avalanche Gapinski, Waverley Mall
Underground Solushn, 9 Cockburn St
St Christophers Inn And Belushis, 9-13 Market St
The Fruitmarket Gallery, 45 Market St
Shout - Scottish Music Experience, Waverley Mall
Holyfood (ex Let Me Eat), 63 Holyrood Rd
Edinburgh Art College 2, Evolution House, West Port
The Spaces @ Surgeons Hall, Nicolson St
Pleasance Courtyard, 60 The Pleasance
French Institute, West Parliament Square
Paradise Palms (ex Bristo Bar), 41 Lothian St
Mums, 4a Forrest Rd, George IV Bridge
Let Me Eat Too, 7 Cowgatehead
Hula, 103 West Bow
Swish, 22 Victoria St, Grassmarket
Royal Infirmary Of Edinburgh, 51 Little France Crescent
Roseleaf, 23/24 Sandport Place
The Biscuit Factory, 4 Anderson Place
Leith School Of Art, 25 North Junction St
The Lioness Of Leith, 21-25 Duke St
The Drill Hall, 36 Dalmeny St
Art & Vintage, 3 Lyne St
Arts Complex, 151 London Rd, St. Margarets House
The Filmhouse, 88 Lothian Rd
Innis & Gunn ( Ex Beer Kitchen), 81-83 Lothian Rd
Assai Records, 1 Grindlay St
Hamiltons Bar & Kitchen, 16-18 Hamilton Place
The Baillie, 2 St Stephen St
Voxbox Music, 21 St Stephen St
Oxfam Music, 64 Raeburn Place, Stockbridge
Artisan Roast, 100a Raeburn Place
Dovecot Studios, 10 Infirmary St
Café Nero, 53-59 South Bridge, In Blackwells Bookstore
Blackwells, 53-63 South Bridge
Talbot Rice, South Bridge
Brass Monkey, 14 Drummond St, Nicolson St
Black Medicine, 2 Nicolson St
Nicolsons, 6a Nicolson St
Breakfast Brunch & Lunch, 65 Pleasance
Coffee Angel, 95-97 Nicolson St
Kilimanjaro Coffee, 104 Nicolson St
Scayles, 50 St Patrick Square, Newington
Vino, 1 Grange Loan
Beetroot Sauvage, 33 Ratcliffe Terrace
Amarello Coffee Bar, 102 Causewayside
Arts & Craft Collective, 83 Causewayside
Summerhall, 1 Summerhall
Cult Espresso, 104 Buccleuch St
Green Meadows, 137 Buccleugh St
Press, 30 Buccleuch St
56 North, 2 West Crosscauseway, Nicolson St
Edinburgh Uni Students Union, Teviot Row House
Focus, 270 Canongate
Scottish Story Telling Centre, 43-45 High St
Inn On The Mile, 1-3 South Bridge, Royal Mile
Whale Learning Centre, 30 Westburn Grove
Edinburgh Art Shop, 129 Lauriston Place
Edinburgh Printmakers, Castle Mills, Gilmore Park
Sir Arthur Conan Doyle Centre, 25 Palmerston Place
Indigo Yard, 7 Charlotte Lane
Bross Bagels, 19 Queensferry St
Voyage Of Buck (ex Berts Bar), 29 William St
Frontiers Man, 18 Stafford St
Cairngorm Coffee, 1 Melville St
Get The Skinny in Dundee
Tesco Extra, Riverside Dr, Dundee, DD2 1UG
Tesco Extra, South Rd, Dundee, DD2 4SR
Asda, Milton of Craigie Rd, Dundee, DD4 7RX
Sainsburys, Tom Johnston Rd, DD4 8XD
HMV, 71/77 Murraygate
Caffe Nero, 44 Murraygate
Archive, 36-40 Seagate
Manifesto, 78 Commercial St
Costa Coffee (Waterstones), 35 Commercial St
Kenny's Music, 29-31 Castle St
Hard Grind Coffee & Barber, 19b Exchange St
71 Brewing, 40 Bellfield St
Wasps, West Hendersons Wynd, Meadow Mill
Lochee Llibrary & Sports Centre, 47-49 High St
Verdant Works, West Henderson's Wynd
The Hub Apartments, Hawkhill
Dukes Corner, 13 Brown St
Spex Pistols, 4 Johnstons Lane
Gallery 48, 48 Westport
The Beer Kitchen, 10 South Tay St
Le Freak, 159 Perth Rd
Benjamin Barker, 212a Perth Rd
Cooper Gallery, 13 Perth Rd
Dundee Contemporary Arts Centre, 152 Nethergate
Tonic, 141-141b Nethergate
The Nether Inn, 132/134 Nethergate
Thirteen Records, 13 Union St
Assai Records, 33 Union St
Bird & Bear, 2 Whitehall Crescent
Stage 2000, Taybridge Station, Riverside Drive 
Subscribe to The Skinny 
Our revamped subscription service brings The Skinny direct to your door. An annual subscription is £55; you get twelve issues sent anywhere in the UK, plus a pair of exclusive risograph prints, and a digital compilation of some of our favourite Scottish bands. Get the full details and sign up over at theskinny.co.uk/subscribe