Get The October Issue of The Skinny!
Looking for a copy of our October 2021 magazine? Here's where to find one in Edinburgh, Glasgow and Dundee
After a year-and-a-half of spending our lives staring into our various screens, October's magazine is a celebration of... screens. Wait, no, come back!
This month we're looking at the state of film and TV in Scotland, and at the creativity in the country's screen scenes. We take a dive into the documentary film pool, chat to Neil Forsyth ahead of another series of BBC Scotland drama Guilt, and catch up with some recent ECA animation graduates to get their sense of the present situation. We also look ahead to three of our favourite Scottish film festivals – Africa in Motion, Scotland Loves Anime, and Scottish Queer Animation Film Festival – and investigate the world of artists' moving image in the latest piece from our Alchemy/LUX Scotland writing programme.
Away from the screens, Music has chats with Self Esteem, Parquet Courts, Sink Ya Teeth and Lomond Campbell (accompanied by his new LŪP machine); Books talks to Harry Josephine Giles ahead of her Orkney sci-fi novel Deep Wheel Orcadia; Theatre chats to Kieran Hurley and Finn den Hertog about their new Ibsen adaptation which tells the tale of a public health crisis... that's mismanaged... by the authorities. Wait, come back again! 
The October issue of The Skinny is out from this week; it's free, grab one from a venue listed below, and treat yourself to some time away from your phone/laptop/Minority Report-style wraparound display.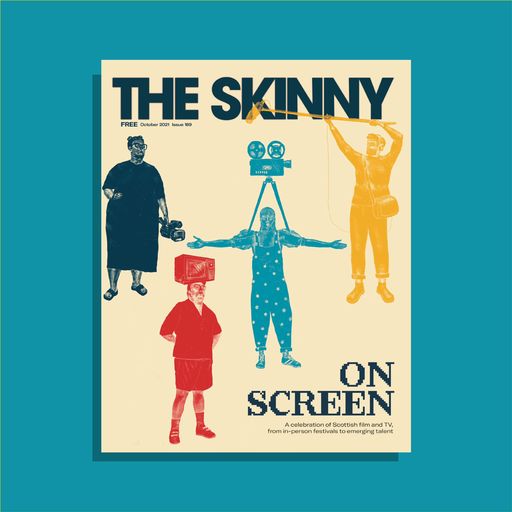 These are our regular distribution locations; copies make their way around Edinburgh, Glasgow and Dundee in the first week of the month, but if you can't find a copy at a location on the list, drop us a line on Twitter or Instagram
Get your copy in Glasgow
Sainsburys Buchanan Galleries, Buchanan St, G1 2GF
Sainsburys Partick, Crow Rd, G11 7RY
Morrisons Crossmyloof, Titwood Rd, G41 4DA
Tesco Rutherglen, Dalmarnock Rd, G73 1NY
Tesco Maryhill, Maryhill Rd, G20 9SH
Asda Govan, Helen St, G51 3HR
Sainsburys Drumchapel, Allerdyce Rd, G15 6RX
Sainsburys Braehead, Kings Inch Dr, G51 4BT
Tesco Burnside, Stonelaw Rd, G73 3RJ
Morrisons Newlands, Riverford Rd, G43 1PU
Tesco Silverburn, Barrhead Rd, G53 6AG
St Lukes, 17 Bain St
Barras Art And Design, 54 Calton Entry
George St Apartments, 155 George St
The Hug & Pint, 171 Great Western Rd
Inn Deep, 445 Great Western Rd
Coopers, 499 Great Western Rd
Oran Mor, 731 Byres Rd
Hillhead Bookclub, 17 Vinicombe St
Hillhead Library, 348 Byres Rd
Oxfam Books, 330 Byres Rd
Ubiquitous Chip, 8-12 Ashton Lane
Tennents Bar, 191 Byres Rd
Mixed Up Records, 16-18 Otago Lane
The Alchemy Experiment, 157 Byers Rd
Oxfam Music, 171 Byres Rd
Bag And Nail (ex Partick Tavern), 165 Dumbarton Rd
Colab Store, 11 Dowanhill St
HMV, 83 Argyle St
Maxs Bar, 73 Queen St
Tinderbox, 24 Charing Cross Mansions
Nice N Sleazy, 421 Sauchiehall St
CCA, 350 Sauchiehall St
GFT, 12 Rose St
The Project Café, 134 Renfrew St, 2-1a Fleming House
The Flying Duck, 142 Renfield St
SAE Institute, 85-87 Portman St
Some Great Reward, 520 Victoria Rd
Tramway, 25 Albert Drive
The Rum Shack, 657-659 Pollockshaws Rd
Langside Library, 2 Sinclair Drive
The Glad Café, 1006a Pollokshaws Rd
Cafe Strange Brew, 1109 Pollokshaws Rd
It All Started Here, 75 Deanston Drive
Dr Martens Store, 50 Sauchiehall St
Vans Store, 185 Buchanan St
Fopp Records, 19 Union St
Solid Rock Café, 19 Hope St
Stereo, 20-28 Renfield Lane
Old Hairdressers, 20-28 Renfield Lane
Rufus T Firefly, 207 Hope St
Bar Bloc, 117 Bath St
Butterfly & Pig, 153 Bath St
Slouch, 203-205 Bath St
Guitar Guitar, 36 Trongate
Record Fayre, 13 Chisholm St
Mono, 12 Kings Court, 103 King St
13th Note, 50 King St
103 Trongate, 103 Trongate
Merchant City Music, 60 London Rd
Iolla, 1313 Argyle St
Strip Joint, 956 Argyle St
Get your copy in Edinburgh
Scotmid Tollcross, Leven St, EH3 9LH
Sainsbury's Murrayfield, Westfield Rd/ Gorgie Rd, EH11 2QW
Tesco Leith, Duke St/ Foot of the Walk, EH6 8HL
Tesco Canonmills, Broughton Rd, EH7 4EW
Sainsbury's Meadowbank, Moray Park Ter, EH7 5TS
Morrisons Gyle Centre, Gyle Ave, EH12 9JU
Tesco Corstorphine, Meadow Pl Rd, EH12 7UQ
Sainsburys Craigleith, Craigleith Rd, EH4 2EB
Asda Chesser, New Market Rd, EH14 1RJ
Tesco Newington, Nicholson St, EH8 9EW
Tesco Hermiston Gait, Cultins Rd, EH11 4DG
Sainsburys Loanhead, Straiton Mains, EH20 9PW
Sainsburys Longstone, Inglis Green Rd, EH14 2ER
The Basement Bar, 10 Broughton St
Real Foods, 37 Broughton St
Treacle, 39 Broughton St
Villeneuve Wines, 49 Broughton St
Artisan Roast, 57 Broughton St
The New Town Deli, 42 Broughton St
Banana Row, 47 Eyre Place, Canonmills
Coffee Angel, 24-27 Brandon Terrace
The Blackbird, 37-39 Leven St
Oddbins Bruntsfield, 176 Bruntsfield Place
Bross Bagels, 165a Bruntsfield Place
Project Coffee, 196 Bruntsfield Place
Edinburgh Bookshop, 219 Bruntsfield Place
The Queens Arms, 49 Frederick St
Cairngorm Coffee, 41a Frederick St
Fopp Records, 7-15 Rose St
Dr Martens Store, 76 Princes St
The Black Bull, 43 Leith St, Leith Walk
Avalanche Gapinski, Waverley Mall
Underground Solushn, 9 Cockburn St
St Christophers Inn And Belushis, 9-13 Market St
The Fruitmarket Gallery, 45 Market St
Shout - Scottish Music Experience, Waverley Mall
The Melting Pot, 15 Calton Rd
Holyfood (ex Let Me Eat), 63 Holyrood Rd
Edinburgh Art College 2, Evolution House, West Port
The Spaces @ Surgeons Hall, Nicolson St
Pleasance Courtyard, 60 The Pleasance
Castle Rock Hostel, 15 Johnston Terrace, Royal Mile
French Institute, West Parliament Square
Paradise Palms (ex Bristo Bar), 41 Lothian St
Mums, 4a Forrest Rd, George IV Bridge
Let Me Eat Too, 7 Cowgatehead
Hula, 103 West Bow
Swish, 22 Victoria St, Grassmarket
Royal Infirmary Of Edinburgh, 51 Little France Crescent
Edinburgh Sculpture Workshop, 25 Hawthornvale
Roseleaf, 23/24 Sandport Place
Sketchy Beats, 208 Great Juncton St
The Biscuit Factory, 4 Anderson Place
Leith School Of Art, 25 North Junction St
The Lioness Of Leith, 21-25 Duke St
The Drill Hall, 36 Dalmeny St
Art & Vintage, 3 Lyne St
Arts Complex, 151 London Rd, St. Margarets House
The Filmhouse, 88 Lothian Rd
Innis & Gunn ( Ex Beer Kitchen), 81-83 Lothian Rd
The Chanter, 3032 Bread St, Tollcross
Assai Records, 1 Grindlay St
The New Town Deli, 23 Henderson Row
Hamiltons Bar & Kitchen, 16-18 Hamilton Place
The Baillie, 2 St Stephen St
Voxbox Music, 21 St Stephen St
Oxfam Music, 64 Raeburn Place, Stockbridge
Artisan Roast, 100a Raeburn Place
Biblos, 1a Chambers St, George IV Bridge
Dovecot Studios, 10 Infirmary St
Café Nero, 53-59 South Bridge, In Blackwells Bookstore
Blackwells, 53-63 South Bridge
Talbot Rice, South Bridge
Brass Monkey, 14 Drummond St, Nicolson St
Black Medicine, 2 Nicolson St
Nicolsons, 6a Nicolson St
Breakfast Brunch & Lunch, 65 Pleasance
Coffee Angel, 95-97 Nicolson St
Kilimanjaro Coffee, 104 Nicolson St
Scayles, 50 St Patrick Square, Newington
Vino, 1 Grange Loan
Beetroot Sauvage, 33 Ratcliffe Terrace
No 1 The Grange, 1 Grange Rd
Amarello Coffee Bar, 102 Causewayside
Arts & Craft Collective, 83 Causewayside
Summerhall, 1 Summerhall
Cult Espresso, 104 Buccleuch St
Green Meadows, 137 Buccleugh St
Press, 30 Buccleuch St
56 North, 2 West Crosscauseway, Nicolson St
Edinburgh Uni Students Union, Teviot Row House
The Kilderkin, 67 Canongate
Focus, 270 Canongate
Scottish Story Telling Centre, 43-45 High St
Inn On The Mile, 1-3 South Bridge, Royal Mile
Whale Learning Centre, 30 Westburn Grove
Edinburgh Art Shop, 129 Lauriston Place
Edinburgh Printmakers, Castle Mills, Gilmore Park
Sir Arthur Conan Doyle Centre, 25 Palmerston Place
Indigo Yard, 7 Charlotte Lane
Bross Bagels, 19 Queensferry St
Voyage Of Buck (ex Berts Bar), 29 William St
Frontiers Man, 18 Stafford St
Cairngorm Coffee, 1 Melville St
Get your copy in Dundee
Tesco Extra, Riverside Dr, Dundee, DD2 1UG
Tesco Extra, South Rd, Dundee, DD2 4SR
Asda, Milton of Craigie Rd, Dundee, DD4 7RX
Sainsburys, Tom Johnston Rd, DD4 8XD
HMV, 71/77 Murraygate
Caffe Nero, 44 Murraygate
Archive, 36-40 Seagate
Manifesto, 78 Commercial St
Costa Coffee (Waterstones), 35 Commercial St
Kenny's Music, 29-31 Castle St
Hard Grind Coffee & Barber, 19b Exchange St
71 Brewing, 40 Bellfield St
Wasps, West Hendersons Wynd, Meadow Mill
Lochee Llibrary & Sports Centre, 47-49 High St
Verdant Works, West Henderson's Wynd
The Hub Apartments, Hawkhill
Dukes Corner, 13 Brown St
Spex Pistols, 4 Johnstons Lane
Gallery 48, 48 Westport
The Beer Kitchen, 10 South Tay St
Le Freak, 159 Perth Rd
Benjamin Barker, 212a Perth Rd
Cooper Gallery, 13 Perth Rd
Dundee Contemporary Arts Centre, 152 Nethergate
Tonic, 141-141b Nethergate
The Nether Inn, 132/134 Nethergate
Thirteen Records, 13 Union St
Assai Records, 33 Union St
Bird & Bear, 2 Whitehall Crescent
Stage 2000, Taybridge Station, Riverside Drive
Subscribe to The Skinny
Our revamped subscription service brings The Skinny direct to your door. An annual subscription is £55; you get twelve issues sent anywhere in the UK, plus a pair of exclusive risograph prints, and a digital compilation of some of our favourite Scottish bands. Get the full details and sign up over at theskinny.co.uk/subscribe