Subscribe to The Skinny Magazine
Subscribe to The Skinny!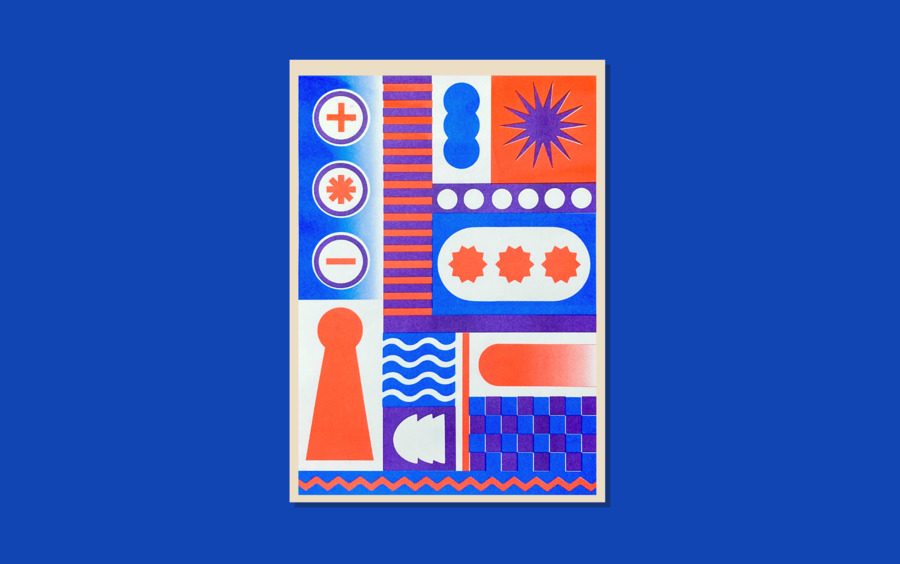 A one-year subscription to The Skinny includes:
– 12 monthly issues of The Skinny magazine, delivered direct to your door anywhere in the UK
– An exclusive risograph print, created just for us by Chloe Grieve (pictured above)
– A digital copy of our 14-track Pyramid compilation of new Scottish music
– Print copies of any other publications we make in the course of your year's subscription, like our City Guides
Subscribe for just £55 for the year using the PayPal button below
---
Student Subscription: 3 Months for £10
Students! Get three issues of The Skinny sent direct to your door, plus our Pyramid compilation, for just £10!
Subscribe for £10 via Paypal
---
Subscription FAQs
Is The Skinny still free?
YES. The Skinny magazine is still free to all, and available at shops and venues across Scotland. This subscription is aimed at those who like the convenience of having the magazine delivered to them, want to make sure they get their copy every month, and are keen on the extras (the exclusive riso prints, the album) that come with a subscription.
When will I receive my magazines/ prints/ downloads?
We publish the magazine in the first week of each month, and your first copy will be delivered at the start of the month following the opening of your subscription – so if you subscribe at any point in January, the February issue will be your first; if you subscribe in mid-February, your first issue comes in March, and so on.
We aim to get subscriber copies to readers within the first week of the month, pending any unforeseen delays in delivery.
Your prints will be sent along with your first issue; digital download codes will be sent to the email address attached to the PayPal account you used to subscribe.
I have moved house; how do I change my address?
Contact dalila@theskinny.co.uk with any address changes and we'll update our records.
I am based outside the UK; can I subscribe to The Skinny?
Not just now; the postage costs alone would take up the entirety of your subscription fees. Sorry!
---
Back Issues
If you'd like a specific single copy/ back issue of The Skinny, please get in touch with us at dalila@theskinny.co.uk
For a digital copy of The Skinny via Issuu, visit issuu.com/theskinny
---
SUBSCRIPTION TERMS AND CONDITIONS
By subscribing to The Skinny, you agree to be bound by the below terms and conditions.
Payment terms
By purchasing a subscription to The Skinny magazine, you agree to an initial pre-payment for one full subscription cycle. After this and annually or quarterly thereafter, you will be billed a recurring subscription renewal fee at the then-current rate.
Termination of subscriptions
You may cancel your subscription at any time by logging into Paypal and selecting to cancel your subscription with The Skinny/Radge Media Limited.
Should you experience any difficulty in this, you should email accounts@theskinny.co.uk stating your name and requesting the cancellation of your subscription.
*If you wish to terminate your subscription in the middle of a subscription cycle, you should contact accounts@theskinny.co.uk directly to explain this and a refund for the remaining duration of the cycle will be issued accordingly.*
Restrictions on use
Copyright for the prints provided with The Skinny Annual Subscription reside with the artist. No further reproduction or distribution is permitted.
Availability and Delivery
Deliveries are made to the address provided during signup, unless written notification to change this delivery address is provided by you. Radge Media cannot accept responsibility for deliveries that do not reach the customer due to an incorrect delivery address being provided.
Severability
If any of these terms and Conditions or any provisions of a Contract are determined by any competent authority to be invalid, unlawful or unenforceable to any extent, such term, condition or provision will to that extent be severed from the remaining terms, conditions and provisions which will continue to be valid to the fullest extent permitted by law.
Our right to vary these terms and conditions
We have the right to revise and amend these terms and conditions from time to time to reflect changes in market conditions affecting our business, changes in technology, changes in payment methods, changes in relevant laws and regulatory requirements and changes in our system's capabilities.
Law and Jurisdiction
Contracts for the purchase of Products through our site and any dispute or claim arising out of or in connection with them or their subject matter or formation (including non-contractual disputes or claims) will be governed by Scots law. Any dispute or claim arising out of or in connection with such Contracts or their formation (including non-contractual disputes or claims) will be subject to the non-exclusive jurisdiction of the courts of Scotland.