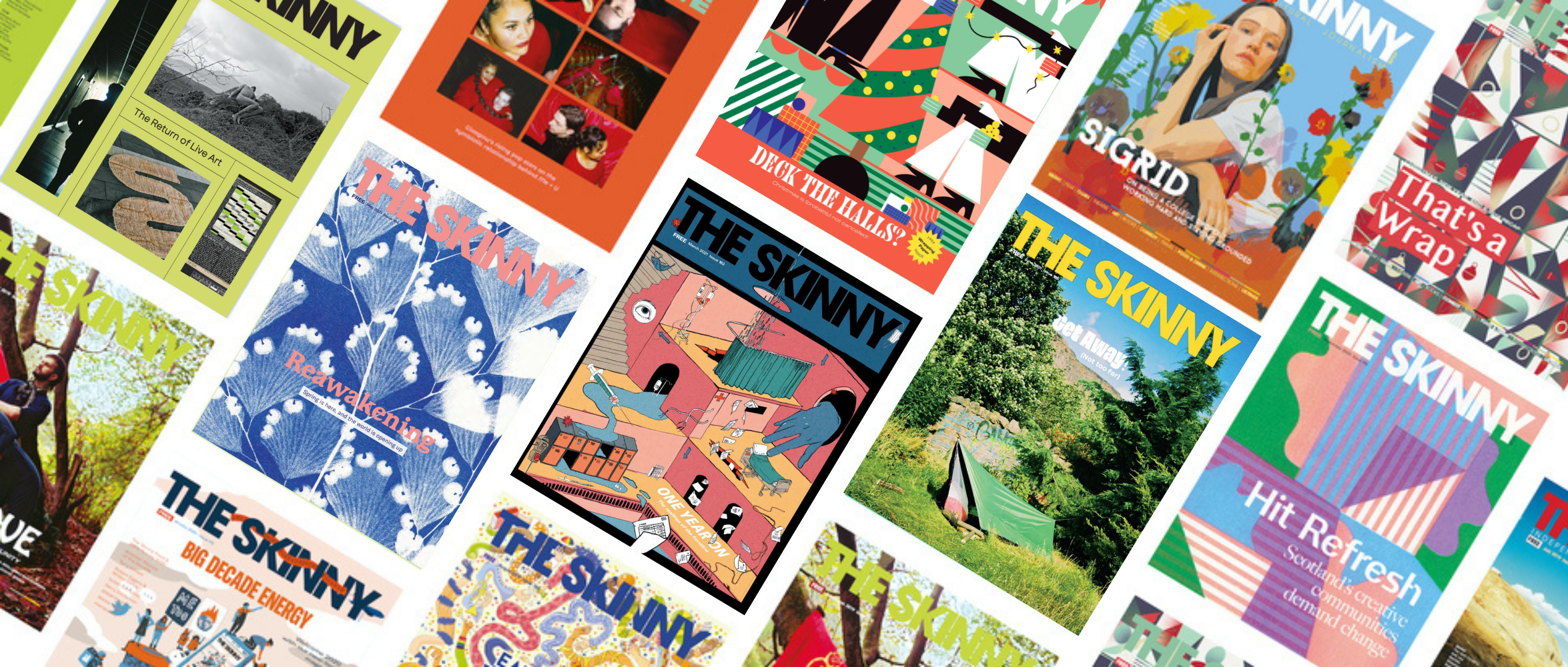 Who is The Skinny?
Our readers rely on us to be honest, engaging and curious. We offer informed, entertaining coverage of all things cultural, constantly seeking out new developments before the crowds catch on.
All The Skinny platforms are trusted sources of independent cultural journalism, provided by a passionate community of writers, photographers, illustrators and artists.
The Skinny's vision is to encourage all our readers, in print and digitally, to participate in the scenes around them – our audience always wants to discover.
Starting from a group of ten volunteers with a passion to promote their local scenes The Skinny has grown to take in six key cities, providing coverage relevant for worldwide audiences, while retaining our independent and open minded nature.
The Story
Oct 2005: The Skinny launches
A group of volunteers come together to create a free print magazine covering the things they're interested in across Edinburgh and Glasgow. This provides a platform to promote events and artists from near and far.
Oct 2006: Circulation reaches 25,000 copies per month
The company takes on three full time staff.
2007: Distribution begins in Dundee
This joins the original cities of Edinburgh and Glasgow.
2008: Officially announced as Scotland's largest entertainment and listings magazine
ABC verified at 30,000 copies, the magazine is available in a hand-picked selection of over 600 venues across the three cities.
2009: Re-launch of theskinny.co.uk
2010: 100,000 unique users read The Skinny content online each month
The print magazine undergoes a major redesign.
2011/12: Further design update to theskinny.co.uk and launch of our own mobile site
April 2013: The Skinny Northwest launches
We expand The Skinny brand to Manchester and Liverpool, launching the Northwest edition with 18,000 copies in April.
Jan 2014: The Skinny celebrates 100 editions in Scotland
Check out footage from the party via this amazing video by Ross Fraser McLean.
July 2014: Investment raised to develop our digital services.
2015: Celebrating 10 years of Independent Cultural Journalism in Scotland
Now employing 16 full and 6 part time staff, with a team of 20 section editors and with up to 350 contributors at any one time. Print copies in the Northwest have risen to 28,000 copies per month, and 35,000 in Scotland, with a total of 63,000 magazines across six key cities. theskinny.co.uk is being regularly updated to provide a more engaging, enjoyable and user friendly experience - watch this space!
What do other people say about us?
"The Skinny represents the true independent dream. A group of mates starting something for love, not money in a flat."
- James Heather, Head of Communications, Ninja Tune
"There aren't enough people like The Skinny out there. What they bring is much needed."
- Rich Walker, General Manager, 4AD
"The Skinny produce excellent content on what's happening in the local region with insightful and well written features, previews and reviews. It's always a pleasure working with the editorial team."
- Ken Li, UK Press Officer, Thrill Jockey
"In a cluttered space where ABCs are dwindling, it's great to see an independent publication like The Skinny achieve so much success and cut through. It's testament to the hard work, determination and vision of the team."

- Jackie Antas, Marketing Partnerships Manager, Academy Music Group
Do you want to get involved with The Skinny? Check out what positions we have available on our Jobs Page.
If you want to get in touch with someone in the team go to Contact Us to find the person you need.
Or keep connected with The Skinny socially:

/TheSkinnymag

@theskinnymag
@theskinnymag