Animal Society – Hieroglyph (Live Session Premiere)
Watch the incredible live session video for Hieroglyph, the latest single from Scottish jazz-rock outfit Animal Society
After a week that's brought us wonderful new music from across Scotland in the form of Fourth Daughter's electro-pop stylings, The Massacre Cave's balls-out metal and Dictator's gritty, determined indie, we're delighted to be rounding out our week of premieres with something a little bit harder to categorize – Hieroglyph by Scottish jazz-rock outfit Animal Society.
Having first heard them on Stuart Maconie's Freak Zone on BBC Radio 6 Music with previous single Rise, we were instantly intrigued by the Scottish five-piece, who count award-winning musician Joe Williamson (guitar and composition) and STRATA bandleader Graham Costello (drums) among its line-up. Effortlessly fusing together elements of jazz with beefier guitars more akin to rock music, it's all glued together with tricky time signatures and unmatched musicianship.
Having released their complex and challenging new single Hieroglyph just yesterday, The Skinny are excited to be giving you a first look at the live session they filmed for it, which you can watch in the above YouTube player (click here if it's not displaying correctly). Please note, the video does feature some strobe effects and rapidly moving lights.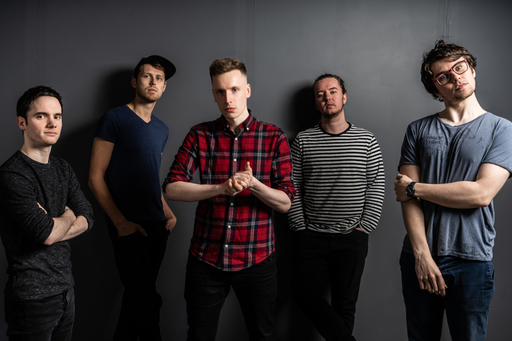 Image: Animal Society by Peter Stevenson
"Hieroglyph, like all Animal Society's music, brings together creative elements of modern jazz with elements of metal and heavy rock – big riffs and song-like melodies," Williamson tells us. "There are sections which I suppose feel a little nu-metal – when I was 14/15, I spent so much time listening to the first two Linkin Park albums, I guess it's inevitable that some of that music comes out in my writing sometimes!"
He continues: "I grew up listening to metal, punk and folk music, before suddenly discovering jazz when I was 16 or 17. I suppose I was a bit of a latecomer compared to some! So when I write, even in a 'jazz' context, it feels natural to draw on to those formative influences. To me, Animal Society's music is jazz in spirit (though I'm sure many purists would disagree), as it's centered around improvisations and has loads of interesting harmonic and rhythmic elements, though it incorporates heavy riffs and rock-out sections that render it pretty different to what most people would expect to hear at a jazz gig! I don't think it's especially worth getting hung up on labeling artists as one genre or another."
Of the project, Williamson adds: "This project was supported by the Do it Differently fund by Help Musicians UK, which we were awarded at the end of 2019. For the video, we brought in Matthew Ralph of VJ Planet Arm to design a light show – his work is amazing, it adds a really special touch to the video! We recorded it live – it was especially fun to improvise with this light show going on all around us!"
---
Hieroglyph is out now; Animal Society play The Hug & Pint, Glasgow, 26 Mar