The Massacre Cave – We Own the Sun (Video Premiere)
Watch the new music video from Eigg metallers The Massacre Cave, starring their fellow island resident Pictish Trail
It's hard to forget the buzz surrounding The Massacre Cave's appearance at 2011's Home Game festival in the sleepy fishing village of Anstruther. On a line-up that also included Cate Le Bon, Slow Club, This Is the Kit, Jon Hopkins and Nathan Fake, The Massacre Cave were by far one of the most talked-about acts of the weekend.
Fast forward nine years and the four-piece metal band from the Isle of Eigg – fronted by brothers Joe and Ben Cormack – are fresh from releasing their debut album GODLUST. Ahead of their album release party at The Flying Duck in Glasgow this Saturday 22 February, The Skinny are delighted to be premiering the music video for their latest single We Own the Sun, which you can watch in the above YouTube player (click here if it's not displaying correctly).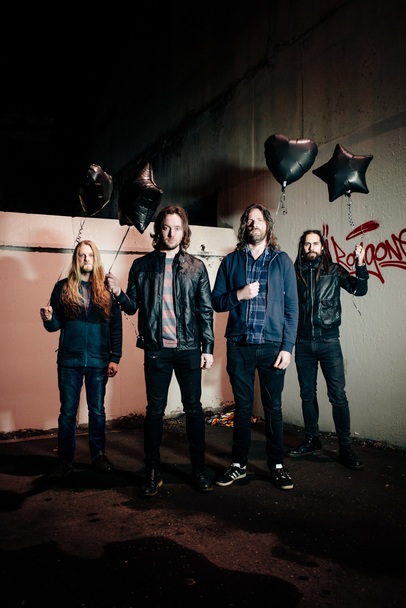 Image: The Massacre Cave by Somhairle MacDonald
Starring four of the island's inhabitants, including Johnny Lynch (perhaps better known under his Pictish Trail moniker), the video was directed, filmed and produced by guitarist and singer Ben Cormack. "I'm a graphic designer, filmmaker and no stranger to setting things on fire," he explains, "so it'd be daft not to utilise my strengths to create this video. It was shot on zero budget so wouldn't have been possible if we didn't have a willing cast. We have four of the most photogenic fancy dress enthusiasts on the West Coast living on the island though, including Pictish Trail to whom we owe so much, so it was really quite easy to get the shots I needed out of them. It felt like a real community effort and I'm really proud and thankful to everyone that made this come together."
On the ideas behind the video he adds: "The premise is centred around three locals performing a pagan 'Imbolc' ceremony. This is an ancient ritual symbolising new life and the ushering in of spring. We (the band) then appear to them as a vision after they've drunk their hallucinogenic brew. Basically just what happens round here normally."
Of the song's inspirations, Ben's brother Joe, who also plays in Pictish Trail's band, says: "We Own the Sun is the album's opener. Lyrically, it's inspired by the inherent human compulsion to seek faith in the divine – the need to simplify complex situations through supernatural reasoning or otherwise. The video gives the whole thing a different dimension though. I think it's saying, 'let's all drink a hallucinogenic brew and realise our greatest fantasy' – The Massacre Cave playing live in the sky. Or on Skye… or on Sky Arts. Whatever your Massacre Cave fantasy is, I think it's covered in this video, especially if you like trees bursting into flames." 
---
We Own the Sun and GODLUST are both out now; The Massacre Cave play The Flying Duck, Glasgow, 22 Feb

facebook.com/themassacrecave