Bossy Love Are Meant To Be
We chat to Glasgow's rising pop stars Bossy Love on falling in love, building a future and owning the album they've always wanted
The first time I saw them I knew they were a bit of me. Exactly my type on paper. It was almost exactly four years ago, a chilly evening in March 2016. A small early-doors crowd were nursing lagers in Edinburgh's La Belle Angele, well ahead of an Errors headline show later that evening. The lights dimmed and a band I'd never heard of just… transformed the room. In less than ten minutes they'd persuaded us to ditch our coats, neck our pints and creak our aging knees into urgent slut drops.

Bossy Love have absolutely no business being a support act: their live shows have more attitude than Mariah and more goofy, high-octane energy than an entire troupe of theatre kids. Frosty R'n'B borrowed from noughties popstars collides with an almost industrial dancefloor drive, and all of this is offered up to their audiences with the kind of easy, tipsy togetherness that makes every show feel like a house party. It's not often you stumble upon a band that immediately demands your devotion, but when this magazine later described their gigs as "nothing short of cultish" it was no exaggeration.
Amandah Wilkinson and John Baillie Jnr met each other in 2008. Wilkinson was the driving force behind perky Australian pop band Operator Please, Baillie Jnr was jumping between drums and vocals for Glaswegian six-piece Dananananaykroyd, and both bands were supporting The Futureheads at Fat Sam's in Dundee: an extremely noughties situation. The way they tell it, their meeting was fated. "Within ten minutes I just knew. I was like, that's one of mine," Wilkinson grins, pointing at Baillie Jnr. The feeling was mutual. "You could just tell," he nods. "We just clicked."
They stayed in touch, texting each other from the road, and the next year Operator Please had a show at King Tut's. They planned to record some songs together during Wilkinson's few hours in Glasgow, but fate intervened – again. "I couldn't get into his house!" she cackles. "This was way before iPhones and I didn't know which house it was. So I'm standing there, and I meet this boy..." "The only person walking down the street was my flatmate," says Baillie Jnr, triumphantly finishing the story. "You had that gold Motorola razr!"
Jump to 2012. Both Operator Please and Dananananaykroyd have broken up, and Amandah has moved to London, where she's living in a grim converted warehouse and trying to write songs. "No windows. It's dusty. I can hear people shagging all the time and I'm whisper singing in my bedroom." One night she sends Baillie Jnr a track: "I was like, 'Hey, what d'you make of this?' Within half an hour he'd produced it and sent it back to me." She turns to face him. "It was like you dived into my brain and made the song something I'd always wanted it to be."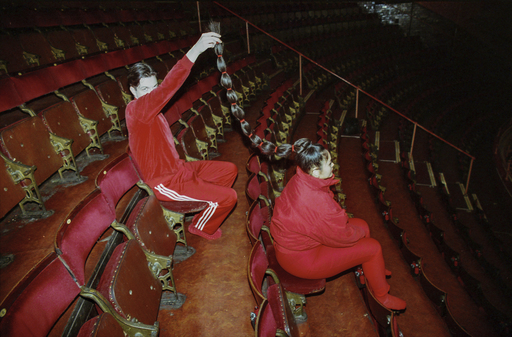 In Sync
When the pair talk about each other, it's with the kind of affection and detail usually reserved for childhood best friends or very first crushes, filling in each other's sentences with an exclamation mark (Wilkinson) or a deadpan one liner (Baillie Jnr). Their songwriting process is no less intimate.
"I've never had this kind of synergy before, where someone can say, 'Come on, tell me what this song's really about'," she says. "More so than ever I'm the most lyrically honest, emotionally honest that I've ever been. I'm the realest version of myself in front of John – and probably my boyfriend and my sister." They laugh. "John knows more things about me, more secrets, that I haven't shared with anybody. I can't hide anything from him. It's spooky, actually!"
"That's what I've taken as part of my job," he counters. "My job is to try and capture it, you know?"
This symbiotic relationship is at the heart of their debut album, Me + U. The songs are made of Wilkinson's lyrics and Baillie Jnr's production, and its tracks form the full circle of a relationship. "So: first you've got your honeymoon phase," Wilkinson explains. "It's all sassy, it's all play, and then you get in too deep, you're wading in it, and it all blows up in your face. Then there's the reclaiming of yourself, at the end."
At one end of the scale there's a song like Foreign Lover (with guest vocals from Babe's Gerard Black), a slinky, kitsch track about a ride-or-die long-distance romance. At the other there's Muscle, a fizzing, furious retribution that unleashes a storm of pent-up frustration and twists Wilkinson's bubblegum vocals into something far darker.
Me + U, the record's title track, is tucked in the middle. "It's the album's soft heart," says Baillie Jnr. A soaring, desperate ballad with distant, clubby bass and space for the sniff of a snotty nose, it hits hard for fans used to the band's joyful live show. "I think that's the beautiful contrast about Bossy," explains Wilkinson, "we do have fun and it is all really raucous, but the songs are meaningful. Me + U is the result of a time where I felt the most devastated that I think I've ever felt. For the song to even make the record…" she exhales, smiling. "A lot of the takes I was crying, because I went back to that place and I'd forgotten what it felt like. I thought I had healed it."
"And then I cracked it back open!" laughs Baillie Jnr, giving her shoulder a rub. "The most fascinating thing about that song was that it was about you finally processing it all, and now you get to see it as it was. It'll give that off forever, like some fucking weird radiation."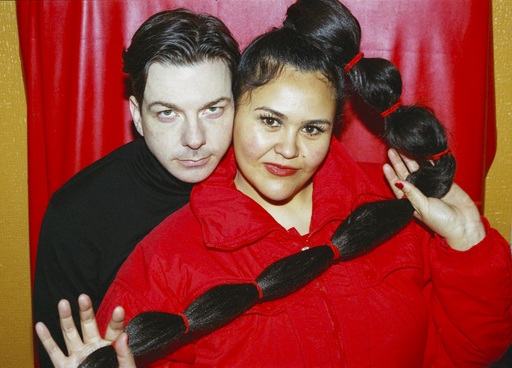 Taking ownership
Their joint experience of the music industry has given them a steely resolve: they own all their music (something that's less common than you might imagine: see the Taylor Swift/Scooter Braun scandal); they invest in themselves for the long term, recently building a studio – "like, literally" – so that they never feel rushed when recording; and, most importantly, they only do something if it's fun. "I've been in one end and out the other of the major label machine," says Wilkinson,"and there's so much seduction in the idea of signing to a label but there are so many complications."
"Exactly," adds Baillie Jnr. "The label took you to a fancy dinner? No, you took yourself to a fancy dinner. You're being signed by venture capitalists, you're taking on debt and the more you do the less power you have." They both remember exhausting, never-ending tours – "I'd look on our MySpace and there'd be 50 more shows that I didn't know about," Wilkinson says – and the full control they have over Bossy's trajectory goes some way to explain why the songs, and those shows, feel so freeing.
In the early years Bossy Love was a sound system – they'd DJ clubs and sneak their tracks into the mix. They've stealthily released songs for six years now, but it wasn't until 2016 that they finally pieced together the live band, with the help of whirlwind keyboard player Ollie Cox. Wilkinson jokes about the pressure of a "long-awaited first album", donning an ominously deep voice to do so, "but this record just feels full," she says, grinning at Baillie Jnr. "It's full of everything I wanted."
Good things take time. Any romantic can see that Bossy Love are built to last.
Bossy Love in six songs 
Call Me Up
The final version of that fateful demo Wilkinson sent Baillie Jnr, Call Me Up is a sugary pop dream worth moving to Glasgow for.
Body
The squelchiest bassline and a self-affirming rap verse combine for a perfect party-starter.
Breathe – Blu Cantrell (live cover)
In which Wilkinson is effortlessly both Blu Cantrell and Sean Paul, this cover pours petrol on their live shows.
Up All Over Me
A song so good they ripped apart the first version of their album to get it out sooner, it's a whip-cracking, frosty riot.
Girlfriend
Originally written for The Saturdays, Wilkinson says she thought, "Ah, that means I can be totally honest, and I won't have to sing it myself." Instead it's Me + U's opener, and a loving rebuttal to Robyn's iconic Call Your Girlfriend from the perspective of the other woman – with a sneaky nod to the song in the form of Baillie Jnr's synths. "What if Robyn comes after us?" Wilkinson laughs. "She could beat me up, she's so cool," Baillie Jnr shrugs.
Interlude
A 37 second-long teaser, the album's interlude is made from sneaky snippets of future Bossy Love songs. "They're all finished," grins Baillie Jnr, "I've got them on my phone right now."
---
Me + U is out now; it was released on vinyl on 5 Feb via Double A-Side Records
bossylove.com
Photos by Marilena Vlachopoulou