Bossy Love announce album with lead single Me + U
Glasgow duo Bossy Love announce their debut album with the stunning video for its lead single, Me + U
It's no secret that we're huge fans of Bossy Love here at The Skinny so we were overjoyed to hear the news that the wait is finally over for their debut album. Scottish LGBTQ producer, songwriter and drummer John Baillie Jnr and Indonesian/Australian singer and songwriter Amandah Wilkinson are set to release Me + U on 31 October, and having already had a sneaky listen, we can confirm that good things really do come to those who wait.
Following on from the release of their debut EP Whiplash at the start of the year, and a busy summer of live shows which included headlining our stage at Kelburn Garden Party and a support slot for Bloc Party at the Kelvingrove Bandstand, today's album news comes alongside the release of its title track, and lead single.
"Me + U is the centre point of the album; the cycle within the cycle," say Bossy Love. "The song chronicles the emotional fallout from being crushed by someone you thought you knew; questioning why it all went wrong, but never finding out and eventually just finding a way to live with the feelings. Writing the song was about finally letting all of that, picking yourself up and remaining open to the future."
In homage to Sinéad O'Connor's video for Nothing Compares 2 U, the video for Me + U features a progressively more glassy-eyed Wilkinson singing straight-on to the camera. At the song's midpoint, over a backing refrain of 'This heart's not giving up / Don't fall apart I'm getting up', the emotion in Wilkinson is palpable; repeatedly singing 'Me and you' over this, as tears roll down her face, you can almost feel the pain in your throat that comes from trying to hold back tears. It's intimate, raw and incredibly powerful.
While there's lots of uncertainty surrounding 31 October this year, one thing's for sure, at least we all have Bossy Love's new album to look forward to.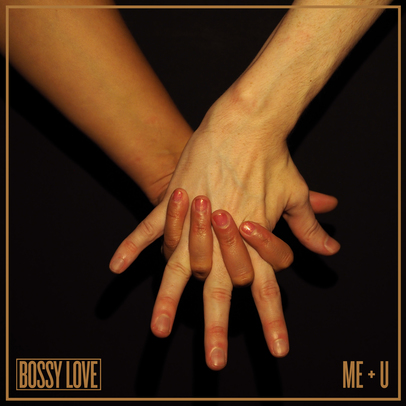 Me + U tracklist:
Girlfriend
The E
Foreign Lover (feat. Gerard Black)
Me + U
Who Said It
Hurricane
Like Woah
Want Some (Album Version)
Interlude
Muscle
Girlfriend II
Me + U (Radio Edit)
---
Me + U is released on 31 Oct – presave the album on Spotify here; Bossy Love celebrate its release with an intimate show at Glasgow's Nice N Sleazy on 29 Nov with support from Wuh Oh.