A Guide to Sending in Listings
Explaining The Skinny's listings spreadsheet template, column-by-column!
As of December 2022, we are no longer accepting individual event submissions for our Listings pages, as it has become increasingly impractical to keep on top of the large number submitted each month. We are instead moving to a model where we list regularly from specific venues and organisations across Edinburgh, Glasgow and Dundee.

If you're an artist with an upcoming event please do check our previous issues for venues we list, as your event might already be covered! If not, please feel free to send over details of your event to our events editor Anahit Behrooz for consideration in our monthly Heads Up events calendar, and our weekly Zap! events newsletter. Please bear in mind that we cannot cover everything or respond to every email.
Deadline for online and in print (space and suitability allowing) is BEFORE the 15th of the month prior. We currently cover events in Glasgow, Edinburgh and Dundee, encompassing music, clubs, theatre, comedy and art. If your event is outwith these areas and/or categories, it can still be considered for our Heads Up events calendar in the printed magazine and our Zap e-newsletter event round-ups, simply email our Events editor on listings@theskinny.co.uk
The guide below should provide a helpful and simple 'how-to' explanation on how to fill in the template, but if you have issues with downloading the template, or have any other queries, please contact the relevant Events editor above.
DOWNLOAD THE LISTINGS TEMPLATE HERE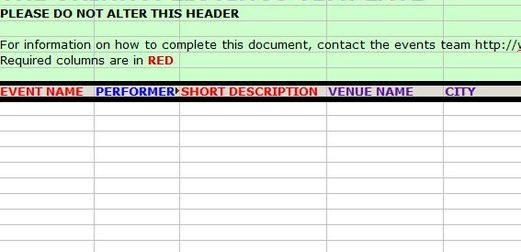 So let's get to it...
Event Name: List only the main performer (e.g. Rick Astley), or the title of the show (e.g. West Side Story). Please do not use block capitals.
Performer Name: This field should only be used for support acts. Separate act names with a '+'. Again, please do not use block capitals.
Short Description: A caption describing the event in under 200 characters. (For music, it's in the format Genre from Place, e.g. 'Indie from Glasgow.'; for clubs it is simply genre, e.g. 'House, techno and bass.'). Please end descriptions with a full stop.
Venue Name: This needs to match up with the venue name stored on The Skinny website, otherwise the listing(s) won't upload. Ideally check out theskinny.co.uk/venues and search for your venue to make sure we have a profile for you. Any issues, then email our Events editor on the above contacts.
City: List the city name, e.g. Glasgow.
Please don't put anything in the price fields.
Start Date: Please always enter in the format YYYY-MM-DD, i.e. 2016-12-31
Price: Write the words 'free' or 'TBC' if applicable.
End Date: See above. Note that club nights will usually run past midnight, so the end date needs to be the following day.
Start Time: Times are in the 24-hour clock, i.e. 11:00 (for A.M.) and 23:00 (for P.M.).
End Time: See above.
Category: Decide whether your event falls into the specified category of:
Music
Clubs
Theatre
Art
Comedy
and please write exactly as above in the box. Our system will not recognise differently worded categories, so do not include terms such as 'gigs', 'club nights' or 'visual art'. Extra comments or notes can be sent to the Events editor on the above contacts.
That is all you need to fill in, all the other boxes are for internal use so please feel free to ignore them.
A COUPLE OF THINGS TO NOTE:
- Music listings only cover live gigs and original bands, i.e. not tribute acts, open mic and acoustic nights.
- Clubs listings tend to only cover actual club nights, i.e. not a DJ playing in a bar with no dancefloor, we know it's fun but we can only list so much!
- None of the sections cover workshops, talks or classes, mostly because the line needs to be drawn somewhere.
- Similarly, we cannot always cover whole festivals-worth of listings. It's best to make email contact before submitting an extraordinarily large batch of listings.
WHY SHOULD I BOTHER SENDING IN LISTINGS TO THE SKINNY?
By doing this The Skinny can offer you completely FREE OF CHARGE:
- Exposure to
160,000 readers
every month in print, in over
650
venues in Scotland
- Engagement to nearly
150,000 unique users
every month on
theskinny.co.uk
- The opportunity for your event(s) to be considered for our weekly
eNewsletter Zap
, compiled by our Events editor, to a total of
12,000 fans
via email
- Support and promotion of your events via The Skinny social networks to over
100,000+ friends/followers
- You can get your messages out to our culturally savvy
18-35 ABC1 audience
directly by sending in your listings. That's right – it's all
FREE EXPOSURE
to a total audience of over
520,000
every month.