As Seen on Screen: Glasgow and Edinburgh in Film
As Glasgow Film Festival enters its final throes, our Glasgow and Edinburgh Venues editors take the opportunity to highlight a selection of visitable local venues that have appeared on the big screen
Glasgow
Glasgow has long attracted filmmakers, who have used the city as both a backdrop and as a central character in their narratives, as well as a recent spate of Hollywood blockbusters which have used Glasgow as a stand-in location for other cities, including WW2-era Cambridge and a futuristic Philadelphia. In fact, so many films have been shot in Glasgow that you could easily spend a whole weekend touring the cafes, bars, museums, and landmarks featured in them. We've picked out some of our top Glasgow film locations, with which we recommend starting off your tour.
Mr Ben Retro Clothing is a Glasgow institution. It's a veritable treasure trove of weird, wacky and wonderful clothing from throughout the ages, and so it's unsurprising that it's featured in so many of the city's films. In 2014's God Help the Girl, the first directorial effort from Belle and Sebastian's Stuart Murdoch, Eve and Anton play dress up in a suspiciously empty shop. Former Doctor Who assistant Karen Gillan also has fun rooting through Mr Ben's rails in Not Another Happy Ending, a 2013 rom-com from John McKay. Indeed, that film uses Glasgow marvellously, with scenes set in a whole host of Glasgow venues – including another second-hand Glasgow mainstay, the West End bookshop Voltaire and Rousseau. For many, a trip to V&R is like entering bookshop Nirvana. With their stock piled up across every spare surface, you won't find anything you're searching for in a hurry, but you might well stumble across a hidden gem of literature, or that novel you never knew you needed until now.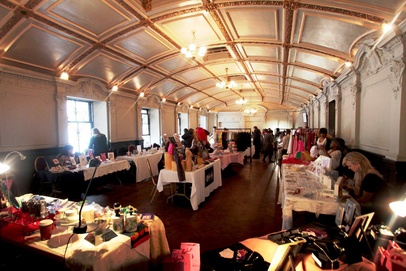 The top-floor ballroom at Sloans
If you're more into art than books, why not take a trip to Kelvingrove Art Gallery and Museum? Its grand exterior and beautiful exhibits have been used in many a film, including Small Faces, a classic depiction of life in 60s Glasgow, which even made a return to the big screen as part of this year's Glasgow Film Festival. Spend some time in the museum marvelling at works of art from a huge range of artists including the Glasgow Boys and Salvador Dali. Or, if contemporary art is more your thing, head into town to the Gallery of Modern Art. Another bonny building, it was used in 2008 zombie thriller Doomsday.
Just around the corner, tucked away from the crowds of Argyle Street, Sloans was used in The House of Mirth, an adaptation of Edith Wharton's 1905 novel of the same name. There you can follow in Gillian Anderson's footsteps and enjoy a drink, or sample their famous macaroni cheese in the pub's beautiful ballroom. Another top place to grab a bite to eat is Partick's e'er lovely Rio Cafe, another location featured in God Help the Girl. The cafe's quaint 50s feel perfectly suits the tweeness of the film, and their breakfast menu comes particularly recommended, as does their range of beers. For a drink in a more rough and ready environment, head up to Crosslands pub in Maryhill. Rough and ready is a bit unfair, but the pub's reputation precedes it as the place Begbie incited a bar brawl in the 1995 adaptation of Irvine Welsh's Trainspotting. Today, it's actually quite a nice local bar, with cheap drinks and a varied crowd.
The final Glasgow film location in our whirlwind tour is the iconic Barras market, a bustling centre of wheeling, dealing and genuine bargains which was featured in 2010's underground hit, Donkeys. Open at the weekends, The Barras is the place to go in the city for strange little knick-knacks, old magazines and cheap DVDs. To describe it as a flea market would be too generous, but it is, somehow, brilliant and perfectly Glaswegian.
Edinburgh
There's no denying it: Edinburgh looks great on the big screen. From feel-good musicals, to grizzly dramas, to whimsical animations, the highs and lows of Scotland's capital are portrayed beautifully in the world of film. Plenty of places you see on the big screen aren't shot in a warehouse in Australia, and can be visited in real life – here's our whistlestop guide on seeking the best of them out.
Take Sylvain Chomet's 2010 animated film, The Illusionist. The story is of the relationship between a French illusionist and a young girl, who travel to Scotland in search of their shared destinies. In it, Sylvain Chomet beautifully captures Edinburgh's landscape, weather, and architecture in subtle and artful illustrations. Edinburgh's hilly streets are amusingly exaggerated and the well-known skyline is just as stunning as it is in real life.The film's music is just as magical as the illustrations, with one piece named after Arthur's Seat, Edinburgh's much loved extinct volcano and a popular green space to get away from the city's hustle and bustle. The famous department store Jenners also has a piece of music named after it, and has a starring role in the film, as does beloved independent cinema, The Cameo – which is obviously the best place to watch it, as an earlier iteration of the current Screen 1 appears in the film.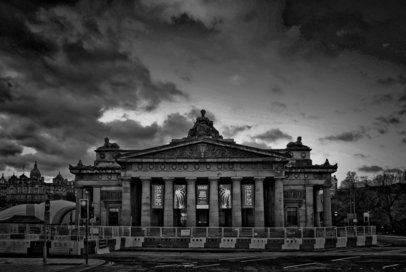 The Royal Scottish Academy; it's a bit brighter in Sunshine on Leith
If you feel like marching around the streets of Edinburgh and bursting into spontaneous song, 2013's Sunshine on Leith is the film for you. You might even bump into a Proclaimer if you're lucky. Take a heel-clicking walk around the Royal Scottish Academy, where the film's final '500 Miles' flashmob takes place, or take a stroll down to the seaside to visit the Royal Yacht Britannia to really appreciate sunshine on Leith.
At the other end of the spectrum, the aforementioned Trainspotting uncovers the grizzlier side of Edinburgh. Probably the daddy of all Edinburgh-based films, in its iconic opening scene we see Princes Street and Calton Hill, and if Renton had carried on running down Calton Road, he would have eventually met alternative nightclub Studio 24. The walk down is a little bit scary at night, mind. Best bring a pal.
Back to love and happiness an' that. One Day, the dubious 2011 film adaptation of David Nicholls' bestseller of the same name, features students gamboling around the University of Edinburgh at the beginning of the film. Emma and Dexter, the film's protagonists, surely must have visited Teviot Row House during their time at uni? The slightly Transylvanian-looking building is Edinburgh University's Student Union, which contains several bars (obviously), a cafe, pool tables and myriad rooms for functions and student societies. Old College is a short stroll away and is a historic venue set on a quadrangle which is home to the Playfair Library Hall, Talbot Rice Gallery and other events around the year. There was even an open-air cinema at Old College last year for the Edinburgh International Film Festival, but sadly Edinburgh rained on it.
Finally, 2007's Hallam Foe, starring Jamie Bell, takes a bird's eye view of Edinburgh, as the protagonist scales rooftops across the city in search of the true cause of his mother's death. The best places for viewing Edinburgh from above have got to be the Scott Monument on Princes Street, the top of Edinburgh Castle, and, if you happen to work in the kitchens of the Balmoral Hotel, as Hallam Foe does, the clock tower wouldn't be a bad view either.
---
More from The Skinny:
---