Living in Montreal: A Guide
An in-depth guide to life in Montreal, the bilingual bi-cultural beacon of Canada – what to expect, where to go out... and the exact date you'll end up moving house
Bonjour Hi! Canada, eh? If you're thinking that Vancouver sounds too health-conscious, and Toronto sounds bland, let me tell you about Montreal. The jewel of La Belle Province, a wild and delightful boomtown; Montreal is like New York crossed with Paris crossed with Glasgow. It's a grimy carnival, and a delight to the senses. 
Before we get to the details, let me give you the sales pitch. Montreal's a thriving post-industrial cosmopolitan cultural hub. The streets are filled with bars, the clubs are packed with cute people, the art scene's excellent, the Old Port's terribly pretty, the river and park are gorgeous, the music scene's strong, and the food... My god, the food. This is one of the great cities of the world if you're hungry, with more restaurants per capita than anywhere else in North America.
Getting to Montreal
First, some technical details. If you're going to live in Montreal, you're going to need a visa. At any time, there are 180-200,000 students attending the city's three major universities, and all that youthful joie de boire is a big part of the city's vibrancy. If those days are past now, there's a points-based permanent residency program, a skilled worker guest visa, and a seasonal working holiday visa.
The Government of Canada website's immigration section should be your first stop – their Come to Canada tool gives a guided breakdown of all the possible options available to you. Once you get to the Quebec process, that's where things can get a little more difficult.
La Belle Langue: French in Montreal
You can't understand Montreal without understanding Quebec, and you can't understand Quebec without talking about French. Ever since the British took the province off the French in 1760, this was a Francophone majority province under an anglophone government. For generations, power and wealth stayed concentrated in anglophone communities. That's no longer true, but it's still an essential factor in the politics of the Province, and the country.
Bill 101, the Charter of the French Language, made French the official language of the province, one of the two official languages of the country, and ensured that French would be seen everywhere. Every sign is in French, every government form is in French, and so on and so on.
Montreal itself is a bilingual city – you can live here perfectly happily speaking no French at all, and many people do. But if you're going to leave the island, or try to interact with the government, you're going to have a long day. So learn some French; it'll help you every day, you'll be respecting the culture, and there are free classes available. You will meet monolingual francophones, and it's gracious to learn the language.
The Quebec separatist movement has moved their attention away from independence, towards protecting language and trying to establish a reputation for competent administration, so it's not an immediate concern.
Finding a house, and 'Montreal Moving Day'
Housing's still pretty cheap, particularly compared to Toronto and Vancouver or (god forbid) New York, but prices are rising, even as new condo buildings go up all the time. Rents are reasonable in the middle and obscene at the top, so it pays to look around. If you want to live in a historic district, some of those amenities may still be pretty historic, so shop carefully.
The Plateau and Mile End are perennially trendy, and a centre for nightlife. Old-money Westmount and the beautifully preserved Old Port are beautiful but expensive. Griffintown and Verdun are gentrifying steadily, and prices are surging, even faster than the rest of downtown. The city centre is sprouting condo buildings everywhere, so prices should level out eventually. Prices drop dramatically as you move out from the city centre, but losing out on easy access to downtown is a price all of its own.
Housing in Montreal has one unique and awful feature: 1 July, le Jour du Déménagement. Moving Day.
By tradition, if no longer by law, every lease ends on the same day. This leads to predictable chaos, as every moving van in the city jacks their prices, and every apartment building seems to have multiple vehicles loading and unloading. If you can get into or out of your place early, do it; you'll save a fortune in money and heart medication.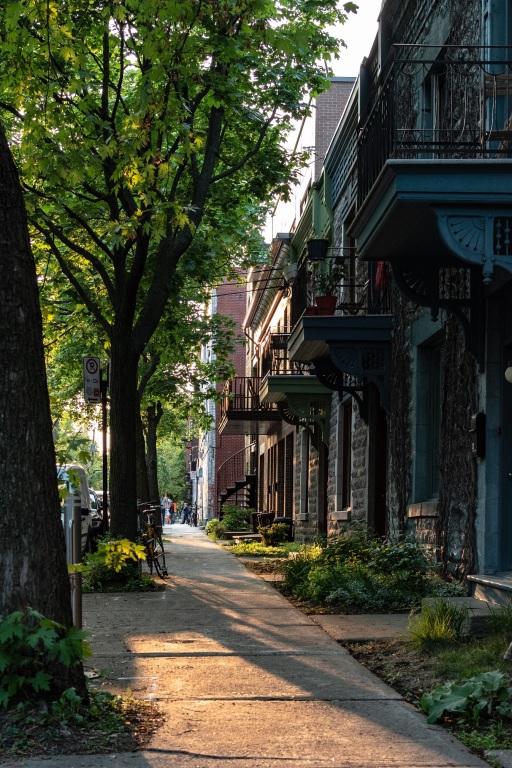 Montreal. Photo: Etienne Delorieux / Unsplash
Getting Around: Transport in Montreal
Every year, Montrealers crack the same joke: "In Montreal there are two seasons: winter, and construction." Hot summers, cold winters, road salt, and shoddy construction back in the 1960s have left Montreal with a road system that's constantly being patched or replaced. Progress is definitely being made, but delays are going to happen.
That said, the city has a decent metro system for downtown and some surrounding areas, with plans to expand, and the bus services are extensive, if occasionally unreliable. They're both covered by the OPUS transit card, which provides unlimited transit for about $80 a month. That's essential. There's also a commuter train service to outlying areas, which costs a little extra, but will get you from the suburbs to downtown in no time, as well as inter-city rail and the Trudeau airport. There are numerous taxi services, and Uber's available.
In summer, the city offers the Bixi bike rental system, and the bike lane coverage is excellent, and getting better. Several scooter rental services launched in the city last year, though how long they'll last is anyone's guess. If you're near downtown, cycling is definitely a viable option, but a really good lock is essential, as bike theft is endemic.
Bad winter
It's Canada, you're going to have some weather. The summers are gloriously hot, but winters can be intense. Thankfully, climate change is really taking the edge off, so that's nice. If you drive, you're legally required to switch to winter tyres before the snow starts, and multiple feet of snow should be expected in January and February.
Temperatures can get down to -30C, there's the occasional winter storm; it's heavy going. Good salt-resistant boots and a big winter parka are survival essentials. It's strange: you'll hate the winter for a few years, then you'll appreciate the crisp air and clean snow, and before you know it you're laughing at Torontonians for closing the roads after a six-inch snowfall, and stomping to work in a blizzard.
Good winter
If you're into winter sports, there are dozens of ski resorts within driving distance of the city. Mont Tremblant is the award-winning flagship site, with a buzzing apres-scene, but Bromont and Mont Saint-Sauveur are less than an hour outside town and great for beginners and intermediate skiers. Le Massif is five hours away, and has more than twenty double-black diamond runs, and one triple-black that you'll need permission to ride.
Mont Blanc's great for snowboarders, but don't sleep on Owl's Head sur la Lac, a sometimes-overlooked but very affordable resort. It's a two-hour drive from Montreal, with gorgeous views. Cross-country skiing, snowshoeing, skidooing, and skating opportunities abound.
Events and festivals in Montreal
I had to split 'Things to Do' into a few parts, there's just too much. Let's start with the official events. In the summer, there's Osheaga (a full-on European-style music festival), Mutek (arts and electronica), IleSoniq (EDM and dance), Metro Metro (hip-hop and R&B), Pouzza Fest (all punk), Valhalla Sound Circus (bass music), Heavy Montreal (rock and metal), and Piknic Électronik (dance in the park). Most of the big ones are on Parc Jean-Drapeau, a park island in the middle of the Saint-Lawrence with the La Ronde amusement park on it. It's a hoot. 
There's also Just for Laughs, one of the world's biggest comedy festivals, with three fringes. Jazzfest, the biggest jazz event in the world; the chamber music festival; art at Festival TransAmeriques; science-art at ELEKTRA; ComicCon; the folk festival on the restored canal bank; the circus arts festival (the city's also home to Cirque de Soleil); the fireworks festival, the afro-cultural Nuits d'Afrique; the First Peoples Festival.
Montreal Pride is huge, there's a two-day fetish festival, there's the Fashion Festival, the Cannabis Festival… you get the point, there's a lot.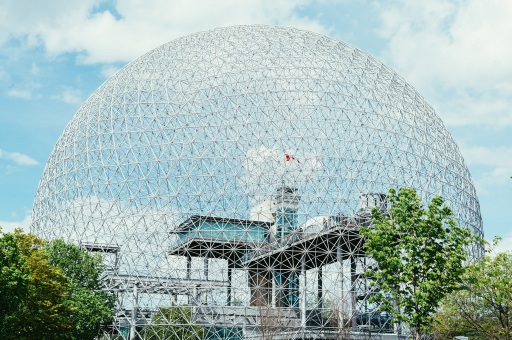 Montreal's Biosphere. Photo: Matthieu Joannon / Unsplash
Montreal Food and Drink
Okay. If you want classic French, trendy fusion, diner comfort food, Peruvian-Japanese crossover, vegan food, innovative cocktails and tapas, late night small-plates, duck roasted in a sealed can with foie gras... Montreal has got you covered.
Listing restaurants here would mean insulting some world-class places by omission. Personally, I love Le Majestique for oysters and seafood, ceviche at Tiradito, vegan at Green Panther (aka La Panthère Verte), and the ramen at Yokato Yokabai... and everyone deserves to eat at L'Express and Au Pied de Cochon before they die. Those may or not end up as your favourites, as finding your own hidden treasures is part of the pleasure of living here. Oh, and Montreal-style smoked meat is as good as they say.
Montreal's Bars and Microbreweries
The bar scene is similarly thriving; indie dives, stylish speakeasies, unique cocktails… All of them, in many flavours. Clubbing ranges from full-on raves to late-night supper clubs, and there's live music of many flavours available every night. In the summer, bars fill their gardens and street terraces with tables, and the streets are full of life and conversation.
Microbreweries have been a staple of the city for years, and the standard's very high. A trip down east to MaBrasserie and Boswell Brasserie Artisanale is highly recommended, along with established city centre breweries like Dieu du Ciel and L'amère à boire. 
The city also offers the marvellous Nez Rouge service, where, for a charitable donation, a volunteer will drive you home in your car if you've had a few too many. Capacity is limited, which can make wait times pretty stiff, so book early.
Performing arts
Montreal's an artistic capital, so in addition to the regular Cirque de Soleil shows, there's a vibrant theatre scene (in English and French). The Place des Arts also hosts two symphony orchestras, the national ballet and an innovative opera company. Seeing The Nutcracker and then walking through the snow to find a late supper is quintessential Montreal Christmas. If that's not your taste, there are comedy clubs, live jazz, cabaret and burlesque, as well as a constantly refreshed local art scene.
Secularism in Quebec
Due to an unfortunate turn in provincial politics, Quebec signed Bill 21, the Secularism charter. This law forbids public sector workers from wearing visible religious symbols, including the hijab, turban, and kippah. It also requires the face to be unobscured when accessing public services. This law is deeply controversial in Montreal, and still under challenge, but it's worth being aware of if its provisions might apply to you. Populism and nativism are factors everywhere, particularly given the cultural stakes of language and heritage in Quebec.
LGBT Life in Montreal
Montreal's an open and welcoming city for LGBTQIA people. As well as the arts festival, there are pride events and LGBT-focused cultural events throughout the year. The centre of the scene is still the Gay Village, but gay marriage is fully legal and accepted, and Montrealers are fiercely proud of their multi-culturalism. Pride lasts a week, culminating in an enormous party.
Cannabis
Recently legalised, cannabis products are on sale at government-run dispensaries throughout the city. Check out the SQDC website for details of what's available, and where. Possession is legal, home and street use are legal, but the city does observe a smoking ban within 9m of a building door, which applies for the good stuff as well as tobacco. The city still has far more tobacco smokers than you might expect, so you'll see designated areas all over.
If you're impaired, the police will get in front of you if they think you might try and drive, or make a mess, so be cautious. Canadian cannabis has always been stronger than what most Europeans are used to, so be aware that tolerances will be different.
Hockey: Montreal's one true religion
Montreal has a Major League Soccer team, the Impact, and there are hundreds of sporting options available, but the highest form in this town is hockey, specifically the Montreal Canadiens, also known as The Habs. They're a team with a glorious past who've been under-performing for years, and you'll see their badge everywhere.
Catch a game at the Bell Center at least once, and expect the town to go berserk when they make the playoffs. When we win the Stanley Cup again I expect the city to enter Purge-style joyful anarchy for an indefinite period.