Living in Vancouver: A Guide
From where to live and how to get around to the city's unique herbal aroma, one writer reflects on life in the Canadian west coast city of Vancouver
There were many things I was wrong about before moving to Vancouver; how beautiful the city is (much more beautiful than I ever imagined), how fit I'd get, how quickly I would be putting 'eh!' at the end of every sentence. There were things I was right about, however; how diverse the city is, and how much having actual seasons can change the activities you partake in throughout the year.
Vancouver: One of the World's Most Liveable Cities
The greater Vancouver area is home to more than 2.4 million people, making it the third largest metropolitan area in Canada behind Toronto and Montreal. It has consistently been named as one of the top worldwide cities for livability and quality of life, and has also been acknowledged as the first city to rank among the top ten of the world's most well-living cities for five consecutive years.
Vancouver is the most beautifully diverse city I have ever been in. Travel from one neighbourhood to another and you will feel like you've travelled across the country. No matter who you are and from what walk of life, Vancouver welcomes everyone with open arms. If you want to go to the nudist beach everyday, if you only work so you can fund your dream of becoming a professional mountain biker, if you just want to live your best life in one of the most liberal cities in the world – this is the place for you.
Jobs: Where to find them, and what to expect
Nestled in between mountains and beaches, with both close enough that you can visit them on the same day, it's unsurprising that the expat network is large, lively and thriving. Thanks, in part, to the country's Working Holiday Visa but also as a result of the positive reflections sent home by many people that chose to create a life for themselves in this nirvana.
In my experience, the job hunt is the most anxiety-inducing part of moving anywhere new, but fortunately, Vancouver has jobs in abundance. That being said, application and interview processes can take a long time so if you're looking for something quick when you land, keep an eye on the windows of shops and bars. Remember to take into account that a new location means different names for roles and different responsibilities expected than you might be used to, so make sure you do your research before applying and getting to interview.   
Accommodation: Where to live
Vancouver is an expensive city so when you get here make sure you have plenty of money 'saved for a rainy day' cause there'll be plenty of those. The search for a decent place to live, in an area you like, within your budget can be demoralising, time-consuming and just plain torture after a while so it's important not to be under too much time pressure. The house hunt has been known to cause people to explode... or worse, settle for something they don't really like.
The first step is to suss out the neighbourhoods. Each has a distinct personality and typical dweller so we'd definitely advise taking a walk around any areas you're interested in and checking out the vibe. Kitsilano is close to the beach and emanates a Californian vibe during the summer with several pretty bougie places to eat and drink; East Van is on the much more chill, hipster end of the scale where you have an abundance of breweries right on your doorstep. The West End is popular for its convenience; it's right downtown so will put your commuting time at a sleek 15 minutes max. There are a lot of expats and out-of-towners in the West End so if you want to do plenty of socialising, this is the place to be.
There are so many neighbourhoods to choose from across the city and surrounding areas, but the trick is to test them all out before committing to any. My one piece of advice is not to stress and settle for somewhere you don't really like. It's better to take the time and find a place you really love. Many apartment blocks don't bother advertising online, they just put up signs outside their complexes – so you could get lucky and find an area and a house you love all at once! Once you've decided on the location you can then figure out your budget – the average rent varies but generally you can expect to pay somewhere between $800 to $900 a month for a single person in one of these neighbourhoods.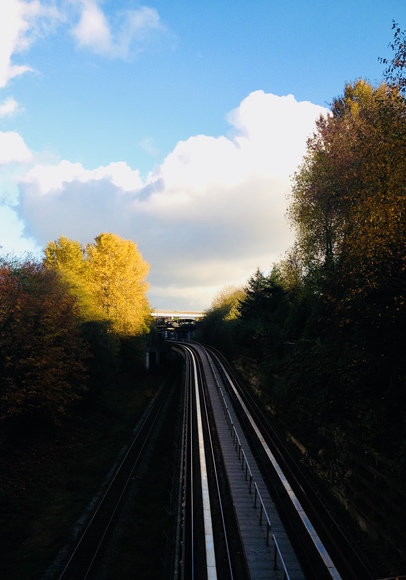 The view from the Skytrain. Photo: Rachel Hood
Getting Around: Cycling, driving and public transport
As someone from a country where the bus could come in three minutes or thirty but no one is quite sure which, I can confirm that transportation is phenomenal here. There are two main forms of transport, namely the Skytrain – the driverless train network that's a bit like the London Underground, in the sky – and the bus network. As much as everyone complains about them, they are reliable, punctual and clean 90% of the time. There are also many car sharing options throughout the city which are incredibly handy, if slightly more expensive. When you're in need they work a dream though; there's usually a bookable car nearby to snap up via an app.
Both Evo and Car2Go are perfect for downtown commuting or your grocery shopping run, whereas if you're planning on going on a day trip to the mountains, Modo is your best bet. Modo have bigger cars so you can fit more people in, but they also have appropriate tires for any rough terrain you're likely to run into. Despite all of these options I am yet to find a mode of transport that gets me anywhere as fast as cycling does; this city is truly made for it. After a year I am yet to cycle a route that didn't have a dedicated cycle lane for at least 50% of it. It can be a sweaty way to get somewhere in the height of summer but drivers are cognizant and tolerant of cyclists, plus it's cheap *and* good for you.
Dear Green Place: Health food, outdoor activities... and legal weed
When I landed I noticed a distinct smell throughout the city that, over time, I came to know as 'the smell of Vancouver' and now I don't even notice it. It's weed, pot, the green stuff, skunk, hash, marijuana. Whatever you call it, just like the vegan eateries, it's everywhere. It was finally legalised in October of 2018 and, to be honest, not much has changed since then. Some shops have had to close pending a license but there has not been a change in the liberal attitude towards smoking. There are shops everywhere, and smoking weed on your commute is looked upon much more favourably than smoking a tobacco cigarette.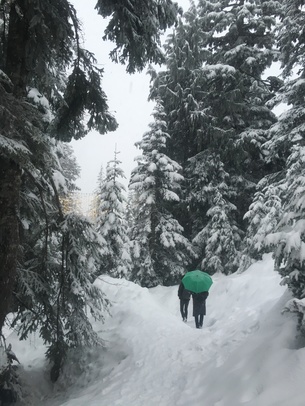 Photo: Rachel Hood
Before arriving I convinced myself that because Vancouver was known for being a city preoccupied with being fit and healthy that I would swan off the plane 20 pounds lighter and instantly able to run a marathon. Shockingly, this did not happen. Vancouver is definitely health conscious – you can't go far without coming across a boutique fitness studio or a vegan restaurant but, unfortunately, health and fitness doesn't happen through osmosis. Just like home, you make a conscious decision to be as healthy as you like. 
Unlike in the UK, the emphasis on being the picture of 360 degree health and the proximity to both the beach and the mountains mean that a lot of social life revolves around skiing in winter and swimming in summer. I still haven't given up the beer though and the brewery scene here – the city is home to dozens of craft breweries across the metro area – means I probably won't for a while.
---
Read more of our guides to life in some of the world's best cities at theskinny.co.uk/travel/living-abroad