The Skinny's new weekly radio show on EH-FM: Listen Again
We've launched a brand new weekly radio show on Edinburgh community radio station EH-FM – listen back to our first show now
On Monday 18 March we – Tallah Brash (Music Editor) and Nadia Younes (Clubs Editor) – launched a new weekly radio show on Edinburgh community station EH-FM.
The station, based, like us, in Summerhall, officially started broadcasting on 17 July last year and have just opened up their scheduling to include Mondays, which is where we come in. Our weekly show will run every Monday from 12-2pm and will offer a glimpse at what's on that week in the world of gigs and clubs, with inane chat from the two of us and occasional mistakes. We're only human after all!
Listen back to our first show, in all its slightly nervous glory, in the below Mixcloud player.
Here's our full playlist from the first show, along with key dates to put in your diary for the week ahead:
Intro, Hi, Hello
Bon Iver – Skinny Love
Foals – White Onions (playing Fat Sams, Dundee, 26 May)
Jayda G – Move to the Front (Disco Mix) (read our recent interview with Jayda G here)
What's On This Week
Jessica Pratt – This Time Around (playing The Blue Arrow, Glasgow, 23 Mar; read our recent interview with Jessica Pratt here)
The Japanese House – Maybe You're the Reason (playing The Caves, Edinburgh, 18 Mar)
Sharon van Etten – Seventeen (playing Saint Luke's, Glasgow, 24 Mar)
Lylo – Nothin' New (playing Stereo, Glasgow, 22 Mar)
The Internet – Come Over (playing SWG3, Glasgow, 22 Mar)
Anderson .Paak – King James (playing O2 Academy, Glasgow, 18 Mar)
Mick Jenkins feat. Corinne Bailey Rae – Consensual Seduction (playing SWG3, Glasgow, 20 Mar)

Don't Speak
Karen O & Danger Mouse – Lux Prima
Solange – Binz
CHAI – I'm Me (read our recent interview with CHAI here)
Sigrid – Never Mine
Love Local
Faith Eliott – Loomis
Super Inuit – Tectonic
Clubs
Laurel Halo – Sweetie (playing Nightrave at La Cheetah Club, Glasgw, 22 Mar)
Nightwave – Psychic Tonic (playing Nightrave at La Cheetah Club, Glasgow, 22 Mar)
Seb Wildblood – Bad Space Habits (playing We Should Hang Out More at Sub Club, Glasgow, 22 Mar)
Hodge & Laurel Halo – Opal (Hodge playing Miniset at Sneaky Pete's, Edinburgh, 22 Mar)
Levon Vincent – UK Spring Vibes (playing Feed Your Head at Room 2, Glasgow, 23 Mar)

Almost Over
Apparat – DAWAN
The Cinematic Orchestra feat. Moses Sumney – To Believe
Ibibio Sound Machine – Tell Me (Doko Mien)
---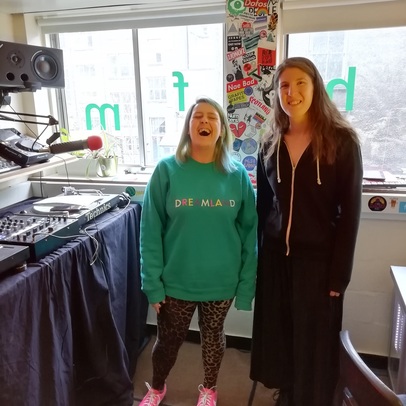 We'll be back on the internet airwaves for your listening (dis)pleasure once again on Monday 25 March from 12-2pm at ehfm.live