The Skinny on EH-FM, 2 September: Listen Again
Listen to our latest show on EH-FM with new music from Lana Del Rey, Cigarettes After Sex and JPEGMAFIA, plus a special on The SAY Award
After thinking she'd be off on her jollies in Lisbon (she's actually covering LISB-ON festival, which you can read a preview of here), it turns out Nadia was a week ahead of herself and in actual fact was able to join me on this week's show. Together we fumbled through 29 tracks which took in brand new music from Skinny faves Free Love as well as Lana Del Rey, Edwin Organ and Pusha T.
We also took one final look at all ten artists in the running for being crowned Scottish Album of the Year this Friday 6 September in a ceremony at Assembly Rooms, Edinburgh. In short, it was quite the show. Listen back in the below Mixcloud player.
Here's our full playlist: 
ICYMI
Lana Del Rey – Doin' Time (Lana Del Rey plays SSE Hydro, Glasgow, 28 Feb)
Cigarettes After Sex – Heavenly (Cigarettes After Sex play Barrowlands, Glasgow, 28 Mar)
LIA – To the Woods 
Anna Meredith – Paramour (Anna Meredith plays The Art School, Glasgow, 8 Feb)
Porridge Radio – Give / Take
Roofers Union – Friends
Konradsen – Television Land
Common Holly – Joshua Snakes
Pusha T –  Sociopath (feat. Kash Doll)
JPEGMAFIA – Jesus Forgive Me, I Am a Thot
Kano – Class of Deja (feat. D Double E and Ghetts) (Kano plays The Old Fruitmarket, Glasgow, 2 Oct)
Don't Speak (all taken from albums released on 30 Aug)
Black Belt Eagle Scout – My Heart Dreams
Boy Scouts – Get Well Soon
Ezra Furman – In America
YACHT – Sad Money

SAY Award Shortlist Special
Kathryn Joseph – Weight (nominated for From When I Wake the Want Is)
Aidan Moffat & RM Hubbert – Mz. Locum (nominated for Here Lies the Body)
C Duncan – Blasé (nominated for Health)
Karrine Polwart – Suitcase (nominated for Laws of Motion)
Auntie Flo – Havana  Rhythm Dance (nominated for Radio Highlife)
Free Love – Bones (nominated for Luxury Hits)
Andrew Wasylyk – Journey to Inchcape (nominated for The Paralian)
Carla J. Easton – Lights in the Dark (nominated for Impossible Stuff)
Fergus McCreadie Trio – The Back Burn (nominated for Turas)
Mastersystem – Notes on a Life Not Quite Lived (nominated for Dance Music)

Love Local/Goodbye
SHHE – Saint Cyrus
The Ninth Wave – Imitation
The Vegan Leather – The Hit (The Vegan Leather play King Tut's, Glasgow, 2 Nov)
Edwin Organ – Truths & Beliefs (playing Sneaky Pete's, Edinburgh, 17 September as part of our event with GoldFlakePaint for Edinburgh International Magazine Festival)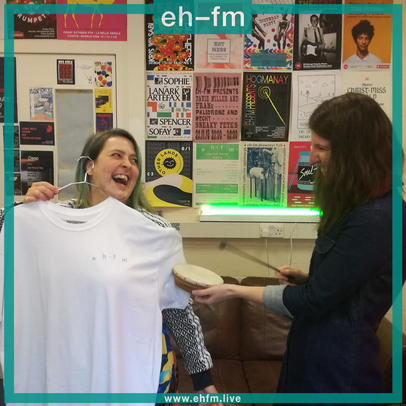 ---
The Skinny's EH-FM radio show airs every Monday between 12-2pm on ehfm.live; tune in next week (9 Sep)!