Scotland's independent radio stations and the pandemic
We chat to some of the people behind Scotland's community radio stations to find out how they've been keeping the music scene connected during the pandemic
Soaked in the smells of wet concrete and deep-fat fryers, a pavement in Glasgow's southside resembles a makeshift dancefloor. A crowd accumulates, drawing in passers-by and an audience from the chippy queue across the road as rhythms ripple from a live broadcast in the window of the Some Great Reward record shop and cafe. Bodies move in the rain and smiles appear on faces. It's not the same as being drenched in sweat, bass frequencies throttling ear drums and hair sticky with stranger's pints, but for now it's the best we'll get.
David Fleming and Susan O'Neill launched Radio Buena Vida in October 2020, a project dreamt up in Barcelona and realised with the help of Glasgow's music community. Since its launch, the station has been broadcasting three days a week and has hosted Harri & Domenic, VAJ.Power, Suzy Lee Kidd, and the Glasgow African Balafon Orchestra among many others. With a name translating to 'Good Living', the couple envision broadcasting full-time and opening a bar to give the station a home from its temporary record store residency on Victoria Road. But it's not the only independent station to have popped up in the city in the last year; in February, Clyde Built Radio will celebrate its first birthday via a locked-down broadcast shindig.
For the best part of the station's inaugural year on air, Glasgow has sidestepped in and out of lockdown, with the whole of Scotland enduring strict coronavirus restrictions, including a ban on in-venue music. When the country's grassroots music venues were boarded up overnight, the communities they served backed into their bedrooms – but they've been far from silent. Independent radio stations have ensured that the unique spirit of Scotland's underground music scenes continues to thrive.
"It's almost like we have become a digital venue," says Chris Murray, Head of Events & Partnerships at EH-FM. With listening figures rising since the start of the pandemic, the Edinburgh-based station was set up in 2018 to provide a virtual space for people to get involved with the city's alternative music scenes without going to a club or knowing the right people. The station operates from a cosy studio in Summerhall shared with LuckyMe Records, and is more or less the mouthpiece of the Cowgate club circuit. In the last week alone, it's hosted a varied selection of promoters-turned-presenters: from the bass-laced electro cuts you'd catch at Palidrone's Mash House residency, to the heated disco rhythms of the HOT MESS queer parties. "It's quite like a boiling pot," says Murray, "and is just the best way to get to know everybody in Edinburgh who is involved in music."
Akin to London's NTS, EH-FM, Clyde Built Radio and Radio Buena Vida are independent, community-focused broadcasting projects, allowing for a refreshing amount of creative control and musical freedom compared to commercial stations. Led by a team of dedicated volunteers, it's a concept that spotlights local talent for a wide audience – without the need for much physical space – and has proved essential for connecting the public to promoters, DJs and musicians while venues have remained empty.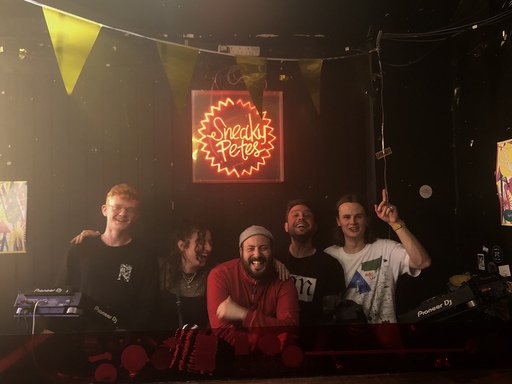 When the first lockdown forced the studio to shut in March last year, EH-FM's transition to a fully digital station was smooth: DJs, guests and presenters would send in pre-recorded shows and would only broadcast live from home if they had the equipment and ability to do so. "We were able to host a few things – Miss World's birthday, for example – which would have usually been done in a club," says Feena McKinnell, the station's Programming Coordinator. McKinnell started at EH-FM as a volunteer while learning how to DJ, before becoming a resident at Miss World, a collective which promotes female, non-binary and female-identifying people in the club scene. "I think after a while, obviously we're all missing being in the studio," McKinnell says. "But lockdown also gave us a bit more flexibility in terms of new shows, and one-off shows." One such example was when the station hosted St Andrews-based Asha Sound System for an all-day takeover in the summer, with their local DJs programmed alongside the likes of Mungo's Hi Fi.
And while EH-FM has garnered a reputation for its club-centric underground residents, it is by no means restrictive: many presenters are just local people with really good record collections. "I think that's what is so important about radio," says Director and Station Manager, Jamie Pettinger. "You can devote time to two hours of ambient or folk music or whatever." Broadcasting is also a welcomed liberation for guests who might traditionally play more dance-heavy tracks in a night-time setting. Gavin Sutherland, a resident and producer known as Other Lands, has been involved in the station since its inception. "It's been a nice constant doing the show this past year," he says. "As time has gone on and we've got further away from the club experience, I've found I've played less dancefloor stuff, probably."
On the other side of the M8, Andrew Thomson founded Clyde Built Radio in February 2020 to share Glasgow's multifaceted music scene with the rest of the world. "I think people have a false idea of the music scene in Glasgow, thanks to its reputation as the core house and techno city which has been so heavily portrayed by the mainstream music media in the last few years," says Thomson. "There's a lot more going on beyond a few familiar names." He nods to Lizzie Urquhart, a presenter with a folky, gentle sound, who joined the station as a complete beginner. "She'd never done anything like this before," he says, "but she's a music fan just sharing what she likes, and there's a real uniqueness to her style."
David Fleming and Susan O'Neill at Radio Buena Vida were also keen to raise the profile of more left-field genres in Scotland. "There's a real exploding Scottish hip-hop scene that we're excited to be supporting," says O'Neill. The station has previously hosted Glasgow-based rap collective Up 2 Standard, as well as Dundee hip-hop artist India Rose, and they're currently working on an upcoming collaboration with rising youth rap star CHEF from Aberdeen. "He's just one example of young talent that is doing absolutely great and is getting recognised by putting out amazing music," says O'Neill.
When restrictions were occasionally relaxed, Clyde Built Radio returned to their small but slick broadcasting stall in the Barras, a central hub envisioned to accelerate collaborations and break down musical and social barriers. "We've been running for 11 months but have only been in the studio for four-and-a-half of them," says Thomson. "I hope that at some point in time the studio will provide this physical space for a bit of optimism and connection and hope. It's like this utopia exists in our minds rather than in physical form, since we've not been in regular interaction with it."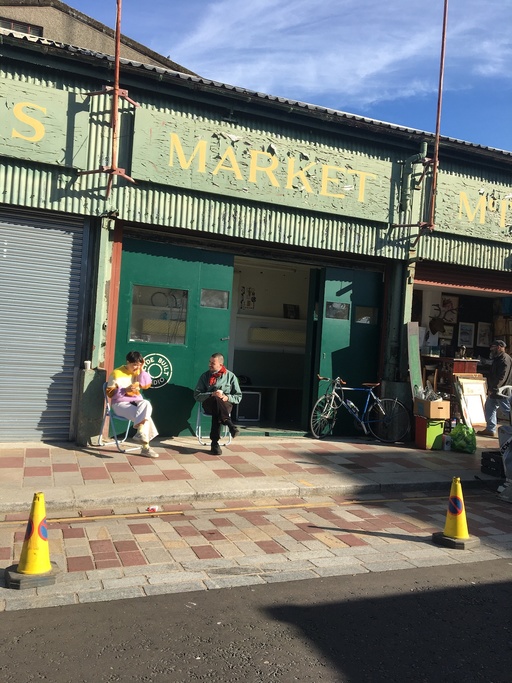 While the stations have been itching to return to their studios, listeners have tuned into Scotland from near and far. "There's always someone who listens in Oman," says Thomson. "I don't know who it is." When Optimo played the station's first stay-at-home House Party in April 2020, data showed that there were listeners tuning in from every continent on the planet, bar Antarctica. And by programming promising names alongside those more established, like Optimo, Thomson hopes that Clyde Built Radio will globally platform the next generation of presenters. In this respect, lockdown certainly helped to level the playing field: "Someone who was well-established was suddenly in the same position as someone who had never had a radio show before – so long as you had a laptop and could download the software to put it together," he says. "It's made it more democratic and a bit more accessible."
When live music does return, there is a general feeling that the pandemic might move the focus more than ever onto homegrown talent, which has become somewhat overshadowed in recent years by a circuit of international names dominating line-ups. "From the point of view of Edinburgh's underground club music, I think it was in such a good place before the pandemic; there really weren't any bad nights," says EH-FM's Pettinger. "But I hope that when things return to normal, there will be more of a focus on local stuff. People will just be so excited to go out – there will be no need to book people from overseas."
---
Listen to Radio Buena Vida at buenavida.co.uk
Listen to Clyde Built Radio at clydebuiltradio.com
Listen to EH-FM at ehfm.live and from £5 per month, join EH-FM's recently launched Patreon at patreon.com/ehfm_live to help the station become a community-led sustainable project
EH-FM photo by Chris Murray; Clyde Built photo by Andrew Thomson