Mungo's Hi Fi & Eva Lazarus on More Fyah and KID_X
Ahead of releasing More Fyah, the accompanying soundtrack to futuristic stage show KID_X, we speak to Glasgow's Mungo's Hi Fi and Bristol-based MC Eva Lazarus
Bass is the only truly universal language, and it's what has fuelled the outernational adventures of Mungo's Hi Fi for almost two decades now. An inspirational sub-low force, their reggae-centric experiments with wobble have stormed festivals across the globe, working with everyone from underground heroes to Jamaican dancehall legends in the process.
The Glasgow collective's latest project might just be their most ambitious to date. New album More Fyah – incoming via their own Scotch Bonnet imprint – is paired to the stage show KID_X, a timely dissection of social media and technologically driven dystopia crafted alongside Bassline Circus.
Collaboration, it seems, is key. More Fyah is voiced by Eva Lazarus, the Bristol-based vocalist who also takes the lead role in KID_X. The two were brought together by the bass ley line that stems from Glasgow to Bristol, and Eva Lazarus is very much a kindred spirit in the Mungo's Hi Fi universe. "You find your tribe," she smiles, opening up to The Skinny. "They aren't one dimensional. They're just really comfortable in experimentation, and finding what's good."
Mungo's spotted Lazarus onstage two years ago and she was immediately made at home among the Glasgow crew. The two share a similar vibe, with repeated journeys to their Glasgow studio helping her to immerse herself in Caledonian dub abstraction. "Both cities like to party," laughs Mungo's Hi Fi selector Craig MacLeod. "I would say we all feel as at home in Bristol as we do in Glasgow in many ways. In terms of the people there, the reactions of the crowd, and just the general up-for-it atmosphere… always!"
Switching between live sets and studio sessions, work on More Fyah has been ongoing for around 18 months. But it took the introduction of stage show KID_X to allow the project to truly find its focus – essentially a reworking of Mathias Malzieu's novel The Boy with the Cuckoo-Clock Heart, it blasts the roots of Mungo's deep into the future.
Tom Tattersall of the Glasgow crew was immediately impressed. "When they told us the idea for the project, a futuristic world and a love story between avatars, and having a virtual dancehall… it just sounded really interesting!"
Macleod adds: "The album actually started before the stage show came about. Once that came into the mix the two things kind of merged naturally, and for us it gave us an extra element of something different we'd never tried before, which was really quite exciting."
A multifaceted object in its own right, More Fyah could well be the most advanced, intricate and varied album Mungo's Hi Fi have completed. Lazarus pushes them in a huge number of directions – whether that's the driving hip-hop beat of Gasoline, the ragga energy of Bad Gyal or the way Babylon Raid samples the voice of reggae great Max Romeo, it's an absolute feast that gorges on the full weight of the bass spectrum.
It's an eclecticism that is close to Lazarus' heart. "Even though there is a diverse range of sounds on More Fyah they're all from the same world," she explains. "They're relatives – they're cousins, brothers and sisters.
"From the roots of reggae and dub – and all of the things that it stands for – right out to the branches of where it's gone and where it's going to. All of those things are on the record to a greater or lesser degree. I feel like we've explored all of these aspects of what this culture is and I want people to be able to explore that with us."
But while Mungo's Hi Fi have traditionally rocked the party – check out 2014's outrageous full length Serious Time for some truly inspired riddims – this new album is permeated by threads of paranoia, distraction and dystopia. It's a righteous affair, for sure, but that doesn't mean the darkness of the outside world can be discarded, especially given the link between More Fyah and KID_X.
"I think the energy of what Mungo's Hi Fi do with their productions suits this future tech world really well," Lazarus comments. "It's fierce, and in some parts really dark, and that's this story – it's very future, it's very dark and, in parts, quite funny. I'm proud of this work."
Working from their Glasgow base, Mungo's Hi Fi road-tested More Fyah in their sets, tweaking it on one of the country's best sound systems. That energy seeps into the album itself – whether that's Lazarus' soulful approach on Amsterdam or the darkness of Warrior Code.
"It's a reflection of a modern day nightclub, where genres are mixed up a lot more," says Tattersall. "I think people are more used to hearing a mix of stuff these days and we want to reflect that with our music. As much as we're reggae, we definitely don't feel we have to be pigeonholed that way. It can be quite nice and surprising in a dance – sticking to the same theme but very slightly spinning it, making it a bit more party vibes, and people definitely respond positively to that."
---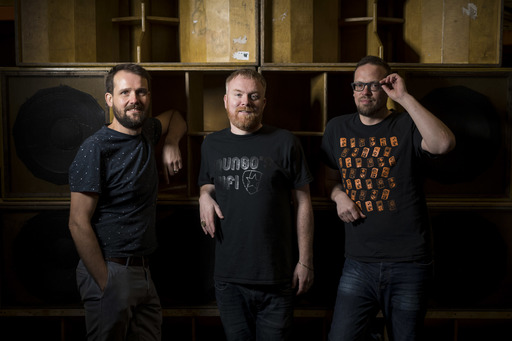 Mungo's Hi Fi.
---
An eclectic, emphatically creative experience, More Fyah has an unfathomable volume of party vibes. Take Bad Gyal, with its anthemic cry set to resonate across festivals and free parties all summer. The mere mention of the song sends Lazarus into hysterics: "Listen, every good rave needs a bad gyal! Every single one!
"I've always listened to bass music," she continues. "My mum is a junglist. I always had that sound in my home. It's actually part of the reason why I moved to Bristol, because of the music that I listened to at home. I was like, 'I'm going to go and find my people!' It was everything that I hoped it would be and more."
The bond between Eva Lazarus and Mungo's Hi Fi resonates on a deeper level, a sound system relationship sparked by a very pure love of music. It's that bass quality that bonds them together, something that long ago grabbed hold of their imaginations. "It's a physical thing," shrugs Macleod. "Whether you're into the music or not, you can't help but feel those bass aspects physically on your body."
"It's the first thing you notice about a track," Tattersall agrees. "If you're approaching a free party or a festival, the first thing you hear is the throb of bass, and it always gets a bit of excitement going, knowing that around that bass is going to be a crowd of people and good vibes."
With More Fyah, Mungo's Hi Fi and Eva Lazarus have ignited an inferno – battling against tech conspiracies with little more than music, and the power of bass.
---
More Fyah is released on 19 Jul via Scotch Bonnet Records
KID_X takes place at Assembly Roxy, Edinburgh, 20-25 Aug