VAJ.Power: Meet the Glasgow VJ collective
We catch up with VAJ.Power duo Holly McGowan and Sofya Staune to learn more about their unique Art School-based nights FUSE, drawing on interactive technology, sound and audio-reactive video synthesis
How did you both meet and when did you start performing as VAJ.Power?
Sofya Staune: It was early 2016 when we actually started. It was after we went to this weird course in Belgium, about technology! We studied in GSA together, Holly was doing communication design and I was doing fine art photography. We were just visual, purely visual when we started out. We were doing exhibitions together and stuff like that. 
Holly McGowan: We had this mutual interest in technology, systems, making 3D animations and that kind of stuff. We didn't start off at all with the idea of music and clubs in mind. 
You were doing some visuals for events in places like Moscow and Stockholm, is that right?
HM: It was basically in the countries that have a bit more of a culture of VJing [video jockeying]. It's a much more common and valued thing in other countries, and here it wasn't so much. 
SS: I'm from Moscow, and even in Moscow VJing is much more of a culture. VJs are actually on the line-up [for club nights].
You must be one of the only collectives that are currently performing as VJs in Glasgow?
SS: That's why we actually started FUSE, because we were doing visuals and we were like, 'There is no space to do visuals in Glasgow, so we should create a space to do visuals!' So that's how it started, basically.
HM: I think the main challenge for us is trying to make as much of a space and visuals [as possible] with no budget. I think that's the biggest challenge. We don't get any funding or anything. We're trying to create an immersive space with limited means.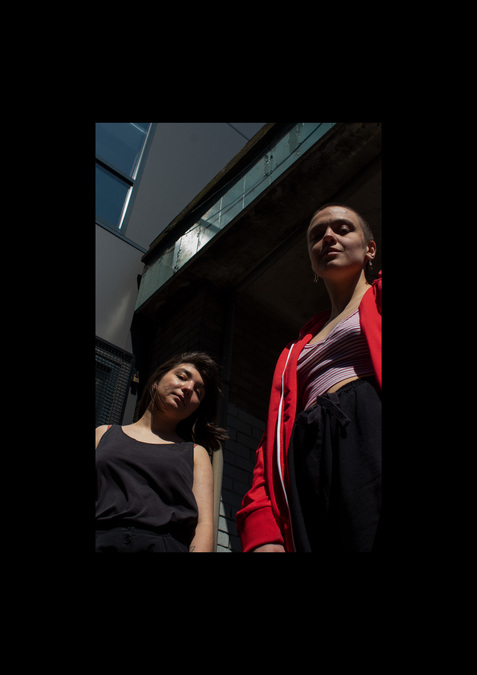 Is VJing more expensive than a traditional DJ set?
HM: It's more expensive, and also more time-consuming, because we make the animations. It's like making all of your tracks for a DJ set, and then DJing with them! Making the animations takes so long, and then we work with them live in a program where we can change colours and composition and things like that.
Can you explain in basic terms how you actually create the visuals?
SS: It's a 3D computer animation. Coding is basically what you actually manually write, and there are visuals that can be coded. But there are certain programs that allow you to just do it visually; so for example, if you need a circle to expand in time to the beat, you can just basically drag and drop it, and manipulate it yourself. 
HM: We were interested in doing something that was a little bit outside the modernist view of our school, which was very much like 'paint something, post-rationalise and then get a good grade'. We are so into process, and really into the way of making things and how learning environments can be more safe and friendly and better for people. We teach these things that we've learnt – we're not like 'professionals', but we want to make it more accesible and accommodating for people. Because it can be really intimidating, especially when you've got a guy who comes in and is like, 'Oh, you're doing that wrong'. You don't want that the first time you're starting out! You want to feel excited about it.
On the surface it seems like a practice that is male-dominated?
SS: Oh, for sure. And really white! Holly had this flat on Sauchiehall Street, and it had quite a big room – that's the room where everything happened, to be honest. We were researching VJing, and it was like all white, cis guys. And their visuals were all very aggressive, trying to be very cool, and we were looking at them and thinking, 'This is shit!'
HM: It's also not that hard, I feel like it's just accessorised to look very hard. We wanted to get past the initial intimidation of it being 'technology'. Also it can be very, very boring to watch tutorials over and over again, so that's why we are putting on workshops. It's a bit more interactive, and a bit more instant gratification, so you're not completely disturbed by it.
When did you start putting on the FUSE nights?
SS: It was December 2016. So there was the thing about us doing the visuals but not having a platform for doing the visuals. And no one actually gave a shit, there was this mentality of 'it's visuals, no one really looks at the visuals'. We were also slowly starting to get into grime, and so that first night, it was on a Thursday, we just booked a grime DJ. It was a good night! It was quite a good turnout. I think people were intrigued.
HM: It was one of those things where we didn't have a clue of how to do it, so the third event was probably the 'good' one! Honestly, the second one was the worst. It was really bad! 
SS: I think we tried to jam all of the things that we were interested in, in a very awkward way. Now it's a bit less awkward and a bit more natural!
What inspires your visuals and where do you take your inspiration from?
HM: I'm interested in the body... it comes from probably a personal root, but then I try to make it more aesthetic, because in a club environment it's not really a place where you stop and think about a work as much. It can't be too complex, where people need to look at the meaning of the work. I would love to live in this ideal place where someone at 2.30am is going to say, 'Oh yeah, it's such a profound work', but I'm realistic. For me, I use a lot of images of the body, focusing around gender dysphoria. We integrate this and we want to talk about this more. Not just in a club environment, but as a collective. We aim to be more aware of things like where we're from, what influences our work, and why we do this, rather than just because it's fun or it makes money. It definitely doesn't make money!
You must be excited to return to the Art School following the GSA fire and closure of the venue?
SS: I remember I was speaking about this with my therapist and I was speaking about being de-motivated, because our last FUSE event was on the night of the fire. It was really disturbing. Throughout the year, FUSE is something that I look forward to and work towards.
HM: The next night will be really special because I think we've grown a lot more, trying to deal not just with the Art School fire but how we work with people and respect them, and what we want from clubbing. I think what we're trying to do is practice what we want to see more of.