Eleanore, Edinburgh
A lockdown favourite moves indoors, as Eleanore brings smoky flavours, Scandi interiors and the best dessert for miles to Leith Walk
Ah, those carefree days on the promenade. Cycling down to the beach, riding along with the wind in my hair, going for a little paddle, then filling up on charred flatbreads topped with grilled courgettes and squid, or some Jerusalem artichokes. 2020, what a time it was.
OK, it wasn't 'carefree' by any means; there really was too much needing our care and attention. Portobello was constantly overrun with townies like me keen to escape to the seaside, plus I kept nearly crashing into people and their dogs. In spite of all that, The Little Chartroom on the Prom was brilliant. Inventive and accessible food in a lovely seaside location, it was a lot like being at a fantasy barbecue – loads of variety, plenty of char, and enough distance from the food that you don't go home smelling like an arsonist.
The team behind TLC on the Prom have now moved indoors to the top of Leith Walk, and the only knock on Eleanore comes as a result of that move inside. The restaurant is all high-top dining, with its website pointing out that the seats "don't have a back to them". OK, aesthetics and space, we get it. But it's 2022 – what is someone supposed to do if they can't get onto a high stool? What if you actually need something to lean on? What if a raised bar is a literal bar to entry? Hopefully it's something Eleanore can resolve in time, because it would be a real shame for anyone to miss out on this experience through no fault of their own.
The good news is that the smoky, pyromaniac energy is as strong as ever, and it's part of what makes Eleanore one of the most exciting new restaurants in Edinburgh for years. In fact, a couple of the very best dishes are refined holdovers from those days down at the beach.
The flatbreads make a reappearance, this time topped with potted shrimp and hispi cabbage (£6.50). The presentation may be a little different (what was once a big biffer in a cardboard box has evolved into two discs that are both impeccably neat and impressively tall) but the blackened edges and enormous umami hit are still here. There's a real savoury funk, some soft bits and chewy edges, and the whole thing smells like a burnt-down church. The hash browns (£6.50) come topped with smoked cod roe and lime-dusted puffed rice, with lime pickle hidden underneath. Underneath! The proportions are perfect, the hash browns are crispy and gooey in equal measure, and the more dishes with hidden lime pickle the better.
Elsewhere, the cured halibut (£7.50) is almost pearlescent, daubed with a tiny blob of super-strength chilli and fermented orange. It's delicate, simple and delicious, but it might also give you a spicy surprise if you lose your concentration. The leek ravioli (£14) with wild garlic pesto is ridiculously rich and dense in the best way, as well as being just incredibly, outlandishly cheesy.
A brilliantly-cooked fillet of cod (£22) comes straight off the grill looking a bit like a fishy iceberg, paired with savoy cabbage leaves stuffed with crab. These are the sorts of interesting plates of food you want to take your time over, which is much easier to do when you're ensconced in whitewashed brickwork and clean Nordic-style design, as opposed to sitting on a tidal wall trying to scare off a seagull. The barbecued mushrooms (£11) tie everything together nicely; a bed of charred maitake and oyster mushrooms bring the fire, and a super-savoury bordelaise sauce and creamy celeriac purée add touches of finesse.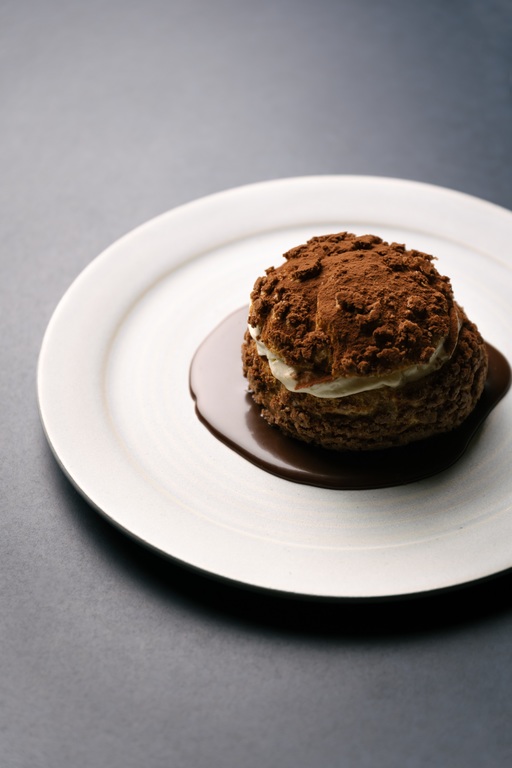 The tiramu-choux (£8.50), though, is a glorious bit of chaos. It's the five-bird roast of desserts – why make a big treat list when you can just put together a combination profiterole-gâteau-tiramisu-parfait? It's creamy, salty, sweet, crunchy, soft and chewy, as if the kitchen realised that the dessert probably couldn't be smoky, so it should just be everything else instead. It's a fitting end to one of the most exciting meals you can get anywhere in town, and a fine successor to those lockdown days by the beach.
---
30-31 Albert Place, EH7 5HN
Fri, 5-11pm; Sat-Mon, 12-4.30pm & 5.30pm-11pm