The Skinny guide to Portobello
A burgeoning food and drink scene, a bustling high street, and all the joys of the Edinburgh seaside – here are our picks from Portobello, all updated for our 2023 guide
This article has been updated for the The Skinny Guide to Edinburgh 2023, available now at venues across Scotland. Inside, you'll find summaries of the city's different neighbourhoods, and our recommendations on what to do this summer.
Oh we do like to be beside the seaside, and Portobello has all the elements you'd want from a trip to the beach. Long sandy stretches, some fantastic things to eat and drink, and some great indie shops to visit while you wait for the sun to return
Four miles east of the city centre, Portobello is ideal if you want a break from the hubbub of the Old Town or the immaculately straight lines of the New Town. The focal point is the beach – a two-mile stretch that's not always great for swimming, but perfect for lounging about with a book and a coffee.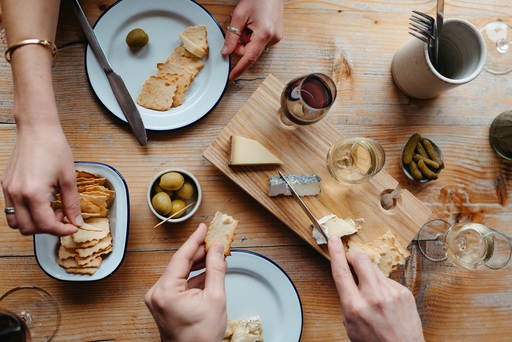 Smith & Gertrude. Credit: Amelia Claudia
Getting here, and keeping going
Portobello is very much not 'in town', so one of the best ways to get here is by bike. Get on the Number 1 path at the Commonwealth Pool, and that'll take you most of the way. Edinburgh's city bike scheme is sadly no more, but there are options available if you don't have a bike with you but want to make a day of it. Cycle Scotland (29 Blackfriars St), Leith Cycle Co. (276 Leith Walk) and Biketrax (2 Fountainbridge Sq) all offer bike hire – expect to pay between £20-£35 for a full day's rental.
Alternatively, use Lothian Buses to get to Porty – the 21 goes from Leith, the 26 from Princes St or the West End, the 42 from the New Town or the 49 from the Southside. £2 each way, you can pay using contactless, easy.
If you fancy a swim, a surf, or just a change of pace, the beaches of East Lothian are closer than you might think. The 124 EastCoastBus from the city centre passes through Porty on its way to Gullane and North Berwick. The former has a sprawling sandy beach; the latter is a charming seaside town with the sea to paddle in, shops to peruse, and a large hill (Berwick Law) to climb. It's around 75 minutes from central Edinburgh to Gullane, then another quarter-hour to North Berwick; you can also get to North Berwick on the train in 35 minutes from Waverley. The best waves around can be found at Dunbar, a hub of activity for surfers, paddleboarders and other wetsuited enthusiasts. It's around half an hour on the train.
Food and drink in Portobello
Down on the beach you'll find a pastel pink outpost of Civerinos Slice (47 Figgate Ln), serving up slices so big that the wind might genuinely take them out of your hands. Next door is a permanent home for Scottish street food legends Shrimpwreck (49 Figgate Ln). Their menu is packed with different beach-friendly ways to eat seafood – you could have crab in your macaroni cheese, you could get some shrimp covered in buffalo hot sauce, or you could pick up a sandwich and try not to cover yourself in a mist of batter flecks and pieces of fish. Weekends bring the Little Green Van to the promenade serving takeaway espresso by Edinburgh roasteries, while The Espy (62 Bath St) is a great beachfront bar for a pint and a gaze out to the water.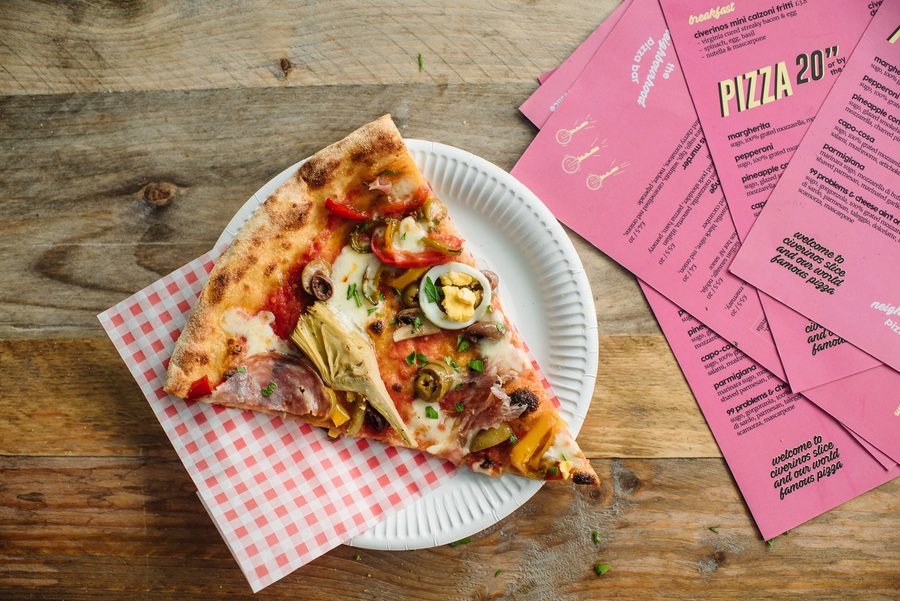 Civerinos Slice. Credit: Civerinos Slice.
Over on the High Street, the Portobello Tap (no. 87) serve up great beers from a range of Scottish breweries, while the Forresters Guild (no. 40) has a beer garden packed with multi-coloured beach huts for those days when you don't want to put too much hope in the weather. For a beach-appropriate meal, head for the tapas at Malvarosa (no. 262), while Tanifiki (no. 44) is the place to relax with a coffee. There's a branch of the oft-mentioned Twelve Triangles (no. 300) if you're in the mood for a pastry, while a pair of recent additions offer excellent aperitivo-style options. Porty Vault (no. 243) is Vault City's new bar loaded up with their fruity sour beers; Smith and Gertrude (no. 254) serve up well-curated wines and delicious nibbles. Oh, and because it's the seaside, we need to shout out one of the city's best chip shops. St Andrews Takeaway (no. 280), we salute you.
Things to do in Portobello
Portobello High Street has a few key spots that are worth checking out. First up is The Portobello Bookshop (46 High St). The independent bookshop, which opened in 2019, has a bumper range featuring a bit of everything from local indie magazines to genre-busting fiction. They also regularly host readings and events, both in-person and online.
The fresh homemade pasta from Aemilia (186 High St) was a big hit of lockdown times; they regularly sell out early at their new permanent home, so get down early if you're keen for some ravioli. Looking for a memento of your trip that you can drink on the train home? Beer Zoo (219 High St) is one of the city's very best bottle shops, with incredibly knowledgeable staff and a wide selection that includes beers and spirits from a host of local breweries and distilleries.
And if you want a bit of a break from the sand and the waves, look out for the latest from Art Walk Porty (1 - 10 Sep), which has in recent years grown from an annual celebration of the area's artists into a multi-faceted programme of events and residencies. Visit artwalkporty.co.uk for all the latest – their Climate Cafe series of walks and talks continue all year, with info on this year's main Art Walk programme expected shortly. In the meantime, The Porty Light Box is a decommissioned phone box on the corner of Bellfield Street and the High Street that's been taken on as a gallery space for the local community. It's well worth swinging by and seeing what's in the windows.