Edinburgh Beer Garden Guide
Looking for a beer garden in which to nurse a cold drink on one of Edinburgh's rare sunny afternoon? Look no further – we've got you covered.
The good news is you can drink in the park in Edinburgh. If you're looking for a slightly more sophisticated approach to al fresco boozing, and perhaps such home comforts as a chair and even a table to set your glass upon, you'll need a beer garden. Here's our guide to where the beer's at in Edinburgh, area by area. You will find a handy map to help locate your outdoor boozing venue of choice at the foot of this page. 
Beer Gardens in the Old Town
The Beehive (18-20 Grassmarket) is the surprise hit of the Grassmarket, with a large, sunny multi-level beer garden out the back, climbing up towards the Castle. Next door is the sparky newcomer that is Cold Town House (4 Grassmarket), offering a genuine, honest-to-Christ rooftop bar with views across to the Castle. Drinking on a rooftop? Where is this – New York? Or Leeds? Whatever's going on, we approve. 
At the top of the Mound, The Wash (11-13 N Bank St) has a fake grass covered platform out front which enjoys views of Edinburgh's famous skyline, and sunshine right up to sunset. Off the Royal Mile, the Jolly Judge (493 Lawnmarket) has some tables out the front although they don't catch the sun. On the Cowgate, there's the Three Sisters (139 Cowgate), which is less a beer garden and more a beer 'situation', but it does have a lot of outdoor seating so it's going in. For a fancier vibe, Salt Horse (57-61 Blackfriars St) has a surprise garden out the back adorned with foliage and fairy lights. Grab a fancy sour, hide from the masses – that's our kind of sunny day.
Beer Gardens near Edinburgh University
Around the University, The Peartree's (36 West Nicholson St) giant picnic table-filled courtyard has been the city's premier beer garden destination for years. It's decent enough, with good sun-catching abilities, although it's the only beer garden anyone in Edinburgh can think of on the only sunny day of the year, so be prepared to fight for a table. Also, be ready to conduct a chat over repeats of the Formula 1 on the giant screen behind you.
Nearby, 56 North (2-8 W Crosscauseway) breaks with tradition by offering a gin garden out the back and extensive pavement seating out front. Down the road, Summerhall's courtyard contains much outdoor seating in front of the Royal Dick bar (1 Summerhall Pl); get a seat right out front and keep your fancy glasses, or get your pint in a plastic and hedge your bets against the rain in the covered bit across the courtyard. Honestly, it's like Sophie's Choice.

Beer Gardens in Bruntsfield and Tollcross
Can you call the little bit out the front of The Ventoux (2 Brougham St) a beer garden? It's got permanent seating, and it's outside, so it's a thumbs-up from us. A very continental mix of benches and stools, it's like someone plonked a Parisian corner bar at the top of Lothian Road and thought no-one would notice. Around the corner is Akva (129 Fountainbridge), which has an enormous beer garden full of multi-coloured furniture and a first class view up the Union Canal. It is also, unfortunately, a bit of a shade trap, so bring a jumper. Further up the road, and the Blackbird (37-39 Leven St) has a homely-if-decking-heavy beer garden which is very like sitting in someone's actual garden. It's better in daytime, when it gets some sun. 
On to Bruntsfield, and the Golf Tavern (30-31 Wright's Houses) has outdoor seating with a view over the Links. You can also hire putters here, should you feel the urge to play sport. Further up is Bisque (69 Bruntsfield Place). Like a wardrobe into Narnia so is the door to Bisque. It has a heated, extensive outdoor area filled with plants and even a hedge. They offer good food and a vast selection of quality spirits. On the other side of the Links you'll find Black Ivy (4 Alvanley Terrace). Formerly known as The Links, its latest incarnation is a somewhat-swanky hotel and bar with a good selection of picnic benches out front. 

Beer Gardens in Edinburgh's New Town
New Town hits include the Starbar (1 Northumberland Pl) – the beer garden's a bit wee, but they have a cheap juke box so it's all fine. Nearby is the Cumberland (1-3 Cumberland St) which has a big tree-lined garden below street level with picnic tables that fill up pretty damn quickly at the first glimmers of sun. In Stockbridge, the Raeburn (112 Raeburn Pl) has a roof terrace and tables out front. Its prices are as you would expect, given its location and its recent cash-flinging refit.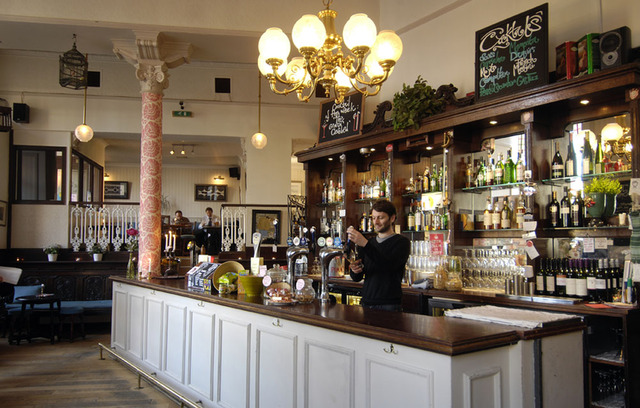 At the top of Leith Walk you'll find a bunch of places with outside seating on the street, from Cafe Habana (22 Greenside Ln) and Wetherspoons mainstay The Playfair (Omni Centre, Leith St) near the Playhouse down to ever-popular sun trap Pearce's (23 Elm Row). There's also the Outhouse (12a Broughton St Lane), good for tasty beers, pizza and the occasional disco barbeque.
---
---
Beer Gardens in Leith
The Shore in Leith is the money shot of outdoor drinking locations, with a host of bars offering seats along the waterfront. Finn and Bear (58 The Shore) will do you a lovely brunch and/or a pint while you sit out by the water, and The Granary and The Shore offer a variety of street front benches. Cruz (14 The Shore) wins the unusual location prize with a cocktail bar on a boat and seating on the top deck. Across the water you can find somewhat well-kept secret Teuchters Landing (1c Dock Place), which has canal-level seating on a floating platform as well as more traditional picnic benches on the waterfront.
If you want to smash some fried chicken while doing some outdoor drinking, The Pitt (125 Pitt St) is the place to be. The street food yard may only be open on Saturdays, but if the Edinburgh sun lines up with the weekend you can spend all day sniffing the food trucks with a pint or two.
Beer Gardens in Portobello
Beer gardens are nice, but beer gardens with a view of the sea are even nicer. Down in Porty, you have the The Espy (62-64 Bath St) or Dalriada (77 Promenade) to choose from. The Espy is fractionally closer to the water; the Dalriada has more of a garden vibe. Essentially, go to whichever one has a spare seat because they will both be mobbed out.