Drinking Outdoors in Edinburgh: A Guide
Sun's out, looking for somewhere in Edinburgh to sit on some grass and drink? The Skinny is here to provide some key park facts on buying booze, using the toilet, and blending in with the locals
The Meadows
Stretching from Newington in the east across Sciennes, Marchmont and Bruntsfield on the Southside of Edinburgh, The Meadows is the mother of all outdoor drinking locations in the capital. The first taps aff sighting here is as sure a sign of summer as bumblebees or the Evening News declaring temperatures of 11 degrees a heatwave, and the second the sun comes out in earnest you'll find the vast Meadows covered in cider-swilling students barbecuing ineffectually in scenes reminiscent of the apocalypse.
To make the most of your time drinking on The Meadows, you'll need to know some key facts.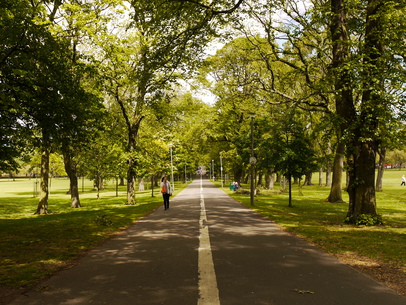 Where to buy booze in The Meadows
Different entry points have different booze options. Choose wisely.
Middle Meadow Walk: Coming from town you'll pass a Sainsbury's halfway down the Walk which on a sunny day often looks like it has been stripped by a plague of drunk locusts. You cannot rely on their still having supplies – plan ahead, people.
Newington: You'll have the best variety of off-licensed premises to choose from if you hit the Meadows from this direction. Lidl, Tesco, Scotmid and Sainsbury's are all on hand to supply a range of budgets and tastes, as well as Bottle Baron (60 Clerk Street) for those of you with discerning tastes and well-made tote bags.
Marchmont: Margiotta's (77 Warrender Park Road) has a long and proud history of supplying alcohol on a sunny day. With Margiottas across the city being quietly taken over by supermarkets it's basically your duty as a citizen to buy wine from these guys. Shop local.
Bruntsfield: Shit gets classy up in Bruntsfield. You could choose your wine or craft beer from Oddbins (176 Bruntsfield Pl), or pop into Drinkmonger (11 Bruntsfield Pl) down the road if you're feeling particularly sophisticated. Lupe Pintos (24 Leven St) offer a fine variety of exotic drinks from around the world, or, y'know, you could just go to Scotmid across from the King's Theatre.
Toilets in the Meadows
You're going to have to choose your location wisely if you're planning on sitting out for a while and consuming large quantities of Frosty Jack's (other cider brands are available). Here are the best places to sneak in for a wazz that we can think of.
Public toilets: There are public toilets located on the corner of Bruntsfield Place and Bruntsfield Crescent, open until 8pm. There are also some at the top of Middle Meadow Walk – they close at 6pm.
Edinburgh University Library: You can get to the cafe toilets without a student card. The building's open until 2.30am. We didn't tell you that though.
Summerhall: There are toilets throughout the building. The building is officially open until 6pm, but in practice stays open much later to allow access to the bar. Again, we didn't tell you that.
What to do when you're in the Meadows
If you want to blend in with a very vocal percentage of the student population, you could buy some fucking bongos and play them relentlessly long into the night while your friends – dressed in the garb of those who've well and truly found themselves while on their gap year in India – pirouette amid the flames of a strictly forbidden campfire.
Otherwise you could have a barbecue, or play with a frisbee, or just sit on your arse and quietly neck that three litre bottle of cider. Each to their own.
Meadows drink of choice
Gotta be the repeatedly mentioned three litre bottle of cider.
Local knowledge
This used to be a loch called the Boroughloch, used for drinking water, washing animals and disposing of corpses. Legend has it that the hillocks of Bruntsfield Links conceal the mass graves of plague victims. Enjoy the sunshine!
---
Princes St Gardens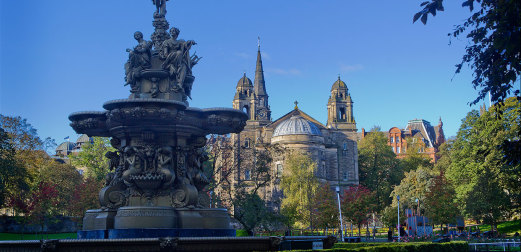 If you're drinking in Princes St Gardens you're either a tourist, a resentful shop worker on your lunch break, a resident of the New Town or a student trying to convince yourself you're fancy. You're not fancy, you're drinking in the park.
Where to buy booze for Princes St Gardens
Marks and Spencer's have pretty much got this one sewn up. Sainsbury's is also available, if you can be arsed walking a block further away, and there's a Tesco if you're approaching from the East End or hanging out in the graveyard like a cool goth. They've got more fridges, to be fair. If you're keen for a more expansive range of drinks with which to sit in the park, Oddbins at the top of Queensferry Street has you covered.
Going to the toilet
Public toilets: You will find public toilets behind the Ross Bandstand in the West Gardens, open until 8pm. They've started charging 30p a pop, apparently. There are also men-only public toilets at the Mound (30p again) and one in the West End which is open until 10pm and again charges 30p per pee. Gone are the days of spending a penny, clearly.
National Galleries of Scotland: You will find toilets located in the link, accessible from the East Gardens entrance next to the Scottish Cafe. And in the National Gallery of Scotland there's a somewhat hidden toilet in the main galleries.
Department stores: There are toilets in Marks and Spencer's (where you'll be buying your booze anyway, so that's a legitimate customer usage); Debenhams; Jenners (wear a headscarf) and BHS.
What to do when you're there
Read a book, eat a cupcake, consume some lovely supermarket tapas while perched atop a picnic blanket. Don't you dare pick up those bongos.
Drink of choice for Princes St Gardens
Prosecco, possibly with a strawberry in it, probably in a Marks and Spencer's plastic goblet so high class you can't even tell it isn't glass.
Local knowledge
YES THAT IS THE CASTLE UP THERE. Also, did you know Princes St Gardens used to be a loch called the Norloch in which they used to drown witches? It's lovely, this Edinburgh history.
---
Calton Hill

Escape the crowds and climb above the city to one of the most beautiful spots in Edinburgh. Gaze upon the grand city failure that is the not-even-half-finished National Monument, one nation's attempt to rival the Acropolis of Athens which instead ended in bankruptcy and ruin. Look across the Firth of Forth to Fife, and feel thankful that you don't live there. Stare up Princes St and marvel at Edinburgh's majestic skyline. Nip into Collective for some half-cut contemporary art when it inevitably starts pouring down with rain.
Where to buy booze for Calton Hill
You'll mainly be reliant on newsagents on Waterloo Place or Leith St if you're not planning ahead. There's a Tesco on Picardy Place, and those approaching from Easter Road can visit independent booze retailer Cornelius (18-20 Easter Rd) for some perfectly chosen beers and wines.
Going to the toilet
It's a bit challenging to find a toilet on Calton Hill, to be honest. There are plenty of bushes though? Failing that, Collective Gallery might be kind enough to let you use theirs, or Milk Cafe. You'll probably have to buy something, though.
What to do when you're up Calton Hill
Gaze upon the view. Discuss how lucky you are not to live in Fife. Climb the Monument. Be careful not to break your leg while jumping off the Monument. Visit the Collective Gallery. Explore the Observatory.
Drink of choice
Some sort of imported lager like Tyskie or Lech, most likely.
Local knowledge
Pagan festival Beltane takes place up here every year. If you're into fire, drums, hippies and sex outdoors, this is the place for you.
---
Inverleith Park

This is family-friendly Edinburgh at its most middle class. Come here if you've got a dog or kids and hate bongos, maybe after a wee jaunt around the Botanics.
Where to buy booze for Inverleith Park
There's nowhere nearby so you'll have to stock up on the way. Hit Stockbridge for the likes of Vino (N W Circus Pl), Raeburn Fine Wines – which is handily open during the day, and only during the day – Rodney Street's Beerhive and Appellation Wines (63 Comely Bank Rd). If you're coming at things from the other end, or need some fancy pork pies and £6 worth of olives to go with your cans, the upper-middle-class mothership that is Waitrose is down on Comely Bank Rd. 
Going to the toilet
The John Hope Gateway entrance in the Botanics has the first of many public conveniences dispersed through its grounds. Open until 6pm.
What to do when you're in Inverleith Park
Have a lovely game of croquet. Marvel at posh people's dogs. Bother the swans.
Inverleith Park drink of choice
Pimm's.  
Local knowledge
There's a cricket club next door. That's where we're here.
---
Leith Links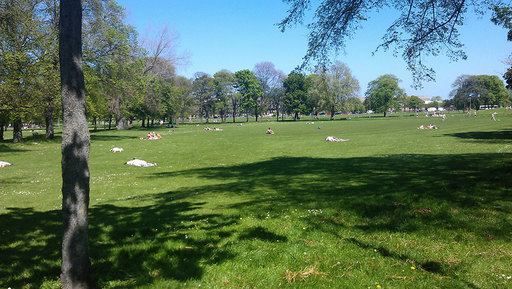 You're in gritty Leith now. The good news is there are loads of community events here in the summer, from the Gala Day to Leith Late, so there's probably something fun happening nearby with nice people.
Where to buy booze
Your closest option is the massive Tesco on Duke St. There's a Lidl in the Kirkgate for your budget German options. Majestic Wine Warehouse on Leith Walk provides an ample supply of wines, beers and spirits and now allows you to purchase by the single bottle. Take a walk onto the Shore and you'll find some interesting independent options, including Beets (49 Bernard St) and Stewart Brewing's Dockside Tap (38 Bernard St) for yer chilled craft beer and lovely gin.
Going to the toilet
You'll be lucky. If you're down here you most likely live nearby, so go home? Otherwise, make friends with a local pub owner.
What to do when you're there
There's a vast expanse of grass so this is a prime location for some organised fun. Bring a frisbee, rope in a gang for a game of rounders. Or just sit and enjoy your Buckfast in peace.
Drink of choice
It's gotta be Buckfast.
Local knowledge
There's a cricket club here, too. It's a bit different from the one in Inverleith. Maybe they'll let you use their toilet.