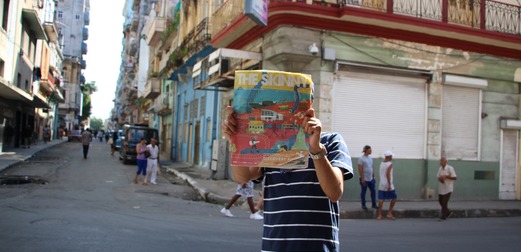 ¡Hola, comrades! As the weather outside is – to use a meteorological term – pure pish, we've jetted off to sunnier climes this month. We spent the trip listening to salsa, dancing the rumba and drinking rum and cokes – although we couldn't find a can of Coca-Cola for the life of us. Turns out we were in one of only two nations where that brown, sweet nectar is outlawed (the other, incidentally is North Korea). Luckily, the local tuKola is just as delicious.
The rest of the holiday was spent chilling in this city's many parks – we particularly enjoyed the ones dedicated to (John) Lennon and (Vladimir) Lenin. We also idled the days away admiring the vintage cars on the road and smoking the country's famous cigars – they certainly beat a Hamlet. Our visit put us in mind of this quote from the country's most famous son. "We cannot be sure of having something to live for unless we are willing to die for it." ¡Viva la revolución!
If you reckon you know where we've been this month, tell us in the box below, and you could be in with the chance of winning The Little Snake by AL Kennedy courtesy of our pals at Canongate.
Competition closes midnight Sun 6 Jan 2019. Winners will be notified via email within two working days of closing and required to respond within 48 hours or the prize will be offered to another entrant. Our Ts&Cs can be found at theskinny.co.uk/about/terms