Community Spirit: Creative Models in Scottish Clubbing
Desperate times call for creative measures. In exclusive conversations with The Skinny, some of Scotland's most innovative promoters and venues provide insight into their creative models and the clubbing climate in which they operate
Facing post-COVID pressures in tandem with heightened inflation and astronomical artist fees, clubbing circuits across the UK are reaching boiling point. Recently, Scotland has seen venues open and close and promoters come and go. Meanwhile, homogenous lineups take the forefront, remaining one of the few continuities in a struggling creative ecosystem offering little room for sustainable diverse programming. Desperate times call for creative measures: in exclusive conversations with The Skinny, some of Scotland's most innovative promoters and venues provide insight into their creative models and the clubbing climate in which they operate. 
Boosterhooch, aka Han, founder of Glasgow's Events Research Programme (ERP) has been curbing ticket volatility through a monthly membership scheme – meaning parties can, generally, pay for themselves before even taking place. With patrons donating £3.50 at the beginning of each month, Han can plan accordingly, leaving full creative control over experimental programming without looming financial pressures. Though offering £7 door tickets, "it's not exclusive" she tells me, "it's just the members enable things to happen."
Once subscribed, you'll receive a personalised card (annually redesigned by Alex Warner & Peter Mckenna), leading to collective familiarity at events – "there're a few groups I can see within the membership... I hope it forms a community around it in that way." Typically backing local bills, some members have gone on to play parties by joining ERP, becoming "something where people are inspired by each other… this is more interesting to me than helping big names."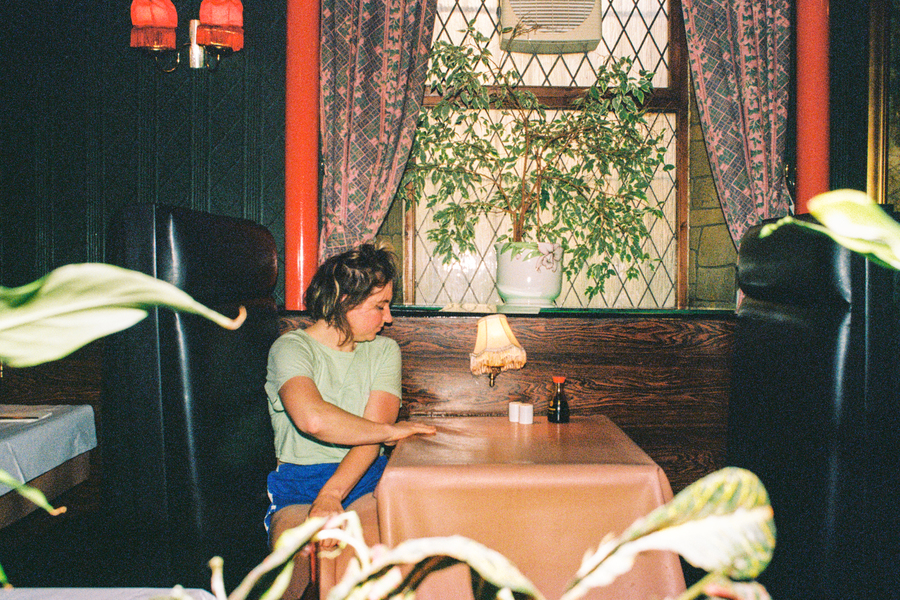 Boosterhooch, founder of Events Research Programme. Photo: Celine Antal
ERP's monthly offerings spread across the city, while 'special events' at atypical venues – inspired by Han's formative Sub City managerial days – have welcomed the likes of Debonair and General Ludd to Glasgow's finest Bowling and Cricket Clubs, rattling team trophies with Shakara's Knowehead Soundsystem. Incorporating performance, music and food, amongst film screenings, bike workshops, and interdisciplinary roundtable discussions, "I think there's scope for doing whatever I want because it's research," says Han. With hopes of collective event curation, an annual report surveying membership, and plans to revive Communal Leisure – a political Headfirst-esque zine – Han is responsive to the happenings around her, in turn, exciting the future – "There're communities around events and people doing interesting things, it only gets kind of codified in nostalgia."
Bonjour, the Queer workers-owned co-op situated in Glasgow's Saltmarket, converts community spirit into social action through safe-space club nights, workshops and events accessible for all. Radically political in its foundations, working collaboratively, not hierarchically, the venue has received support from the Green Party; an entity, similarly, operating radical structures within an unradical context. Their board, once 13 members strong, currently in the midst of restructure, is collectively led by Frankie, Freya and Kathryn.
Meeting with them in Bonjour, you can see it's more than a bar and much closer to a club in the associative sense. On their substructure, Freya explains "it was important that it was seated in radical politics," upon opening in 2021, drawing from prior exposure to an "industry where you're often working for somebody who doesn't care about you as a worker." Being a space for underrepresented groups in the LGBTQ+ community, Kathryn highlights the particular importance of "a core structure where everybody is equally represented." In the creative sense, Frankie notes the strengthened scope for collective vision, together with diverse experience and perspectives – "using those to our strengths when different things come up." Flat governance is met with flat pay for all staff, as well as consistent opportunities to upskill and become a part of the board.
Bonjour is a "space for people who don't have anywhere else to go," says Freya; "it was important tangible things were differentiating us from existing gay venues in the city." Noting BIPOC lineups, Kathryn emphasises "even within these queer spaces, there're people massively underrepresented." Handpicking approaches to improve safety and accessibility from nights before them, aiming for "a venue with all those things as an overarching structure," the club regularly subsidises home-time transport through the Taxi Fund, alongside hosting weekly Small Trans Library meetings, and fundraising for members within their community.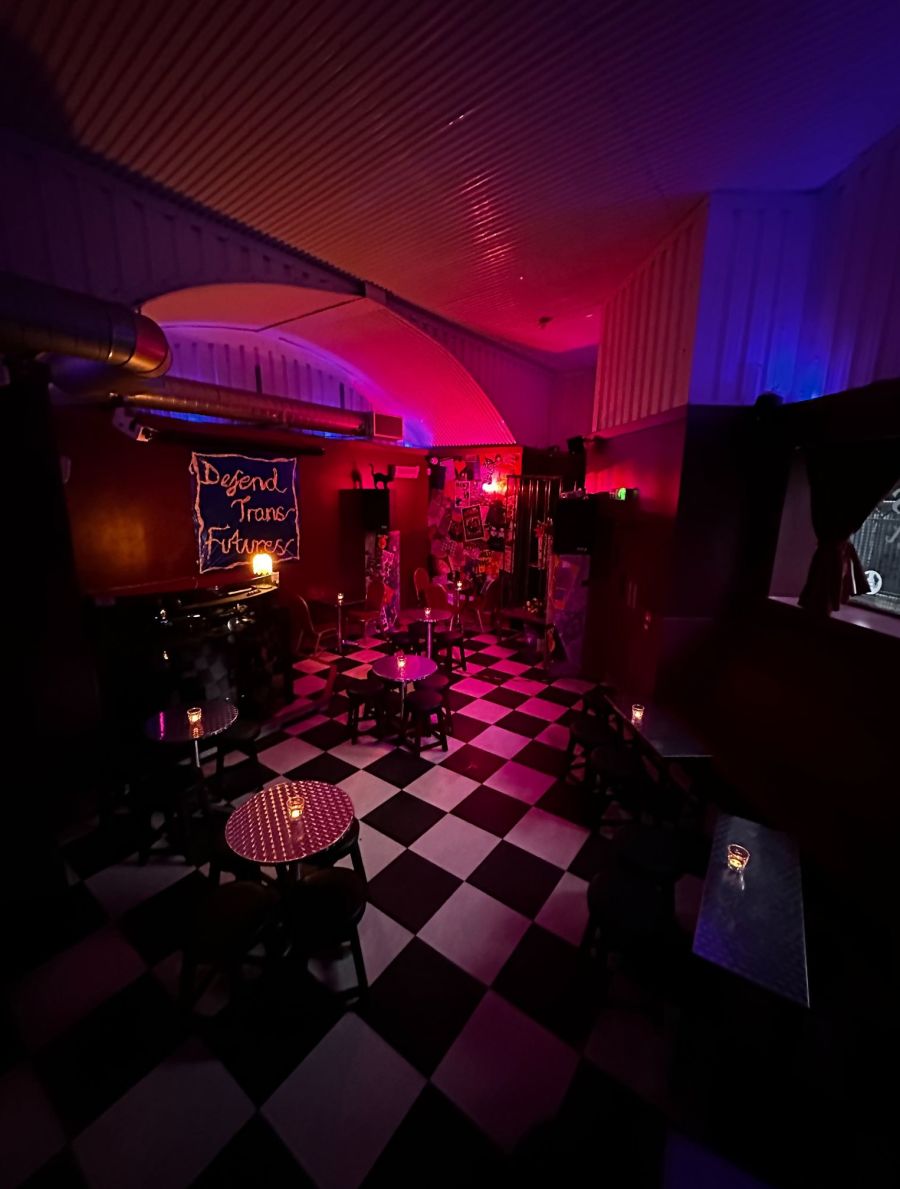 Bonjour, Glasgow.
With care in abundance, it's the lack of finance limiting Bonjour, although 2022 Creative Scotland funding did facilitate a Production Mentoring Programme, aiding the underrepresented within arts and nightlife. The support – incorporating artist care, branding and ticketing, in amongst welfare – sought to "pass on their whole ethos to nights, so it can go forth and multiply through Glasgow"; in turn birthing some of the city's most attended parties at present, including Mojxmma and Ponyboy.
Having built an extended security team – providing SIA badges with queer-specific welfare basics – Bonjour (inspired by London's Safe Only) hopes to offer alternatives within a sector largely lacking training on nuanced topics surrounding diverse communities – beginning with their Halloween takeover at The Art School this month. Support Bonjour and stay tuned for incoming merch.
Seeing SYMBØL >shut in under a year's business, it's commendable opening a city-centre venue in Glasgow, though EXIT's JJ & Miko are confident "there seems to be a need for a space now… that's what people are telling us anyways." Speaking to the founders, at the brand new venue behind St. Enoch Shopping Centre, their strong DIY ethics are apparent. Initially viewing the property back in May, the pair received the keys in August, leaving 3 weeks for licensing, electrics, painting, and plumbing, before September's opening fundraisers. 
Having launched their Kickstarter, with a Patreon to come, they envision a membership model of participation in art and music in Glasgow. JJ tells me, "It's a way that people can support and pre-buy tickets, which helps us and is also a better deal for them." The £100 Full Monthly Membership enables entry to all events for between nine months and 12 months – "depending how long the building stays intact." Clarifying this, they're honest and frank about finances, "It may last only for a bit, it may last longer. You may as well give it a go."
Miko highlights that, despite their rich resources, "so many venues are not operating aside from being businesses." Being multidisciplinary artists, the duo aspire to coalesce their backgrounds into a unique creative community space, through the democratisation of space and equipment. Additionally seeking to readdress club-promoter relationships, JJ stresses "When we collaborate with nights or promoters, it will be a collaboration rather than, 'this is the space hire, you do tickets, we take the bar', it's going to be integrated." This landlord-like demeanour is something foreign to Miko – "back in Europe, five years ago, there were no hire fees, you would just go in and split the doors, in somewhat of a sense of solidarity." It's their hope EXIT gains clubbers' trust as a curatorial venue. Putting people before profit, JJ & Miko are humble and courageous – "We may get hurt horribly, or this is gonna be the most beautiful thing."
Pushing back against corporate interests, Subterranean Sound, Edinburgh's two-day indoor festival returns for its second year this October. Showcasing local artists on a stacked sound system at Sweetdram Distillery, the festival, run by GRDN, in collaboration with local organisations EHFM and RaveSafe, provides a tasteful counterpoint to the capital's 'finessed' festival offerings of the current conglomerates.
Speaking to Grant, Millie, and Shoba, who – alongside Bartek, Fraser, Roma, and Soraya – run GRDN, you can tell, at its core, the collective is a group of friends. The festival looks to create a fresh clubbing experience through Grant's custom-built stage design & lighting – inspired by a background in product design. He tells me, "The whole idea with GRDN is about creating new space. We want you to walk into that space and for it to be completely different." Drawing from personal experience, "You get so much out of it. You just feel so rejuvenated," adds Shoba.
With initial promotions at Leith Cricket Club back in 2019, followed by Portobello Beach parties, the word-of-mouth events got around, beside their ever-growing WhatsApp group, and acquaintances across the scene. With Subterranean Sound, they tell me, the idea was to "take all those little circles and bring them into one big family." The non-headliner line-up exclusively showcases Edinburgh artists, inspired by Grant's Dekmantel trips in its infancy, where dancers travelled overseas for native Dutch DJs. Millie adds, "I feel like not having a major line-up tends to attract people genuinely more curious about the music," noting the impact of instant gratification spreading through club spaces. Ultimately, as a non-profit, "If the community gets behind you, that's worth more than a headliner" to GRDN.
---
Subterranean Sound image by Jack Farrar