A brief history of EHFM's first 5 years
As EHFM celebrates its first five years, we pull together DJs, producers and some of the station's founders to talk community spirit, building a platform, and hopes for the next five...
[This article was originally published direct to subscribers of our Zap! email newsletter. Every Friday, we send out a curated guide to the most exciting cultural events across Scotland, and once a month we throw in a specially-commissioned essay or interview. Sign up to the Zap! here.]
Word on the Street: The early days, and getting involved with EHFM
Having been involved with Edinburgh's club scene for the best part of a decade, DJing and running parties, I'd been chewing my friends and peers' ears off for years about the lack of a good community radio station or platform outside of the night club space to promote more diversity and sharing of ideas between different branches of Edinburgh's music community. We decided that if we wanted one then we should just do it ourselves. [Matt Belcher, Director]
I heard through the grapevine that a group of people were starting a radio station in Edinburgh, so I went along to their first broadcast at Hidden Door… the other co-founders – Matt, Andrea and Kenza – had already found a space in Summerhall but we still had to turn it into a studio. After a couple of months, we had our first proper schedule and we were off! I remember tuning in on the first day we broadcast and crying a little bit! :') [Jamie Pettinger, Director and Station Manager]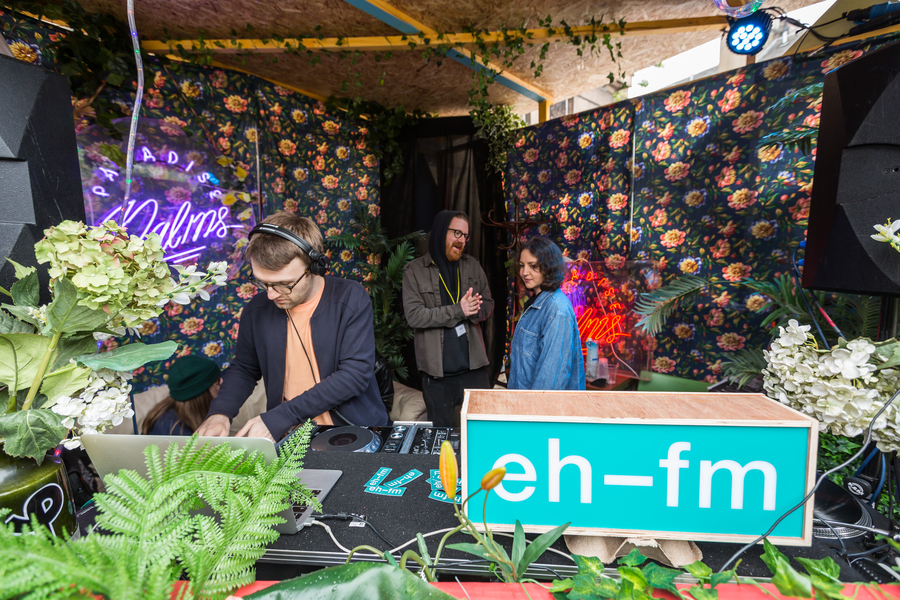 EHFM broadcasting at Hidden Door 2018. Photo: Chris Scott
I used to work for Paradise Palms doing their programming, I was also a resident DJ for the bar. Andrea Montalto and Matt Belcher worked there at the time, managing the record store I think but we all went through so many incarnations in that place back in the day that I can't really remember! So they approached me and asked if I'd be interested in doing a show on a new radio station they were creating! [Nikki Kent, LUNCH, Thu 12-2pm]
I first got involved a couple of months after [the launch]. I saw what Jamie, Matt and Andrea were doing and it felt new and exciting for the city… I messaged Andrea asking if I could help in any way – I even offered to be the coffee runner :') – and I couldn't believe my luck when he wanted me to join as a volunteer producing shows. [Feena McKinnell, co-director and volunteer coordinator]
Me and my co-host Douglas Bruce decided to start Scottish Tap Water when we saw a call out on Facebook from Jamie. The station was in its infancy and Jamie was looking for potential shows. We were both at school with Jamie so it was really good fortune for us that we were aware of the station so early. [Daniel Mackay, Scottish Tap Water, fourth Mon of the month, 6-8pm]
Matt and Andrea asked me if I wanted to come and do a show. I put a load of records in a bag and ventured to the studio. They loved it and asked me back again two weeks later. I got the bug and five years and 103 shows later here we are. [Colvin Cruickshank aka Snide Rhythms, first and third Thu of the month, 4-6pm]
I had been involved in similar community stations prior but had always admired EHFM since it began so when the call went out for new shows I didn't hesitate to get involved! [Mystery Season, A Pinch of Mystery Seasoning, fourth Wed of every second month, 2-4pm]
I found out about EHFM in a very old-school way; I saw one of their stickers on a lamppost and decided to check them out. [Aoibh Downey, volunteer producer]

An EHFM sticker on a lamppost outside The Skinny's Edinburgh office. Photo: Peter Simpson
'Not Just a Radio Station': How EHFM has grown and evolved
For one thing the studio has upgraded massively... but more importantly, the quality of the radio content itself has increased tenfold. I'm continually astounded listening to it, it makes me feel indescribably proud and inspired. [FM]
When we joined EHFM it was only a month or two old and there were only a handful of shows. It's nice to see so many shows spanning a huge variety of genres as well as talk shows. [Josh & Laura of Vinyl Voyages, first and third Wed of the month, 6-8pm]
Back then the station was already quite known amongst the music heads in Edinburgh (hence my desire to join its ranks). Since then I feel like it became one of the vital parts of the city's art culture and it's not just the music folks who are interested in the station. [Bartek Lech, At Home with Haptic, third Wed of the month, 8-10pm]
I think within my two years of being at the station, what has changed most is how EHFM becomes integral to your life and experience within the city… I can't even count how many passionate, beautiful people I have met through being on the show and during producing shifts. [Raphaela Svirinskaya, Digging the Underground, fourth Wed of the month, 5-6pm]
For me, it feels like it changes every month. As a collective of people it's always evolving, and I don't think I've ever looked at it in the same way twice. [Rose Manson, programming coordinator; Outdoor Pool, second and fourth Fri of the month, 3-4pm]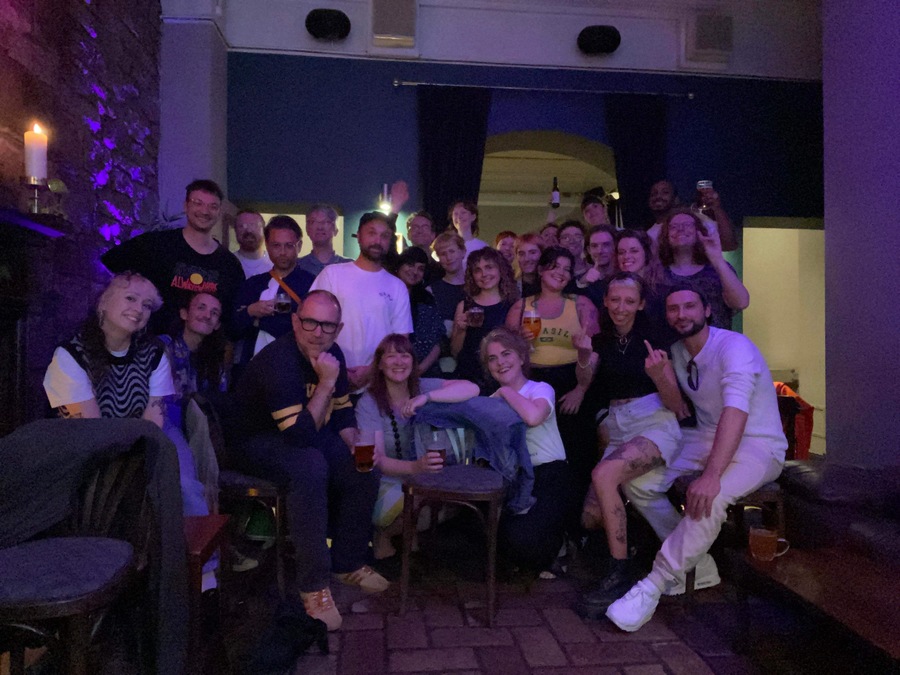 Just some of the EHFM team, residents and DJs. Photo: EHFM
There's a real depth to the programming and the quality of the sound is amazing. Considering that for everyone involved this is a side hustle, a labour of love, the way it has developed in such a short space of time is really impressive. [NK]
Having been heavily involved in the beginning, and subsequently taking a large step back from the day-to-day in the last couple of years – it has been such a privilege to watch the station snowball into a living and breathing entity. [MB]
As a Glaswegian jet-setting into Edinburgh, my monthly visits to EHFM seem like witnessing a nephew going through intense growth spurts. All the extra stuff they're doing to promote culture in the capital and beyond, and become an important part of that culture, is so heartwarming. [Tony Inglis, No Dancing, fourth Thu of the month, 7-8pm]
One thing we didn't anticipate when starting EHFM was its value as a place for like-minded individuals to gather around. The station means a lot to a lot of people, and we don't take that lightly. EHFM isn't just a radio station: it's become a place where countless friendships, relationships and collaborations have started, and that in itself has value to us now. [JP]
Parties, pools, and pairings: Favourite memories of EHFM
My favourite memory of my time with EHFM may be Kelburn Garden Party... a huge portion of the community were present to support the DJs and performers affiliated with the station who played several sets, across different stages, over the course of the weekend. [Samuel Rafanell-Williams, Won't be Worried Long!, first Fri of the month, 1-2pm]
Kelburn this year was really great – EHFM had their own stage and it was really sweet and beautiful seeing all these people, lots of whom had never met, come together and just hang out. [Maisie Wills, Mixed Feelings, Thu 10am-midday]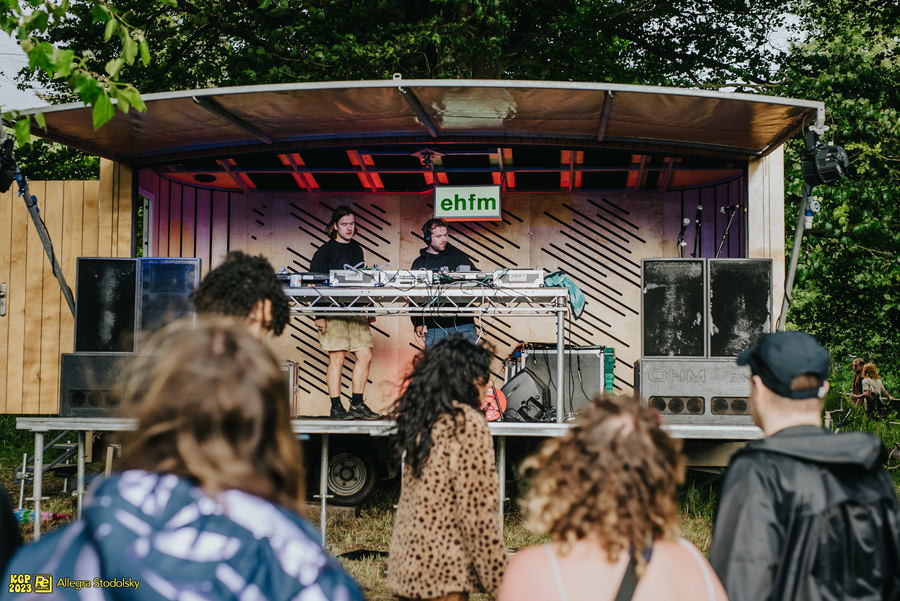 The EHFM radio cafe stage at Kelburn Garden Party 2023. Photo: Allegra Stodolsky / ReCompose
All my favourite memories from EHFM are when I've realised it's become a 'thing'... Someone recently told me they put EHFM on for the old women in their local swimming pool where they work as a life guard. Now that's success! [JP]
During lockdown, putting together my own show Sound of Mind, where I stitched together track selections and voice notes from a huge number of presenters across the station. Putting that together, hearing the voices of the community, their selections and their reasons for choosing them, reminded me that I was part of this wonderful community and that I wasn't alone... [FM]
My boy Firat would always be finishing his incredible show about Turkish music 'Mamma...Li Turchi!' as I arrived to start mine. When he did his show dedicated to those affected by the Turkish earthquake, I was able to sit in for almost half of it. It was emotional and perfectly pitched. [TI]
I have always enjoyed any of our shows in which things lock in conversationally and we feel comfortable shooting from the hip in a live context… This is often aided by the talented and kind producers of our shows who have helped create a relaxed atmosphere. [DM]
I was bowled over by the surprise scrumptious cake from 101 Bakery for my 100th show. [CC]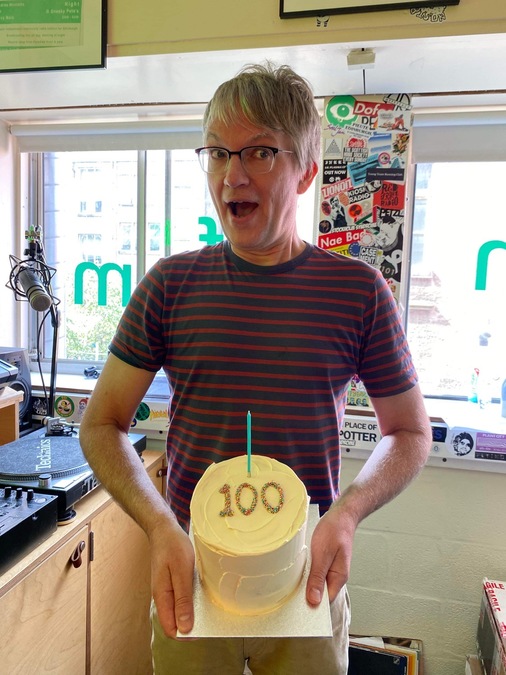 Colvin with his 100th episode cake (he wasn't the only EHFM DJ to mention this emergent radio-bakery tradition). Photo: EHFM 
It would have to be the night Nikki Kent and I played b2b at Sneaky Pete's thanks to the inspired matchmaking of the EHFM bosses! We'd never met before and only shared a handful of texts about what tunes we might play, but the night was ridiculously good. [Ravelston, Fri 10am-midday]
Probably when Jamie and Feena put Ravelston and I together for a b2b in Sneaky's. It was the first time I'd played out since lockdown and also the first time i'd ever met Rob, it was an inspired moment from all angles cause it could have gone very wrong! But we locked in musically and had such a fun night and I left feeling excited about DJing again. [NK]
Let's Push Things Forward: Hopes for the future of EHFM
Scotland desperately needs a platform to represent the country's music and cultural output, and I envisage EHFM being that platform... giving musicians and creatives a voice outside of what can be a very London-centric scene. [FM]
I have a personal aspiration that EHFM could find a way of broadcasting and documenting live musical performances in the same way as KEXP in Seattle does. [SRW]
I hope that young people interested in getting into radio can continue to use EHFM as a safe space to learn and improve their skills. [Arusa Qureshi, Flip the Script, first Mon of the month, 2-3pm]
I hope that things keep moving forward – more people getting involved, interesting programming, more community events, etc. [MW]
I hope EHFM continues to grow, get bigger and attract more listeners. The EHFM crew have some seriously talented DJs, presenters and producers that need to be appreciated more by a wider audience. [CC]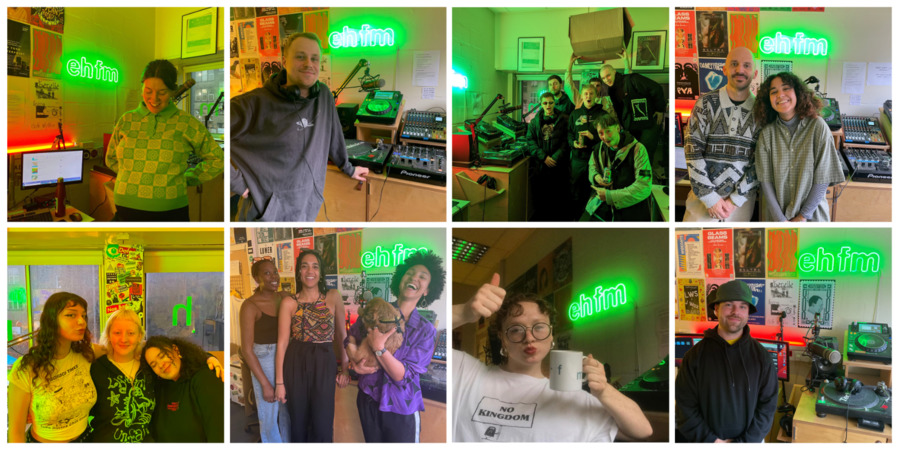 Snapshots from the EHFM studio. Photos: EHFM
Perhaps we move into a more visible venue, and continue to establish ourselves as the place to discover the independent voice of Edinburgh. [MB]
More live listeners! [NK]
To keep growing and building reputation and profile so it can open up exciting opportunities for everyone involved, but always maintaining the community vibe it has currently – no expansion would be worth sacrificing that! [Rav]
That EHFM continues to build its reach, hopefully nationwide soon, and that it retains its community driven background that it's so well known for. Long live EHFM! [BL]
I can only hope it simply stays as the warm neon-lit studio in Summerhall that despite its small size, somehow holds such a beautifully large community. [RS]
I think it would also be great to see more EHFM events that aren't centred around nightlife and nightclubs. There is definitely an appetite for bringing DJ sets out of the dark and into spaces that aren't late-night environments for drinking... I think it would make seeing fantastic DJ sets accessible to more people. [AD]
For it to keep growing and evolving, for it to never be set in stone. [RM]
I really want the radio to be something that people in Edinburgh turn on every day to discover new music, relatable local content and to find what's going on in the city – like an audio version of The Skinny! [JP]
A barge party for the 10th birthday… [MS]
Dialing In: EHFM recommendations
We asked all our contributors to pick their favourite EHFM shows – the list we got back is best described as 'unmanageably impressive'. We have condensed their picks down to a sample, a gateway into the world of EHFM; trust us, there's more where this came from...
EHFM Mornings: Weekdays 10-12 hosted by EHFM residents, and the top pick of the majority of the folk we heard from. "You'll hear amazing music, get great recommendations, hear about other shows", so an excellent place to start.
LUNCH: Nikki Kent's weekly show came up a lot in responses. "There really is no other show like hers on the radio!"
In the Backseat: Discjocelyne invites guests to share the music they loved growing up, and the music they love now! (2nd Wed of the month, 6-7pm)
Faye: An immersive exploration of queer electronic music; start with their episode on Pauline Oliveros and deep listening. (3rd Mon of the month, 5-6pm)
Late Lunch: "I challenge any listener to Late Lunch not to have a boogie", first Wed of the month, 2-6pm
Flip The Script: A love letter to women in hip-hop, first Mon, 2-3pm
No Dancing: Music that takes its time, fourth Thu, 7-8pm
---
EHFM broadcasts online at ehfm.live
EHFM celebrates Five Years of Broadcasting at Sneaky Pete's, Edinburgh, on Sat 7 Oct with sets from Arusa, Kris Wasabi, Smiff and oBrother – advance tickets via RA
A massive thank you to everyone at EHFM who submitted their answers (and apologies that we couldn't use everything), and to Jamie Pettinger for helping us pull everything together. Questions and answers compiled by Peter Simpson.