How to Party with Mojxmma
Ahead of their upcoming 'End of Summer Party', we talk to Mojxmma about changing the Scottish clubbing scene and creating your own space
"I think 'party' just feels a bit more freeing than a club night. With a club night, I guess there's an expectation. With a party, you can just be who you want and be more free with it," says Jam, one half of QTIPoC party, Mojxmma. Always a little crowded, one shuffles into the space, the journey to the dance floor punctuated by embraces from friends old and new. The music flows from state to state: techno and hip-hop and something transcendent sounding. These nights, primarily held in Glasgow's Bonjour, are truly precious.
Led by Jam and Mahasin, Mojxmma approaches nights out a little differently – fun yet radical, safe yet daring. The nights shirk the rigidity of traditional clubbing, instead opting for something a little looser and simply nicer. With tiered ticketing based on intersecting identities, from production to party, Mojxmma is by and for QTIPoC.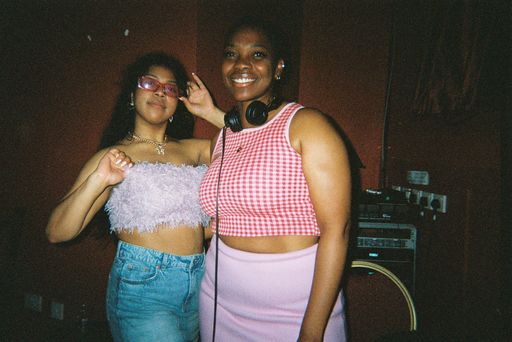 Returning from a trip to Berlin, Mahasin noticed the monolithic nature of clubbing in Scotland, and the tangential lack of QTIPoC spaces here. "I came back and went on a few nights out, and I was just like, 'I can't do this anymore.' I want a space that actually feels safe and is curated for a specific community." There is very little joy in witnessing whiteness dominate a dancefloor along to an Afrobeats rhythm, and it happens far too often. So, in speaking to their community, a specific community, Mojxmma ensure their parties are actually, genuinely, for QTIPoC folk – not just white people with a thing for ethnic minorities. 
"If you don't have the space, you can make it yourself," says Jam. "It's not just us that's creating it as well – along the way, people are engaging in it and they're helping us create a night." A party takes more than one party-goer. Mojxmma is truly a collective experience. Bonjour, specifically, have been ardent supporters: the duo attribute much of their success to the queer bar's faith in them and care for them.
They've done their looking – scrolling Instagram, searching Facebook comments – and they're pretty sure: "I think," says Mahasin, cautiously, "we are the only queer PoC party club in the whole of Scotland." Mojxmma don't want to claim the title without being certain – but it does seem that (currently, at least) they are the only one. With each of their parties welcoming more and more people, the hope is that the Scottish clubbing scene won't stay like this for long.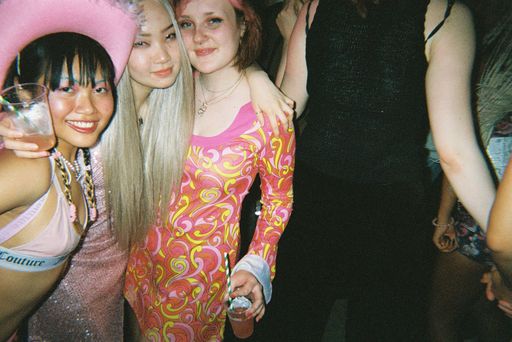 Given this sense of community, they're keen to welcome as many QTIPoC DJs, musicians, and drag performers as possible. "We just want to make sure that we're sharing the space," Mahasin continues. Afterall, there's so few spaces like it.
It's partly why Mahasin says, with warranted urgency, "We need to bring up fashion." It's key to the Mojxmma experience: "Definitely make sure that you just wear what you want. And just go for it. Feel hot, feel comfortable, be yourself." It's what spaces like this are made for: neon fishnets and vintage tulle and PVC knee high boots. There are queer spaces where such attire would be looked down upon – too much or too little – but, with Mojxmma, there's a real sense of coming not only as you are but as you want to be. It makes for a truly special night. 
"I think people want to dress up all the time," adds Jam. "And they don't necessarily have the place to do that – or the time to do that." That's why Mojxmma's themed parties are so important: they've had the environmental-inspired 'Muva Earth Party'; there was the ever gorgeous 'Pink Barbie Party'; and, more recently, their 'High School Party' revelled in a Dream-Matte-Mousse-and-2010s-emo-side-fringe glory.
Their upcoming 'End of Summer' party celebrates the last days of the season, welcoming the return to academia and nine-to-fives. For QTIPoC, such a time is often daunting: after months of sun-bleached freedom, it marks an approaching re-adjustment to predominantly white institutions and all that comes with them. To take joy in this feels somewhat radical, claiming the academic year back for ourselves. Friends since school themselves, there's something particularly sweet about the duo hosting this celebration. They spent a fair share of their adolescence partying together, and so, it's special to continue that tradition.
As expert party-goers, we ought to take their notes. "Stay hydrated. Always drink water in between drinks," says Mahasin. Practical yet ever pressing. 
"It's always great to come with people. But you don't have to come with someone; you can come alone," says Jam. "Don't be too scared to – there's lots of lovely people there." With Mojxmma, it's not creepy or weird to go clubbing alone because – in reality – you're not really alone: upon arrival, one joins a whole community of people that are part of something truly great. 
---
Follow @mojxmma to keep up to date with upcoming parties
Catch Mojxmma's End of Summer Party on 10 Sep @ Bonjour – tickets via EventBrite