What's On Scotland 18-25 Jul: Doune the Rabbit Hole
Get doune to Stirlingshire this weekend for music, dancing puppets and more at Doune the Rabbit Hole. Plus, Creative Edinburgh's Summer Party, Edinburgh Food Festival, Shoot Your Shot with Eris Drew and more...
If you couldn't tell by now, festival season is well and truly in full swing, and this weekend your nearest and best festival offering in Scotland is Doune the Rabbit Hole.
The Stirlingshire-based festival have really upped their game this time around, with headliners including The Damned, Lee Scratch Perry, John Grant (pictured), Battles and Kathryn Joseph. In addition, there are plenty of up-and-coming Scottish acts on the bill if you're looking for some fresh, new bands to brag about having seen first, such as Kaputt, Chuchoter and Maranta.
As well as the music, there's also Douniversity, a new venue featuring talks and workshops from guest speakers; Doune Clowning, which is pretty self-explanatory (circus/clowns); plus DJ workshops and even a dancing puppet workshop. Don't say things aren't eclectic at Doune.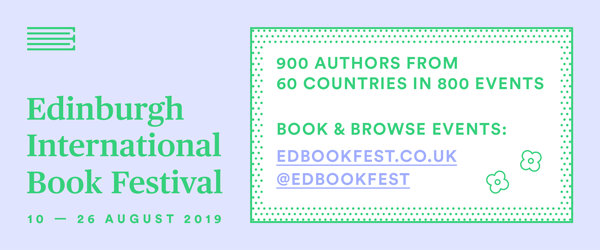 ---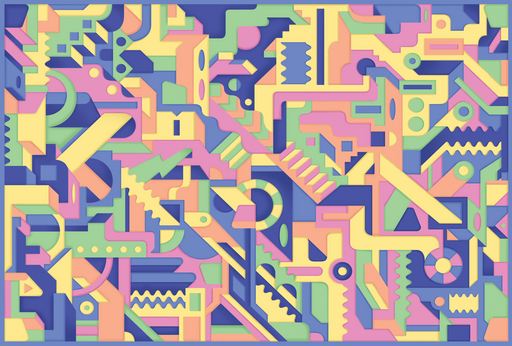 Want a guide to the best of the Scottish cultural scene in your inbox every week? Sign up to our mailing list! 
---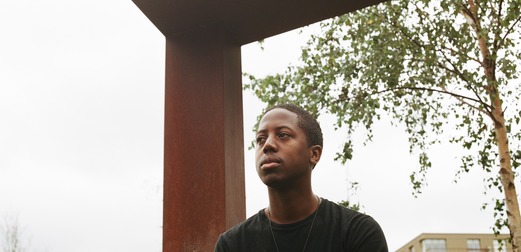 Moses Boyd Exodus
Assembly George Square Gardens, Edinburgh, 19 Jul, 7.30pm
Two-time MOBO winner Moses Boyd is an artist at the jazz vanguard, harnessing the raw energy of grime, bashment and jungle to create a style of music with serious street appeal. A drummer, composer and producer, he's collaborated with everyone from Gilles Peterson and Lonnie Liston Smith to Four Tet and Little Simz, while also recently taking up a residency with BBC Radio 1Xtra. Image: Rhea Dillon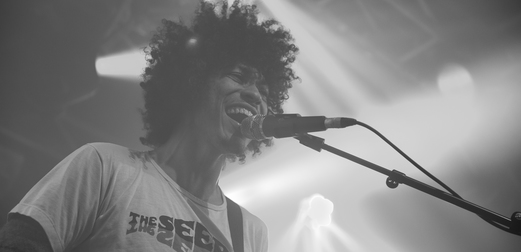 Boogarins
Broadcast, Glasgow. 21 Jul, 7pm
Boogarins left a mighty impression last year when they supported Tune-Yards in Edinburgh, and they're back touring their latest LP. On Sombrou Dúvida, the Brazilian psyche rockers take their listeners on a captivating adventure through psychedelia and synth-laden rhythms, nodding to their roots in the 1960s Tropicália movement, while maintaining a contemporary finish. Image: Sarah Donley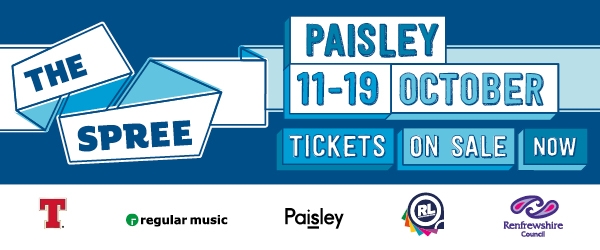 ADVERTISEMENT | The Spree
Various venues, Paisley, 11-19 Oct
Glasvegas, Gruff Rhys, Hue and Cry, PP Arnold, Karine Polwart, Jerry Sadowitz, Hayseed Dixie, Malcolm Middleton and more play the spectacular Salon Perdu Spiegeltent in Paisley for the week-long The Spree festival (11-19 October) which also features a special tribute to one of the town's favourite musical sons, Gerry Rafferty. Tickets are on sale now.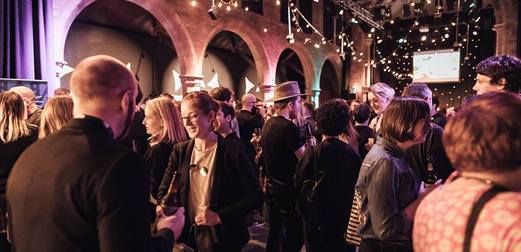 Creative Edinburgh's Summer Party
Whitespace, Edinburgh. 18 Jul, 6pm
For their first ever Summer Party, Creative Edinburgh have invited artist and designer Dominic Wilcox as their guest speaker to discuss his illustrious career. Wilcox will begin with a short talk before taking part in a Q&A with Creative Edinburgh Director Yasmin Sulaiman. There will also be pizza, drinks and the opportunity for everyone's favourite activity – networking. Image: David Wilkinson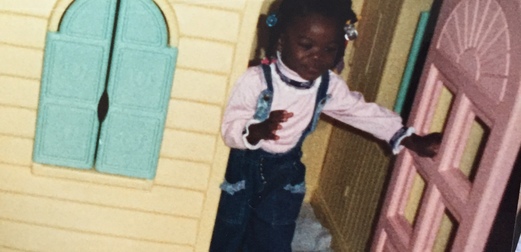 Non-Fiction: GRITS
David Dale Gallery, Glasgow. 20 Jul, 8pm
David Dale Gallery team up with Rhythm Machine's resident DJs Yves and William Francis to host three club nights in the gallery this month, produced in collaboration with guest artists. The residency began on 13 July with Windsor Terrace Dancing Club, and this week Sequoia Barnes presents GRITS, a biography according to her femme influences. Image: Sequioa Barnes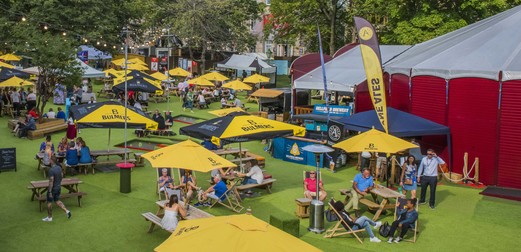 Edinburgh Food Festival
Assembly George Square Gardens, Edinburgh. 19-28 Jul, 12pm
It might not be August quite yet, but Edinburgh's already warming up for the Fringe with the Assembly George Square Gardens opening up ahead of time. Over the next week or so, the Gardens will host the Edinburgh Food Festival, with food vendors including Chick & Pea, Face Plant Food, Punjabi Junction and Kabbabar, as well as drinks from Poco Prosecco, Belfield Brewery and more.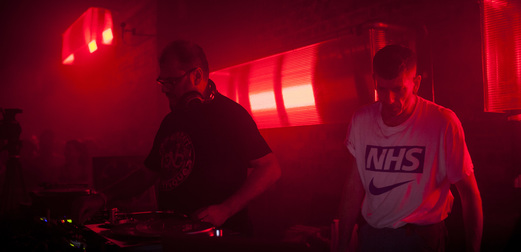 Optimo Espacio: Spaced Out
Rost, Glasgow. 20 Jul, 11pm
On the 50th anniversary of the first ever moon landing, Optimo take to Glasgow's new club Rost to pay tribute to the historic leap for mankind. Though their parties are less frequent now, Optimo are still one of Glasgow's most sought after promoters and this one-off night offers a rare chance to journey with them on an immersive rave odyssey. Image: Niall M Walker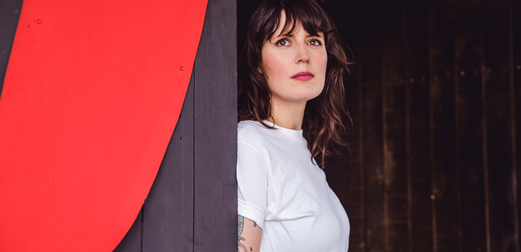 Telfort's Good Place: Cinthie
Sneaky Pete's, Edinburgh. 19 Jul, 11pm
Telfort returns to Sneaks this weekend, this time bringing along Berlin-based DJ and producer, and queen of multi-tasking, Cinthie. Just one of the many record labels Cinthie helps run is 803 Crystal Grooves, a platform she launched last year to release her own productions, along with Beste Modus, Unison Wax, Beste Freunde and we _r house. Image: Marie Staggat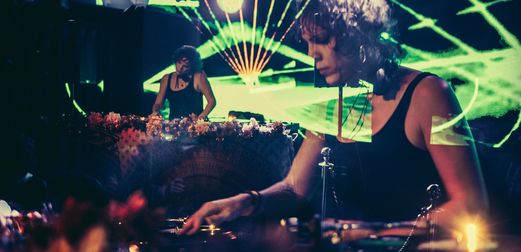 Shoot Your Shot: Eris Drew
Room 2, Glasgow. 20 Jul, 9pm
Quite frankly the best Pride party going is this absolute banger from Shoot Your Shot. They've bagged none other than Chicago legend Eris Drew for a headline slot at their latest event, with support from SYS founder Bonzai Bonner and a whole team of SYS regulars. There will also be performances from the likes of SHREK 666, Ann Phetamine and Diana Morphine. Image: Jamie Rosenberg
---
Read more news from across the Scottish cultural scene at theskinny.co.uk/news
Find out how you could win some lovely prizes at theskinny.co.uk/competitions
---