John Grant on Love is Magic and art in music
Following the release of his fourth solo album, Love is Magic, we talk art and music with John Grant
Since reigniting his career after the break-up of The Czars almost fifteen years ago, John Grant has been progressing towards an artistic ideal, a sound and aesthethic that most closely resembles his creative vision. This is something that will always be somewhat nebulous and malleable, but with his fourth album, Love is Magic, Grant seems to be getting closer to exactly what he wants to say. "Right now it feels like I'm one step closer, [but] I don't feel like I've ever arrived," he muses, wistfully. While staying with topics that are personal and familiar to him – addiction, sexuality, love – he has managed to create an album that is at once caustic, joyful and frequently hilarious.
Speaking to us the day after the US mid-term elections, from Copenhagen's beautiful VEGA concert hall, the politics of his estranged homeland are still weighing heavy on Grant. However, with yesterday's mixed bag of results ("not quite the result one was hoping for..."), is there a place for cautious optimism? "Oh no, certainly not..." he scoffs with a chuckle. Grant has been based in Iceland since 2012 and maintains a complicated relationship with the USA – "I try to stick to the coasts now" – including his difficult upbringing in Michigan and Colorado.
However, that isn't to say that geography can be a simple remedy, and there's a lasting homesickness that comes from a lack of familiarity. "You always feel homesick for what you grew up with," says Grant, but commonalities aren't enough to make up for a lack of empathy. "It depends on the people around you... you can be in your own culture and be totally misunderstood."
The capricious nature of emotions is a frequent touchstone in Grant's work, and something that is particularly evident throughout Love is Magic. Reconciling a range of feelings into a cohesive whole is something that comes naturally to him. "The everyday is a collage of these things," says Grant, "so I feel like it's very true to the human experience." Hence, the acerbic Smug Cunt can sit neatly with the schizophrenic Metamorphorsis, and the snarky Diet Gum with the contemplative Touch and Go.
Tempest is a song that deals with Grant's escapism as an adolescent via mall arcade games, a seemingly innocent distraction that would later manifest itself in different, and more deadly, forms. "I needed to take away a lot of those 'toys' that I used as escape mechanisms, like alcohol and drugs, but also sex, money, food – I can use almost anything around me to do that if I want to, but I made a huge switch to simply staying with feelings, instead of trying to change the way I feel and escape from them. So the coping mechanism now is much more dealing with things head-on rather than escaping, because escapism for me always ends in addiction." Grant has been sober for 14 years.
One of the most striking elements of Grant's career is his commitment to album art, his last three being some of the most inventive of the decade. "I feel like it's really important," he says. "When I was a kid (and still actually) I've always loved to sit and stare at [it], especially vinyl, I love to hold it in my hand, the picture, while I enjoy the music. I feel like aesthetics is really important... I feel like there've been periods where album covers have been dismal... and totally forgettable.
"I think there's a resurgence of really good stuff going on [now]. I feel like it's becoming much more of an artform again. For me, the 90s were a real low point," he laughs, "there's always some cool stuff going on (PJ Harvey, Björk, Portishead, Mazzy Star), but overall..."
The trajectory of Grant's feelings about his art can be measured, to an extent, through his four album covers. "Queen of Denmark was okay, but I wasn't quite sure what I was doing and a bit hesitant to use my own photography (I'm not terribly confident)." Second album Pale Green Ghosts features a confident, austere self-portrait, while Grey Tickles, Black Pressure has the same resolute determination, but leavened with quirky features (decorative owls, altered eyes) and pastel hues. "A quick aside: when I was in Japan touring the last record (GT, BP), there was a signing and the people came up, and it was specifically the girls I remember, they wanted me to draw eyes on the record cover because they were disturbed by the fact that there were no eyes... every single person wanted me to draw eyes."
This conversation leads us down an album cover rabbit hole, with Grant demonstrating an infectious enthusiasm for the artform; he points us towards little known German electropop group Gina X Performance and their 1980 album X-traordinaire. "Now that's a fucking album cover!" he states with unabashed glee (seriously, check it out). All of which brings us to the cover of Love is Magic, which sees Grant standing in his underwear, singing, with a heavily painted face, around which there is a cage, while his upper body is covered in feathers.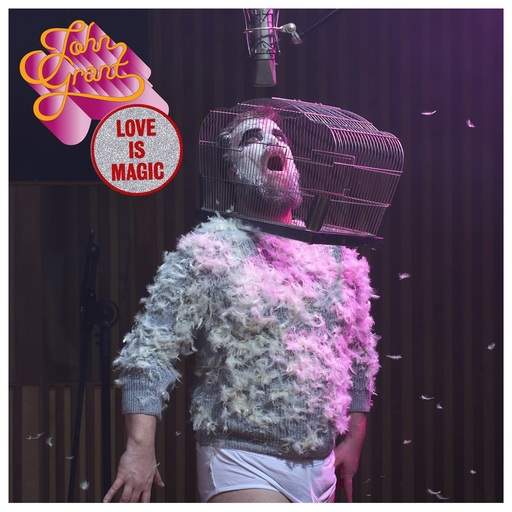 "I wanted [Scott King] to make something that was impactful... the twist of it is doing whatever it takes to get the right sound... that's the idea behind it." And while it may appear remarkably singular, there are some precursors. "Scott and Jonathan de Villier did the shoot for Róisín Murphy's Overpowered, which is a good example of a modern album cover that's just as amazing as anything I've seen in the past. [Love is Magic] is sort of a shout-out, or love letter, to Fad Gadget. If you look at Incontinent or Gag, you can see [the influence]." But there is always the worry of rehashing. "Sometimes it's dangerous because they've already done that thing, and it's important to remember that they don't want to do the same thing again," Grant says. "I wanted them to do their own interpretation of me, not what they've done before."
This version of Grant certainly makes a unique impression and gives a glimpse into the stylised, hyper-specific way in which he views his art, and artistry in general. "I felt a little bit uncomfortable doing the shoot... just standing around in my pants all day while everybody else is not in their pants; I probably should've had everybody else undress. I think it's good for me to be out of my comfort zone, not constantly, but in my art... I do better when I'm challenging myself, so I'm trying to do that, or at least be cognisant of that. I feel like that photoshoot is much more representative of who I am as a person than what you might see on stage."
With this careful curation Grant is able to get across a message that other mediums don't necessarily allow for, an idea that seems to be central to his conception of art; "In your artform you should be able to express yourself exactly as you want to. In many situations in life maybe you aren't able to get it right in the moment, but with your art you can take your time with it, you can go back and change it; it's like being able to go back and say what you wanted to say in the moment."
Given his progression up to this point, it's difficult to say where Grant will go next. He seems abuzz with creativity, but perhaps without the conviction (or time) to follow every whim. "I imagine doing all sorts of things... sometimes I crave a lot of guitar and feedback and noise, maybe there'll be a lot of that on the next record. I wonder if I'll go into more abstract ways of expressing myself rather than the traditional songwriting I do, if you can call it that," he sighs with weary, half-serious self-deprecation. "I'd really like to do a Christmas album, I love a good Christmas album: Johnny Mathis, Tammy Wynette, Bing Crosby... I'd wanna do the classic stuff, I feel nostalgic and romantic to those Christmases in the 70s, listening to those records that my parents put on. Maybe I'd do it with synths, but I'm not exactly sure how I would do that and make it work. I tend to overthink things, so maybe I should just do it."
---
Love is Magic is out now via Bella Union
John Grant plays King's Theatre, Glasgow, 1 Feb, part of Celtic Connections 2019