What's On Scotland 16-23 Jan: Celtic Connections & more
It's gigs galore across Glasgow over the next few weeks as Celtic Connections brings a selection of artists from near and far to venues around the city. Plus, Slipknot, Lynne Ramsay Double Bill, Maisie Adam, Million Dollar Disco and more...
The clue's in the title with Celtic Connections, a festival celebrating Celtic music and its connections. And its connections spread far and wide, with gigs from the traditional to the obscure taking place across Glasgow until 2 February.
We highly recommend making it a priority to catch the absolute force of nature that is Les Amazones d'Afrique, who are set to perform at Tramway on 25 January. Naturally, the event is currently sold out but we urge you to beg, borrow or steal in order to get a ticket and witness the most incredible display of West African music from the the supergroup.
Failing that, you can drown your sorrows over not being able to get a ticket at The National Whisky Festival – yes, Celtic Connections isn't just about music, folks. Two sessions will take place at SWG3, at 12pm and 4.15pm, so go along, drink plenty of whisky, head home for an early evening nap and inevitably wake up at 9pm feeling very disorientated.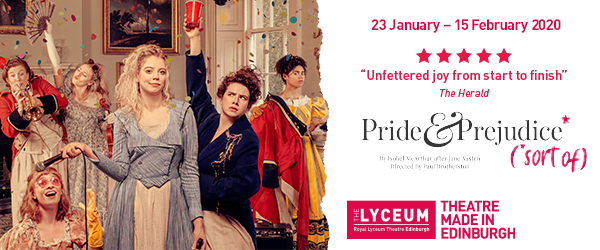 ---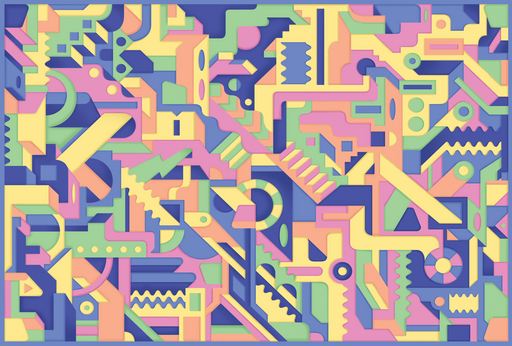 Want a guide to the best of the Scottish cultural scene in your inbox every week? Sign up to our mailing list! 
---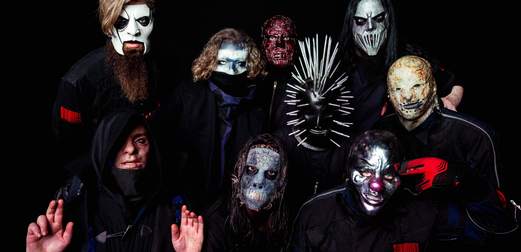 Slipknot
The SSE Hydro, Glasgow. 18 Jan, 7.30pm
The heavy metal legends touchdown in Glasgow this Saturday as part of their UK tour in support of their latest album, We Are Not Your Kind. Catch the whole gang, including spike heed, clown face, sith lord (disclaimer: these names have been made up) et al, back in action at a rare live outing. Image: Alexandria Crahan-Conway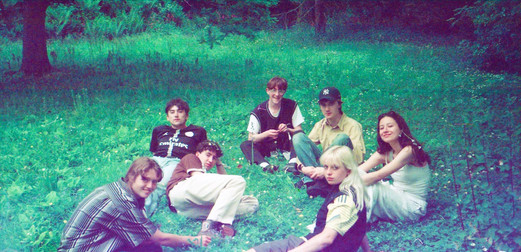 Black Country, New Road
The Mash House, Edinburgh. 19 Jan, 7pm
With just a few singles to their name, this London-based seven-piece have created quite the buzz. They've already gained some big names fans too, having released their debut single, Athen's, France, on Speedy Wunderground, the record label founded by renowned producer Dan Carey. Image: Bjorn Lebowski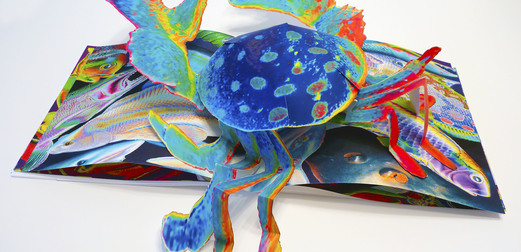 Alexandra Haeseker: The Botanist's Daughter
Edinburgh Printmakers, Edinburgh. 18 Jan-22 Mar
The environment and the natural world play a key role in Canadian artist Alexandra Haeseker's installation of new contemporary print works, and her first solo exhibition in the UK. Using 3D and iridescent-style effects to bring nature to life, Haeseker plays with scale to encourage us to view nature from a different perspective. Image: Derek Besant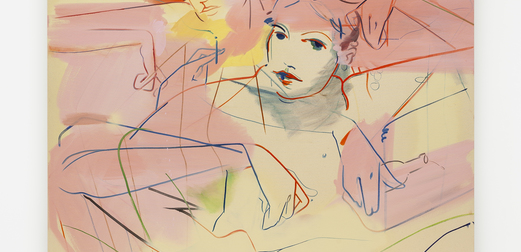 France-Lise McGurn: In Emotia
Tramway, Glasgow. 18-22 Mar
In her painting-drawings, Glasgow-based artist France-Lise McGurn intuitively makes limbs and bodies overlap and interact, suggesting 'intimacy, ecstasy, sexuality, violence and loss'. We interviewed her back in 2015 for her show at the Collective Gallery in Edinburgh – read that interview here. Image: Courtesy the artist, Simon Lee Gallery and Tramway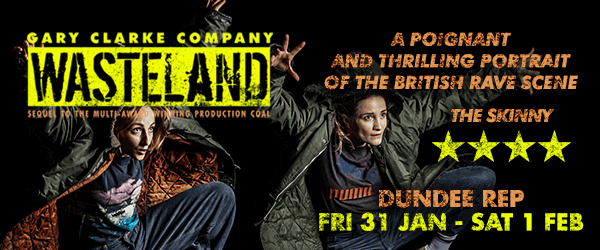 ADVERTISEMENT | WASTELAND
Dundee Rep, Dundee, 31 Jan & 1 Feb, 7.30pm
Gary Clarke Company returns to Scotland with WASTELAND. Clarke's dance theatre sequel to COAL kicks off the tour at Dundee Rep on 31 January and 1 February. As industrial Britain fell, a new subculture emerged. Follow the next generation head first into a gritty story of loss, hope, tragedy and survival set during the 90s illegal rave scene. Book now.
★★★★ The Skinny ★★★★★ Herald on Sunday ★★★★ The Herald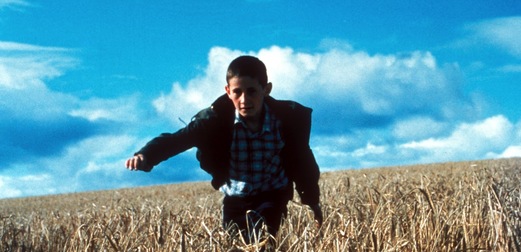 Red Thread Film Club: Lynne Ramsay – Gasman and Ratcatcher
CCA, Glasgow. 18 Jan, 7.30pm
Red Thread Film Club follow up their Taika Waititi showcase with a double bill from one of Scotland's finest filmmakers. You've probably seen, or at least heard of, Lynne Ramsay's films We Need To Talk About Kevin and You Were Never Really Here, but Ramsay's earlier work is celebrated here. Catch back to back screenings of Ramsay's short film Gasman and her debut feature Ratcatcher (pictured).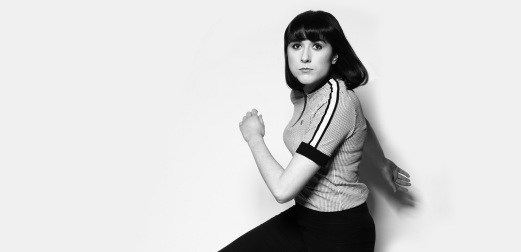 Maisie Adam: Hang Fire
The Stand, Glasgow. 22 Jan, 7.30pm
Maisie Adam has been making some serious noise on the comedy circuit over the last few years, winning 2017's So You Think You're Funny and earning a nomination for Best Newcomer at the 2018 Edinburgh Festival Fringe. Now, she's taking her latest show, Hang Fire, out for another spin, following its run at the Fringe last year, with stops in Glasgow and Edinburgh. Image: Andy Hollingworth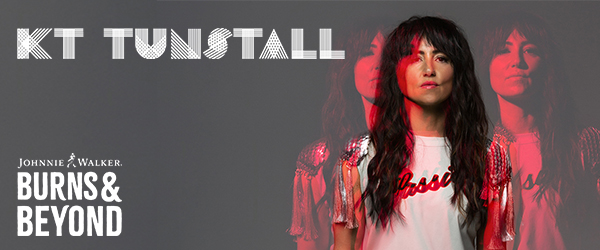 ADVERTISEMENT | Burns&Beyond Culture Trail
Various venues, Edinburgh, 25 Jan, 6.30pm
KT Tunstall and friends is part of Culture Trail. A night of discovery as you journey through nine atmospheric venues in Edinburgh, across four hours, to experience over 50+ performers of the finest talent from Scotland. Expect music, comedy, whisky, poetry and dancing. KT will be joined by electro-acoustic psych-pop wonder Johnny Lynch, aka Pictish Trail, emerging singer-songwriter Alannah Moar, with an eclectic mix of folk, pop, rock and blues styles, and some surprise special guests.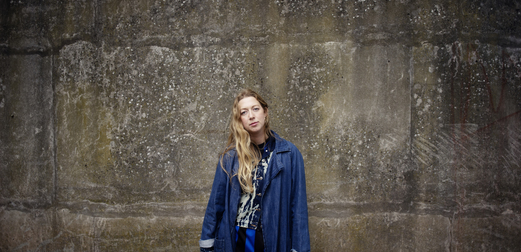 Headset's Gay Garage with Daisy Moon
Sneaky Pete's, Edinburgh. 17 Jan, 11pm
Bristol-based DJ Daisy Moon is one of the founders, along with Shanti Celeste, Golesworthy and Gramrcy, of Bristol and Berlin-straddling party series Housework. She has also released music on the prestigious Bristol label Idle Hands. She makes her Sneaky's debut tomorrow with support from residents DJ Greenman, Skillis and Elsie T. Image: Paul Samuel White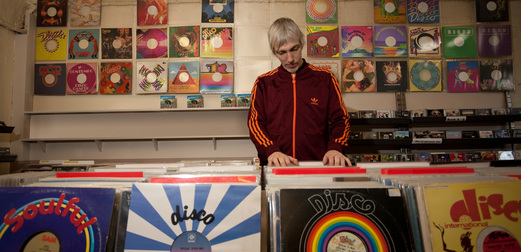 Million Dollar Disco
The Berkeley Suite, Glasgow. 18 Jan, 11pm
Al Kent's annual disco soiree makes a return to The Berkeley Suite to brighten up those January blues. The party celebrated its 20th anniversary last year and continues to bring in huge crowds looking to be treated to a night of disco rarities, classics and exclusive edits. Make Harry Styles proud and dig out your best set of high-waist (preferably Gucci) flares to get some real momentum on the dancefloor.
---
Read more news from across the Scottish cultural scene at theskinny.co.uk/news
Find out how you could win some lovely prizes at theskinny.co.uk/competitions
---