What's On Scotland 13-27 Nov: Lament for Sheku Bayoh & more
This coming week sees the staging of the unmissable Lament for Sheku Bayoh, a ground-breaking incisive examination of racism in Scotland. Plus the Scottish National Portrait Gallery reopens, and the Scottish Alternative Music Awards have their ceremony.
Produced in collaboration with National Theatre of Scotland, Edinburgh International Festival and Royal Lyceum Theatre Edinburgh, this digital staging of Hannah Lavery's Lament for Sheku Bayoh is without a doubt one of the most urgent and unmissable screening events of the year. A personal, evocative response to the tragic death of Kirkcaldy-resident Sheku Bayoh, who died while in police custody in 2015, Lavery's moving, challenging play gives voice to the grief and anger surrounding Sheku's untimely death, offering an unflinching examination of the realities of identity and racism in contemporary Scotland.
Starring some of the most exciting talent working in Scotland's theatric and spoken word scene, including Saskia Ashdown, Patricia Panther, and Courtney Stoddart, and featuring music by Beldina Odenyo, AKA Heir of the Cursed, the production will be staged and performed in the Lyceum, and streamed to audiences at home on the 20th and 21st November on the National Theatre of Scotland and Lyceum's websites. Tickets are at a pay-what-you-can, sliding scale, and can be booked in advance here.
Elsewhere in the Scottish theatre world, the Traverse have their own production on this week, Transmission Gallery is screening its own performance art, and we have art shows a plenty. Read on for more!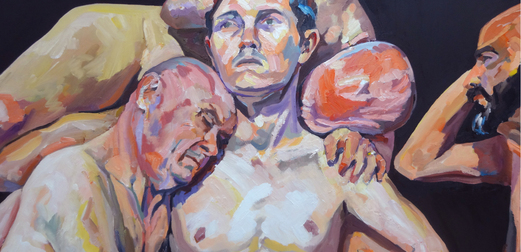 Angus Reid: Parallel Lives
Summerhall, Edinburgh. Until 20 Dec
Art in Summerhall is back baby! After months of closed gallery spaces and theatre stages, Edinburgh's beloved arts venue is dipping its toe back in the metaphorical exhibition pool with an in-person art show dedicated to Angus Reid, whose powerful paintings and media work blur the lines between art and activism to present a groundbreaking vision of gay men in Scotland. Image: Serge Madrigal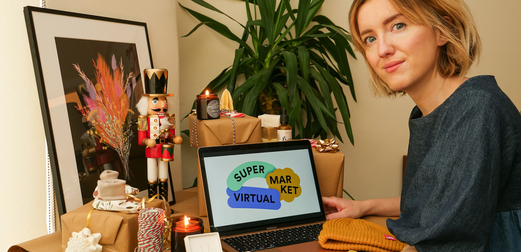 Christmas Market
Online. 22 Nov-13 Dec
With many Christmas markets closed this year (pour one out for the sheer chaos of Prince's Street Gardens in December), many places are turning to virtual markets in an effort to continue spotlighting incredible local makers. Leading the crowd are Super Market Events, who have created a fully immersive experience with over 150 stalls, ideal for finding the perfect gift. Image: Super Market Events.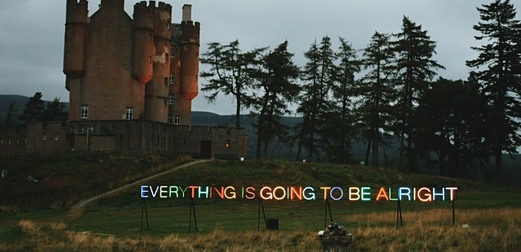 You are here | 2020: Stories, Portraits, Visions
Scottish National Portrait Gallery, Edinburgh. Until 31 Jan 2021
The Scottish National Portrait Gallery is celebrating its return with a brand new exhibition, ft. five art works from the gallery's collection - including a video work by Young Fathers and a bust of Poet Makar Jackie Kay - alongside work submitted by the public to chronicle this weird, weird year. Image: Hannah Cook.
Scottish Alternative Music Awards
Online. 18 Nov, 7pm
With artists as diverse as Nathan Somevi, Dead Pony, Free Love, and Still House Plants nominated, and a ceremony featuring a performance by SAY Award-winner NOVA, this year's Scottish Alternative Music Awards are one to watch - live, on Twitch, streamed straight to your house, with tickets available here. Image: Zaynab McGroarty.
Want a guide to the best of the Scottish cultural scene in your inbox every week? Sign up to our mailing list!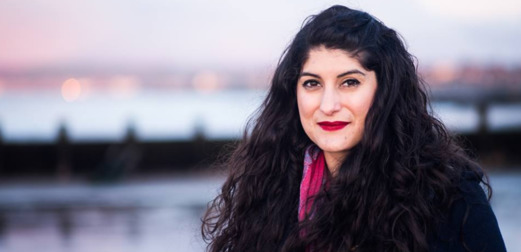 Sonnet Youth: Social Club
Online. 26 Nov
Sonnet Youth, one of Scotland's most exciting spoken word nights, is kicking of a biweekly digital programme, streaming via their Patreon. This, the second of their Social Club offerings, features Edwin Morgan Poetry Award nominee Nadine Aisha Jassat and comedian Donald Alexander, to name but a few.
Zinzi Minott: Fi Fem III
Online. Until 25 Nov
This specially commissioned film from Transmission Gallery, Berwick Film & Media Arts Festival, and Spike Island in Bristol sees previous Tate-resident Zinzi Minott use performance and movement to respond to the legacy of the Windrush Generation. Image: Zinzi Minott.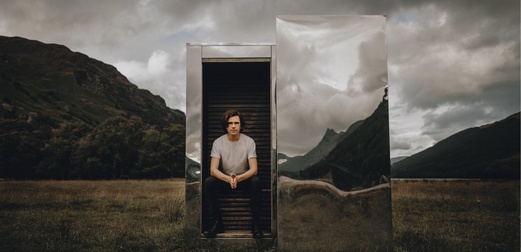 The Journey
Online. 24-28 Nov, various times
This utterly unique, immersive show sees renowned illusionist Scott Silven take the audience on a mesmeric, haunting journey through its native rural Scotland, that makes use of the imaginative, technological possibilities of the digital in ground-breaking, never before seen ways. Image: Courtesy of Traverse Theatre.