The Loading Bay x The Skinny showcase: info, line-up and tickets
We're joining forces with Glasgow's newest indoor skatepark to throw a free party soundtracked by Nightwave and a host of special guests
You can do all the address-changing and picture-hanging you like, but you haven't really moved into your new home until you throw your first big party. So we're helping The Loading Bay, Glasgow's new 30,000 sq ft indoor skatepark, to do just that.
We're throwing a showcase at the venue on Saturday 8 February, featuring skate demos from pro skaters and BMX riders and a drink or two, all soundtracked by a line-up of some of the city's best DJs. 
Nightwave, AISHA, VAJ.Power
The music on the night comes in the form of Nightrave. A very special edition of the clubnight headed up by Nightwave, aka Maya Medvesek, celebrates seven years in existence and will soundtrack our Loading Bay party. Nightwave has invited a trio of very special guests to join her – VAJ.Power, AISHA and Bessa.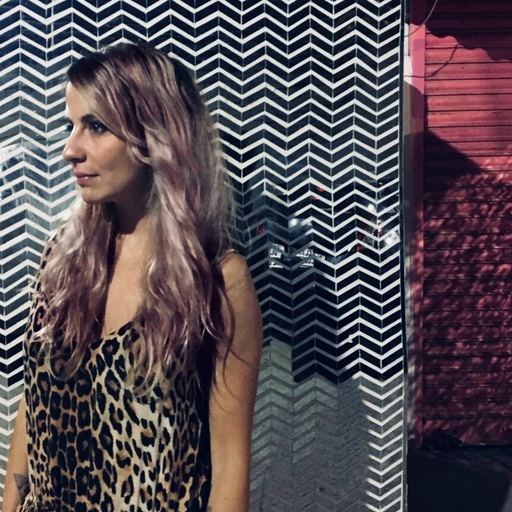 We've also teamed up with two of our favourite drinks brands to help get the party going. Complimentary drinks on the night will be provided by the Glasgow Distillery – they'll be showcasing their Banditti Club rum, matured and spiced in the city – and Innis & Gunn, who'll be providing their Session IPA and Lager.
The best part is it's all FREE – RSVP for your free tickets using the widget below.
The Loading Bay is the result of a collaboration between internationally acclaimed skate ramp company Vision Ramps (whose past collaborators include Red Bull, the BBC and the team behind the new James Bond movie) and Scottish Canals. Part of Scottish Canals' redevelopment of Port Dundas, the park features bespoke ramps, a skate bowl, a training room with trampolines and foam pits, an indoor street skating route inspired by the design of the original building, and a café.
During the day, The Loading Bay are holding free taster sessions for anyone keen to try their hand at skating. The daytime portion of the launch event, from 10am to 4pm, will also feature skateboard and BMX competitions and showcases from professional riders.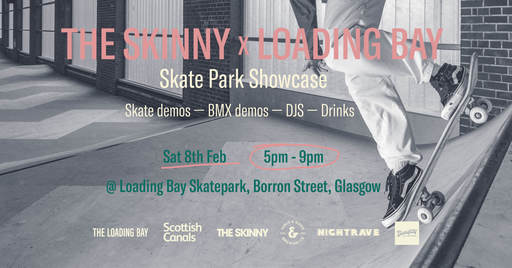 ---
The Loading Bay x The Skinny showcase takes place on Sat 8 Feb from 5pm at The Loading Bay, 100 Borron Street, Port Dundas, G4 9XE. Free tickets are available now at the link above or via Facebook.
Over 18s only; this event is an opportunity to explore the Loading Bay space and watch the professionals do what they do best. Please don't drink and skate.