The Skinny: Contributors Directory
A guide to just a few of the people involved in making The Skinny as excellent as it is
As The Skinny goes on a break and waits for the situation outside to improve, the people who make this project what it is – the writers, photographers, editors and illustrators – are still out there doing their thing. We've put together this guide to some of our key contributors; if you're looking for people doing interesting things in the lockdown, this would be a good place to start. It's by no means exhaustive, but if nothing else it's a celebration of the talent that exists within our community.
Illustrators and Photographers
The people who bring their eye for colour and visual flair to our pages every month – here are some of our favourites... 
Jacky Sheridan is a Belfast-based illustrator and typographer whose fantastically colourful work has graced the pages of The Skinny on numerous occasions in recent years. Check out her Instagram feed and portfolio, and follow Jacky on Twitter.
Katie Smith is a Glasgow-based illustrator whose work featured on the cover of our 2019 Student Guide and September 2019 issue. Follow Katie on Instagram. 
Josie Sommer is an illustrator based in North London. Josie's first ever illustration commission was for the clubs section of The Skinny, and she illustrated our Festivals Special published last month, as well as illustrating the March 2020 cover. Check out her website here, and follow Josie on Instagram.
Rachel Tunstall is a Cumbrian illustrator whose work has featured in Standart, Fest and the Telegraph. Check out her portfolio and follow Rachel on Instagram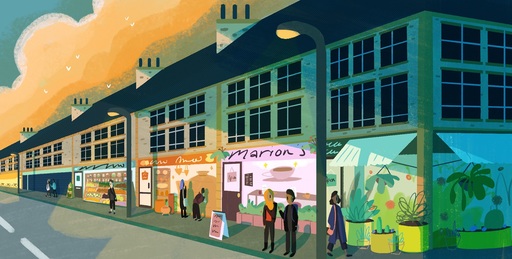 Kaitlin Mechan is a Glasgow-based illustrator whose work for The Skinny includes this delicious-looking illustration from our Food and Drink Survey results back in January. Follow Kaitlin on Instagram and check out her webshop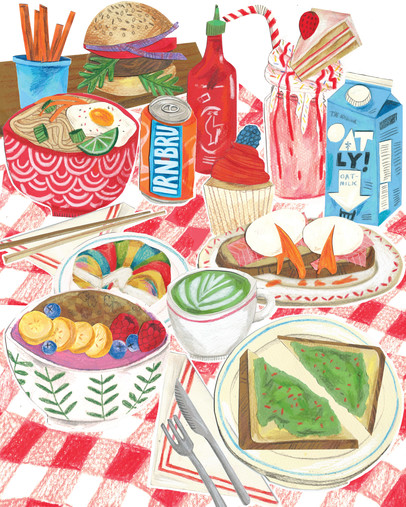 Kate Costigan brings a riot of colour to the magazine every time she illustrates an article – follow Kate on Instagram and check out her website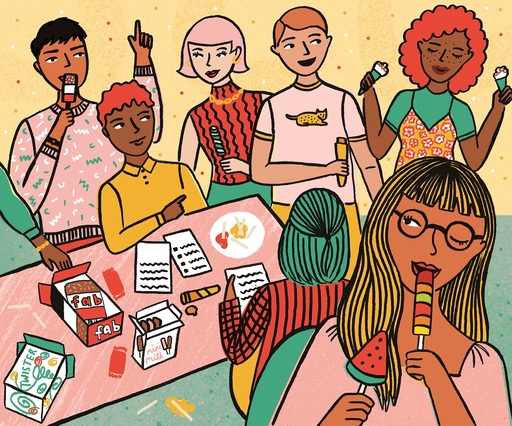 Julija Straižytė's intricate monochrome illustrations have accompanied our ICYMI comedy column for several months now – and she's also responsible for this incredible illustration of Arab Strap's Aidan Moffat riding on a reindeer. Check out Julija's website, and follow her on Instagram.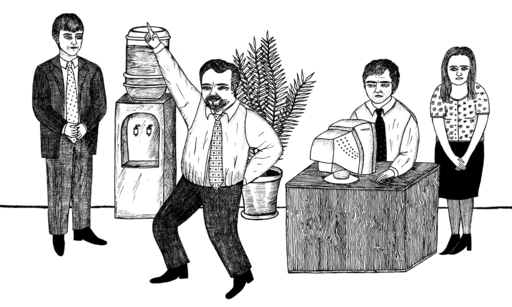 Marilena Vlachopoulou shoots on film and has captured some excellent shots for us in recent times. Marilena snapped our February cover feature with Bossy Love, and this shot of JPEGMAFIA is just one of her brilliant live photos. Follow Marilena on Instagram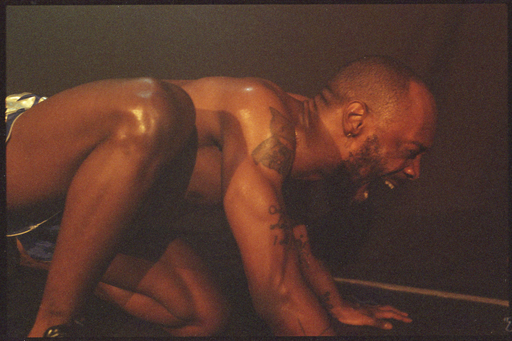 Writers and contributors
It takes a phalanx of freelancers to put an issue of the magazine together, each bringing their own perspective and skillset to the party. Here's where to find more from some of our key contributors...
Cheri Amour is a freelance music writer whose work can be found in The Line of Best Fit and GoldFlakePaint – follow Cheri on Twitter
Stephen Butchard is a freelance music writer with bylines in Loud & Quiet and The Skinny – follow Stephen on Twitter
Madeleine Dunne's writing covers everything from music to intersectional issues, and she's been published in GoldFlakePaint, Human Parts and The Times – follow Madeleine on Twitter
Fringedog is... well, we aren't actually sure who Fringedog is, other than "an critic and journalist specialising in 5star comedy and the other arts". In-joke gone too far? Manifestation of Fringe mania? An actual dog?!? Like we said, we don't know. Follow Fringedog on Twitter
Joe Goggins is a music and film writer with extensive bylines across the likes of DIY, Loud & Quiet, The Line of Best Fit and Manchester Evening News – follow Joe on Twitter
Stacey Hunter is a freelance design curator and the driving force behind the Local Heroes project celebrating the best of Scottish design. Follow Stacey on Twitter
Becca Inglis is a writer with bylines in Dazed, Clash and DJ Mag, she also works on festivals like Imaginate childrens' festival, Beltane Fire Festival and Kelburn Garden Party, and she also worked extensively on our Student Guide in 2019. Follow Becca on Twitter
Tony Inglis is a member of the editorial team at the International Network of Street Papers as well as writing about all things music for us. He also defended our honour while in a Twitter beef with the lead singer from Reverend & the Makers, and we are eternally grateful. Follow Tony on Twitter
Iana Murray is a fantastic film writer who regularly contributes to GQ, Little White Lies and i-D. Follow Iana on Twitter
Carmen Paddock is another fantastic film writer – as well as writing for The Skinny, she also features on Screen Queenz and Bright Wall/Dark Room. Follow Carmen on Twitter
Josh Slater-Williams is yet another fantastic film writer, and he's been a key member of The Skinny's film team for a while. You can also find Josh's work in the pages of The Face, Little White Lies, Sight & Sound and huck among others. Follow Josh on Twitter
Alex Smail is a music writer whose work features in Line of Best Fit, GoldFlakePaint and Loud & Quiet, as well as being the Digital Editor for Fest magazine, our sister mag on the Adelaide and Edinburgh Festivals. Follow Alex on Twitter
Section Editors
The glue to hold everything together. Our section editors look at what's happening in their area of the Scottish cultural scene, and highlight the very best of it every month for your enjoyment.
Tallah Brash, music editor – follow on Twitter
Jamie Dunn, film editor – follow on Twitter
Polly Glynn, comedy editor – follow on Twitter
Katie Goh, intersections editor & acting books editor – follow on Twitter
Adam Benmakhlouf, art editor – listen to Adam's podcast Breaking Up on Spotify or Apple Podcasts
Anahit Behrooz, events editor – follow on Twitter
Nadia Younes, clubs editor – follow on Twitter
Rachael Hood, art director – follow on Instagram
Peter Simpson, food editor & digital editor – follow on Twitter
---
The Skinny will return soon