An Aidan Moffat Christmas
From indisputable classics to racy novelties, from pure soul filth to new wave disco, Aidan Moffat tells us about his favourite Christmas songs and why he loves the season so much
As a lifelong atheist, I often have a wobble at the end of November and wonder what the fuck I'm doing: What exactly will I be celebrating this year? But then I remember that midwinter celebrations predate Christianity by centuries and centuries of ancient ritual, and solstice parties are written into our evolutionary code. And even the Pope would agree that Jesus wasn't really born on Christmas Day, and that 25 December was chosen by early Christians because the folk they wanted to convert were already raving around that time of year anyway, which of course gave us much of the symbolism we associate with the holiday today – the fir tree, the holly wreath, and the twelve days are all rooted in paganism.
And then there's Dickens. While it's not accurate to say that Dickens invented the modern Christmas as we know it, it is true to say that he provided an almost secular text in which God hardly gets a mention, and thus provided heathens and heretics like me a guidebook of cheer and reflection. A Christmas Carol is a tale so ingrained in our culture that it rivals the nativity itself, and will perhaps one day, when we've travelled beyond the boundaries of our own galaxy and mingled with new life forms beyond our current comprehension, be worshipped as gospel too: "Scrooge bless us, every one!"
But my favourite part of Christmas, something that's both crucial to the ambience and a reason to celebrate in itself, is the tunes. I've always loved and been fascinated by the sounds of the season, those songs that float around the cold air for weeks like the ghosts of old friends, those immortal, trusted triggers guaranteed to have our toes tapping and our eyes dampening. Be it doleful lament for a time gone by, be it joyous, riotous celebration – or, more often, a daft novelty song that you'd never admit to enjoying at any other time of year – Christmas needs music like Santa needs his sleigh. Here, then, are a few of my favourites, from indisputable classics to racy novelties, from pure soul filth to new wave disco.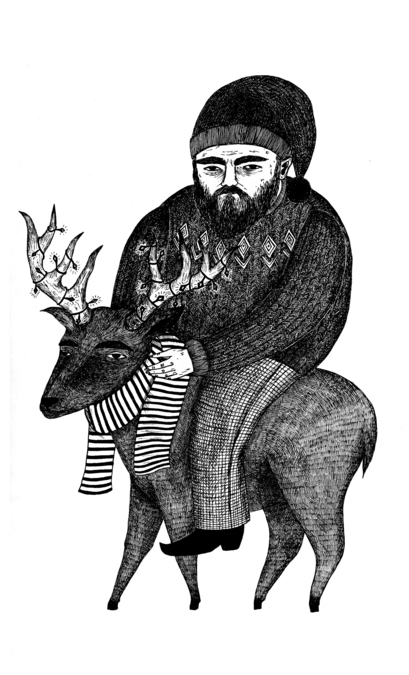 Illustration: Julija Straizyte
Darlene Love – Christmas (Baby Please Come Home)
[Phillies Records, 1963]
Let's start with the best, a song absolutely guaranteed to get me in the mood. The whole Phil Spector Christmas album is sacred, of course, but it's this contribution from Darlene Love that shines above all. It has everything you need at this time of year: it's a rousing tune tinged with heartbreak, both a celebration and reflection, filled with snow and longing; powerfully, passionately sung and rendered in Spector's rich, mono, wall-of-sound palette, with added sleigh bells and the most beautiful, plaintive piano line I've ever heard. Unparalleled genius.
Lord Nelson – A Party for Santa Claus
[National Record Company, 1963]
There's something seductively contrary about Christmas songs in a calypso style, a clash of mental imagery that shouldn't really work. But Christmas is a celebration, and there's none more celebratory than this soca classic from Tobago's Lord Nelson. It's based around the most joyously Caribbean rendition of Santa Claus is Comin' to Town you'll ever hear, and states the case for giving Santa some time off this year and taking him out clubbing for a wee treat. Unashamedly fun and open-hearted, this should have all the generations dancing round the (palm) tree.
Dennis Waterman & George Cole – What Are We Gonna Get 'Er Indoors?
[EMI, 1983]
Okay, I know it's rubbish, but I can't help myself. This spin-off from ITV's Minder, the incredibly popular 1980s cheeky chappy drama starring Waterman and Cole, was a favourite in our house. Indeed, I'm pretty sure my dad fashioned himself on Cole's hapless hustler Arthur Daley, with an added hint of Del Boy from Only Fools and Horses, but that's a story for a different day. The whole song is a mildly amusing comedy skit – or it was at the time, at least – which finds poor old Arthur struggling to find a gift for the titular and notoriously difficult Her Indoors, the wife we, as an audience, never saw, all delivered in the kind of cockney rap that only Christmas can allow. It's awful, but it's awfully fun.
Clarence Carter – Back Door Santa
[Atlantic, 1968]
In which Clarence stalks the neighbourhood at dawn like a randy Santa, sneaking quietly into houses while the dads are at work, and paying off the children with loose change so he may be left in peace to bestow "gifts" upon their lonely mums. A soulful, sexy stomper of dubious morality, its link to the season is tenuous at best, while the back door of the title is, mercifully, literal – Carter likes to keep it open in case a quick escape is required. Utter filth. 10/10.
Big Dee Irwin and Little Eva – The Christmas Song (Merry Christmas to You)
[Dimension, 1963]
You'll recognise this song as the ubiquitous Nat King Cole classic, that smooth, saccharine, string-led croon that you finally succumb to as it slinks through the speakers in Asda at 4pm on Christmas Eve. But this version by Big Dee Irwin and Little Eva is my favourite – it's got that brilliant, bluesy, soulful, sexy, shouty feel to it, ensuring that I absolutely believe them when they wish everyone everywhere a very Merry Christmas.
Reuben Anderson – Christmas Time Again
[Doctor Bird, 1966]
And it's back to the Caribbean for another sexy, sunlit, and seemingly incongruous soca belter. Reuben begins his festive treat by describing his immediate surroundings: 'Listen to the birds, how they're singing / Listen to the wind, how it's blowing' – it sounds like Christmas in paradise, and should be listened to with a fiery cocktail in hand while wearing your shortest shorts and shades. In brief, I highly recommend the Trojan Christmas Box Set.
Kay Martin and Her Bodyguards – I Know What You Want for Xmas
[Fax Record Company, 1962]
Ex-model Kay Martin and co. were an early 60s comedy jazz act that specialised in racy innuendo, and this is their prurient peak: 'I know just what you want for Christmas / But I don't how to wrap it, dear' goes the chorus, and – SPOILER ALERT – she might be talking about her privates. It's all a bit Carry On Christmas: cheeky, silly, suggestive, but still oddly charming. Its only downfall is its punchline, when the true nature of the gift is revealed – but it was 1962 after all so I suppose she had to play it safe. Still though, if he ever heard it, I bet Sid James absolutely loved it.
The Waitresses – Christmas Wrapping
[ZE Records, 1983]
The Waitresses never quite took off in their time – this song didn't make the Top 40 – but Christmas Wrapping has become almost ubiquitous over the years, and rightfully so, because it's cool as fuck. A new wave groove with a sax riff and lyrics that were reportedly written by the band's Chris Butler in the back of a taxi on the way to the studio, it was recorded in NYC as hip-hop was taking hold of the city, hence the half-sung, half-rapped vocal by Patty Donahue (and, of course, the title pun).
Our heroine laments not phoning that hunk she fancied all year long, then rails against the season and vows to spend the holidays alone – but then she pops to the shops and bumps into said hunk, and they end up spending it together. And if that wasn't lovely enough, it ends with her own Scrooge-like epiphany – how could she ever think of missing Christmas and spending it alone? Christmas is brilliant! It's a little post-punk Dickens, and I love it. It was also on the ZE Records 1982 new wave Christmas compilation, which is also cool as fuck and features Suicide, Cristina's Things Fall Apart, and James Chances' excellent Christmas With Satan. Advice: go and buy that album right now.
Slade – Merry Xmas Everybody
[Polydor, 1981]
Listen, I said there'd be classics, and you can roll your eyes at such an obvious choice all you want, but there's a reason that this is one of the biggest-selling Christmas singles of all time. I've never met anyone who doesn't love this song – or Slade, for that matter – and it covers all the bases: love, snow, family, optimism, dancing grannies, and an alcoholic Santa. And while we all know Noddy's primal, 'It's Christmas!' howl, it gets a special commendation from me for slipping in a triple pun at the end when Noddy tells us we've been slayed / sleighed / Slade. What an absolute fucking legend.
The Fall – No Xmas for John Quays
[Step-Forward, 1979]
From one legend to another. Granted, you're not likely to hear this in any fairy-lit shopping centres this year, and I'm not even sure it technically counts as a Christmas song, even if Mark E. Smith does break into Good King Wenceslas in the middle. But it's the first of The Fall's many flirtations with the season, taken from their 1979 debut album, Live at the Witch Trials, and definitely the best. To be perfectly honest, I probably wouldn't even normally listen to this at Christmas, seeing as it seems to be about a drug addict buying fags, but since Smith left us this year I think it's only right that I add it right now to my ever-growing iTunes Xmas playlist. Have a good one when it comes!
---
Ghost Stories for Christmas by Aidan Moffat & RM Hubbert is released on 7 Dec via Rock Action
Aidan Moffat & RM Hubbert play Mono, Glasgow, 6 Dec