The Skinny on EH-FM: Show Four (Listen Again)
Listen back to our fourth show on EH-FM, with guests Chuchoter as well as music from Carly Rae Jepsen, Aidan Moffat & RM Hubbert, Annie Booth, Lowkey and Darude. Yes, Darude
We – Tallah Brash (Music Editor) and Nadia Younes (Clubs Editor) – were back on the radio today (8 Apr) for our fourth show on Edinburgh community station EH-FM.
Our show happens every Monday from 12-2pm and is your go-to guide for what's on that week in the world of gigs and clubs across Scotland; listen back to our latest show in the below Mixcloud player which included a chat with Emily Smith and Owen McAllister, aka Chuchoter, about the release of their latest single U Can Find and their upcoming appearance at Wide Days on Friday 12 April. We also featured a guide to Record Store Day, had our usual gig guide, new music and music news chat, got well relaxed in our Don't Speak section and well retro in our Clubs section. Daft banter as per.
Here's our full playlist from the latest show, along with key dates to put in your diary for the week ahead:
Intro, Hi, Hello
Robyn – Between the Lines
Blood Orange – Hope
Carly Rae Jepsen – Now That I Found You
Pixies – Here Comes Your Man (playing O2 Academy, Glasgow, 22 Sep; Usher Hall, Edinburgh, 23 Sep)
What's On This Week
These New Puritans – Anti-Gravity (playing SWG3, Glasgow, 11 Apr)
DAVE – Disaster (feat. J-Hus) (playing O2 Academy, Glasgow, 12 Apr)
Lowkey – The Return of Lowkey (playing SWG3, Glasgow, 12 Apr; Summerhall, Edinburgh, 13 Apr)
Adam Stafford – Small Town Living Mate & Beach Shadow Hollow Tapping (playing Leith Depot, Edinburgh, 12 Apr, and a Y'all is Fantasy Island Record Store Day show at St Vincent's Chapel, Edinburgh, 13 Apr)

Record Store Day (13 Apr)
Aidan Moffat & RM Hubbert – Cockcrow (playing sets at Monorail, Glasgow; Assai Records, Dundee; VoxBox, Edinburgh)
Pocket Knife – Fish Song (playing Some Great Reward x The Glad Cafe, Glasgow)
Annie Booth – Magic 8 (playing VoxBox, Edinburgh; Some Great Reward x The Glad Cafe, Glasgow)
Don't Speak
Visible Cloaks, Yoshio Ojima & Satsuki Shibano – You
Citizen Bravo – Have a Nice Time (Citizen Bravo presents The Terrifying Miracle of Sound, University of Glasgow Royal Concert Hall, 11 Apr)
Rozi Plain – Conditions
Weyes Blood – Something to Believe

Interview with Chuchoter following the release of their new single and upcoming appearance at Wide Days
Chuchoter – U Can Find
Eyes of Others – 30+ Losers
Both artists are playing La Belle Angele as part of Wide Days, Edinburgh, 12 Apr; register for free tickets at widedays.com
Clubs
The Prodigy – No Good (Start the Dance) (Music for a Jilted Generation: CALM and Mind Fundraiser, Cabaret Voltaire, Edinburgh, 13 Apr)
Leon Vynehall – Ducee's Drawbar (playing The Reading Rooms, Dundee, 12 Apr; The Tunnels, Aberdeen, 13 Apr)
Peach – Faxing Jupiter (playing The Tunnels, Aberdeen, 12 Apr; Riverside Festival, Glasgow, 25 May)
Darude – Sandstorm (playing Atik, Edinburgh, 13 Apr. We wanted to play Pleasure Pool here but they don't have any music out yet; they're playing The Mash House, Edinburgh, 13 Apr)
ABBA – Gimme! Gimme! Gimme! (A Man After Midnight) (Optimo play Summerhall, Edinburgh, 12 April and have been known to drop a bit of Abba in their time)
Almost Over
Fujiya & Miyagi – Flashback
Hot Chip – Hungry Child
Ran Out of Time
We were also hoping to play G.H.O.S.T by Parisienne experimental producer Nodey as well but we sadly ran out of time, so as promised, here's the single's completely outlandish, bizarre, stunning and explicit video, directed by Chen Tianzhuo, for your viewing and listening pleasure.
---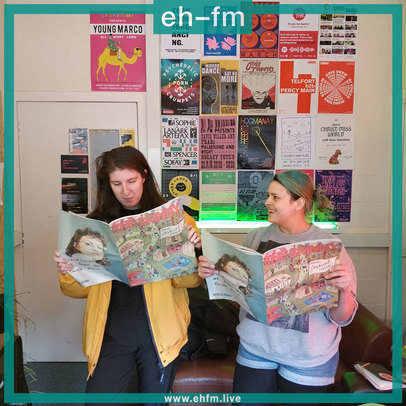 ---
We'll be back on the internet airwaves for your listening (dis)pleasure once again on Monday 15 April from 12-2pm at ehfm.live