Record Store Day 2019: Scottish Events Guide
Vinyl enthusiasts, it's that time of year again where we get to bow down collectively to the shrine of waxy goodness for our annual Record Store Day gathering – here's what you'll find in Scotland's record shops
We'll be updating this article ahead of Record Store Day on 13 Apr; if you're working on a RSD event, get in touch on news@theskinny.co.uk or via Twitter (@theskinnymag)
---
Record Store Day in Edinburgh
VoxBox
The team behind VoxBox's RSD live music programme are changing things up this year and moving a bit further down the street to St Vincent's Chapel. Once you've made your stop at VoxBox and spent an obscene amount of money on records, pop around the corner for live music from Aidan Moffat & RM Hubbert, SHHE, Andrew Wasylyk, Callum Easter, Annie Booth and more. And don't worry, there's a bar in there. Panic over. 11am-6.30pm
Underground Solu'shn
As always, Underground Solu'shn's RSD plans are an electronic affair. As well as live sets from Boots for Dancing, Sanna and Bell Lungs, there will be DJ sets from an array of local talents, including Vic Galloway, Percy Main and Nikki Kent. Community radio station EH-FM will also be broadcasting live from the shop on the internet airwaves, with the full schedule yet to be announced. From 8am
Assai Edinburgh
We all know how brutal those RSD queues can be like, but Assai are hoping to make your wait a little easier this year. Teaming up with the nearby Preachers Patisserie, Assai will be offering breakfast for the early birds and serving coffee to those in the queue for £1. They also have some live music planned, so head down early to get your hands on some brekkie, your favourite RSD releases and set up shop for the day's performances.
Record Store Day in Glasgow
Monorail Music
Moffatt & Hubbert will also be cropping up in Glasgow this RSD at Monorail, alongside "Pollokshaws' belated answer to Prince and the Revolution" Wet Look, Rise Kagona, Lead Sister and Bratakus. In between, Claire Biddles, Pro Vinylist Karim, Stewart Smith and Tom Crossley will be spinning some of those, oh what do you call them, records. Also, there will be home baking, which we had previously misconstrued as a low-down-the-bill band called Home Baking. Well, it's hard to tell sometimes... 2-10pm

Some Great Reward x The Glad Cafe
The Southside record shop celebrates its first RSD with an afterparty at the always-lovely Glad Cafe. On the bill are the aforementioned Annie Booth, who releases a new EP via Scottish Fiction and Last Night From Glasgow on the day, along with fantastic lo-fi pop duo Pocket Knife and the spiky guitars of Home Economics. 7.30-11pm, £5, tickets via The Glad Cafe
The 78
The vegan-friendly bar in Finnieston hosts Scotch Bonnet Records' all-dayer with a vinyl market, a host of DJs, and a live jam session. Mungo's Hi Fi, Stalawa Sound and 527 Soundsystem are among those on the line-up. Also this is a dog-friendly RSD event, should that be important to you. 12pm-1am

Record Store Day in Dundee
Assai Dundee
Completing the Holy Trinity of Scottish cities, Aidan Moffat & RM Hubbert will be performing and signing copies of their RSD release What The Night Bestows Us. Other RSD releases will of course be available on the day too, this isn't the Aidan Moffat & RM Hubbert show, although it may seem like it and, let's be honest, it would hardly be a bad show. 12-1pm

Le Freak Records
Also on that electronic hype are Le Freak Records, who have invited a whole host of Dundee club regulars into the shop to provide the soundtrack for your vinyl perusal. Locarno's RussoRosso, Guesthaus' Stu Gray, Book Club's Is Kill and Le Freak's very own Tom Le Freak are among those spinning tunes. There are also promises of free beer, so we're going to guess that's you sold. 10am-9pm
---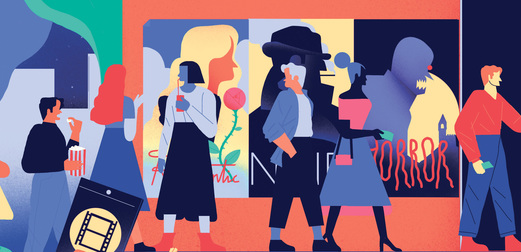 We're showcasing some of Scotland's best new short filmmakers in The CineSkinny on Tour this May – click here for more details, and to find out how you can get your short film on the big screen.