SHHE on her return to music and Icelandic residency
We speak to Dundee-based musician Su Shaw, aka SHHE, while she's in Iceland taking part in the Westfjords Residency, about her return to music and living in isolation
After a few years of relative quiet from Su Shaw under her Panda Su moniker, Shaw tweeted on 15 January: "Following the natural course of the earth, @pandasu is now extinct," confirming that she'd "be back soon, in another form" in the same tweet. "I released Maps in 2013, that was supposed to be the first single from the album which was going to be released under Panda Su," Shaw explains. "Except the album never came. I was writing a lot but wasn't satisfied with the outcome.
"Then in 2016, I moved to Dundee and began working on music full-time. Dundee isn't a big city by any stretch of the imagination but when you've spent your whole life living in isolation surrounded by fields and silence, it's a big enough change. I guess that was the catalyst. I enrolled in a sound production course and I began writing again. The music was different this time, and fundamentally I was too, so it made sense to kill off the black and white and start a new project."
SHHE is Shaw's newly-adopted musical persona which came to light at the start of the year, along with the announcement of her debut performance under the name as part of Neu! Reekie!'s Burns Eruption night at Edinburgh's Summerhall at the end of January. "SHHE is my new music project but it's also a platform for collaboration across different art forms," Shaw tells us. "True to her animal counterpart, Panda Su was a pretty solitary creature. I didn't share much, even with myself and I very rarely collaborated with anyone else. SHHE is the opposite.
"When I first moved to Dundee, I didn't know many people there and I wasn't part of any creative network. In fact, I wasn't even sure that one existed. But I quickly discovered that Dundee was full of incredible artists and some of them became some of my closest friends. I knew I wanted to collaborate with as many of them as possible and bring them into the music in some way. I suppose SHHE is representative of that."
We're speaking with Shaw while she's out in Iceland working on a new piece of music entitled Dýrafjörður that's set to be performed at Summerhall on 9 March, as part of their two-night Scratch event. Dýrafjörður is "inspired by the landscapes found in the Westfjords" of the Nordic country. "I'm currently in Þingeyri, a remote village in the northwest of Iceland where I'm taking part in the Westfjords Residency," she says. "The village is located on the coast of the fjord Dýrafjörður and is encompassed by mountains on one side and the North Atlantic Ocean on the other. It's the middle of winter here, the temperature can drop to -10 daily and the village has just experienced the largest snowfall recorded here since 1994. It's unforgiving and magical at the same time."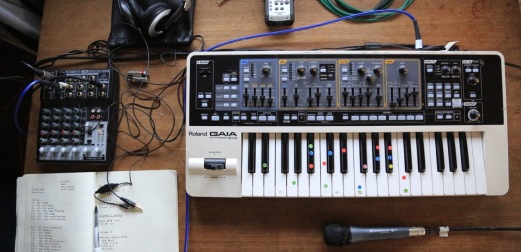 With Dýrafjörður, Shaw is exploring solitude and isolation using only voice, synthesizer and first-hand recordings of sounds from Iceland's Westfjords. "I have limited equipment with me," says Shaw. "A Roland Gaia synth, a Sennheiser e840 microphone, a Boss VE-20 vocal processor and a Zoom H4N sound recorder. Before I arrived, I didn't know what I'd find but I knew I wanted to write music based purely on my experience here. I have ten days to create something. I've never given myself those kind of constraints before. I wanted to see what I could come up with and when I return to the UK, I have two weeks to pull everything together before performing the project at Summerhall.
"Solitude and isolation have always featured in my music. Intentionally or unintentionally, they've always featured in my life too. While I'm here, I'm writing about the connection between these themes and the relationship they have with the landscapes here. If you're looking for total isolation, Þingeyri is the place to be. The nearest village is over an hour away and in winter months, it can be completely inaccessible.
"On my fourth day here, we were hit by a snow storm that was so fierce that all roads leaving the village were blocked for three days. This experience formed the basis for a lot of my recordings so far; the never-ending hum of a struggling snow plough, the revving of a car engine stuck in snow, the sea battering the coast. I'm going to incorporate these recordings into the music I've been writing while I've been out here."
The initial project of Dýrafjörður was to be an exercise in a new way of working for Shaw, but she tells us: "I know the project has a life past the time I spend here and putting out a release is something I'm going to work towards when I get back." As well as Dýrafjörður, Shaw's first single as SHHE – Eyes Shut – is a definite progression from her earlier work as Panda Su; the beats are more pronounced, the sound is more committed and Shaw's vocals are more confident than ever. "Eyes Shut is the first track I've ever recorded and produced myself. It sounds more confident because I am more confident. With SHHE, I have a completely different approach to songwriting and production and because of that, the music is more honest."
2018 is set to be a busy year for Shaw with "lots of projects and collaborations that I'm really excited about," she tells us. "For the Eyes Shut video, I worked with my friend, photographer and dancer, Harry Clark. We shot the video at West Ward Works, an incredible space and disused print works in the centre of Dundee. The dancers in the video, James Southward and Francesco Ferrari are dancers with Scottish Dance Theatre and together with Harry they choreographed a performance to accompany the song.
"I commissioned Dundee-based visual artist and printmaker Katie Ravenscraig to design a print for Eyes Shut which will be released later in the month," Shaw continues. "And I've been working with my brother and collage artist, Portis Wasp, on a future artwork project. Later in the year, I'm also collaborating with French dancer, Eve Ganneau, on a project which uses sound and movement to explore the metaphorical potential of cartography in the human body. This work will be premiered at Hidden Door Festival in May." With all that in the pipeline, it's safe to say we're really excited too. It's bloody well lovely to have you back Su!
---
SHHE performs Dýrafjörður at Summerhall, Edinburgh, 9 Mar; SHHE plays Hidden Door Festival, Leith Theatre, Edinburgh, 25 & 26 May