Jared Celosse – Archipelago Vol. 1 (EP Premiere)
Listen to Jared Celosse's Archipelago Vol. 1 EP, the first in a series of Archipelago EPs from Glasgow label Olive Grove Records
Up-and-coming Glasgow-based artist Jared Celosse has been steadily gaining momentum over the past year or so. In 2018, he signed to Olive Grove Records, while in May of that year, his single New Orleans (Esca) helped earn him the accolade of the inaugural Stewart Cruickshank Bursary winner for songwriting from the Scottish Music Centre.
Born in London but having lived across both Denmark and the Czech Republic before Glasgow, Celosse has been finding musical success since heading north of the border, having multiple tracks given airtime on Scottish radio stations. The 23-year-old's music is highly atmospheric, combining subtle piano tones with floaty vocals and shifting instrumentation – comparisons to award-winning, piano-heavy artists like Tom Odell are bound to be made. Celosse has an award-earning single New Orleans (Esca) of his own, however, and one that wonderfully exemplifies his songwriting skills, as plodding drums build to accompany airy piano keys and sweeping violins across a song that feels composed rather than just written.
The Skinny is delighted to premiere Celosse's new EP, Archipelago Vol. 1, a day before its general release. The physical copy of Celosse's EP is to be split with Chrissy Barnacle, whose Archipelago Vol. 2 will be found on the vinyl's B-side. Listen to Archipelago Vol. 1 in its entirety in the below SoundCloud player (click here if it's not displaying correctly).
"The EP is a collection of six songs I've written over the past five years. I see it sort of as an attempt to make the most 'album-like' sounding EP I could," Celosse tells us. "The core of the EP – the twin songs New Orleans (Esca) and (CO) Lifornia, are both set in the US and are dark, dream-like stories about men deceived by beauty and power. (CO) Lifornia is a response to the increasingly visual effects of climate change on our planet and was written shortly before the end of the recording process.
"Then there's The Path – When There's No Light which was the first song(s) I wrote on the piano and was finished back in 2014. There's a hope and naivety in the lyrics that doesn't quite match the rest of the album. This leads to one of my other aims which was to try to create a varied and shifting aural landscape, whilst still having enough links through thematic or sonic qualities to be considered a single entity. The release ends with Crashing Down – a foray into more electronic sounds and a focus on lyrics that don't tell a story but instead express a feeling – in this case, the joy of seeing things in ruin.
"Whereas my previous release Four Cold Walls was very much writing for the sake of writing, this EP has been more of a response to the different worries that have sprung up in my and many others' minds over the last few years. I'd say (sonically) this album was influenced by the recent writing of Benjamin Clementine, Andy Shauf and Villagers."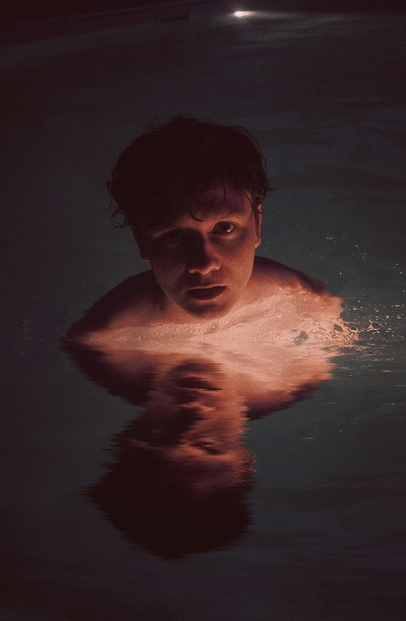 Image: Jared Celosse by Sasha Bobchinetskaya
The release comes as the start of a project run by the Glasgow-based label which Celosse signed to last year: Olive Grove Records. The project will see the label release a series of split 12" EPs under the title of Archipelago EPs, with Celosse's Archipelago Vol. 1 the first instalment.
Speaking about the project, the man behind the label, Lloyd Meredith, tells us of his excitement for what's to come: "This is the first in a series of Archipelago EPs that Olive Grove will be releasing over the coming months and it's quite possibly the most exciting project that I have worked on since the inception of the label. One of the main reasons for starting the label was to give a platform to some of the amazing talents that come out of Scotland. Over the years, I kind of felt that the label had veered away from working with artists who were just taking their first steps in the music industry.
"I think we've established the label to a point where people believe in the music I release, so this is a bit of a punt as the label is going to be releasing a series of EPs featuring a number of artists that you might not have heard of before in the hope that we have enough people who trust our tastes to buy into it. I appreciate it's a big risk, but I really believe that the six artists that feature on the EPs have something really special about them." 
After receiving funding from Creative Scotland, the label was able to send Jared Celosse, Chrissy Barnacle, Pocket Knife, Moonsoup, Circle Meets Dot and Henry & Fleetwood into the studio. "For a lot of these artists, it was their first time being in a studio working with a sound engineer, plus I had the added bonus of more experienced Olive Grove-rs, David MacGregor (Broken Chanter) and Carla J Easton, acting as mentors to the artists. I kind of figured that as well as getting some great songs recorded, that I wanted to give the artists a good first-time experience of recording in a studio.
"The EPs will be released as a series of split 12" records, the first of which features Jared Celosse and Chrissy Barnacle, two unique talents that I am so chuffed to be working with. I have wanted to release Chrissy's music for a number of years now, so I am so pleased to be doing just that. As for Jared, I think he's really got something special about him and I think this new EP of his will turn a lot of heads. I am not the only one who thinks he's something pretty special."
---
Archipelago Vol. 1 and Vol. 2 are out 9 Aug via Olive Grove Records and available to buy here; Jared Celosse and Chrissy Barnacle play The Old Hairdressers, Glasgow, 9 Aug
facebook.com/chrissy.barnacle
facebook.com/jaredcelosse