Post Coal Prom Queen – Wait, Wait! Dig! (premiere)
Listen to Wait, Wait! Dig!, the dancefloor-ready new single from dreampop duo Post Coal Prom Queen, fka L-space
After a couple of standalone releases in 2020 (You Wouldn't Download a Car, Zou) and a collaborative track, Body of Water, with Japanese musician macaroom last May, Edinburgh duo Post Coal Prom Queen are gearing up to release their debut EP. The duo, who you may be more familiar with in their former guise as L-space, will release PCPQ on 29 April.
Following on from the EP's lead single Salt, a soothing and dreamy number with cosmic sensibilities which came at the end of January, at the end of this week Lily Higham and Gordon Johnstone are getting us up out of our uncomfortable home office chairs and dancing with the release of the throbbing, frantic (in a good way) and utterly infectious Wait, Wait! Dig!
The Skinny are delighted to be premiering Wait, Wait! Dig! today – giving you both a first listen and an opportunity to learn the words before it officially comes out on Friday thanks to its accompanying atmospheric dayglo lyric video, which you can watch in the above YouTube player (click here if it's not displaying correctly).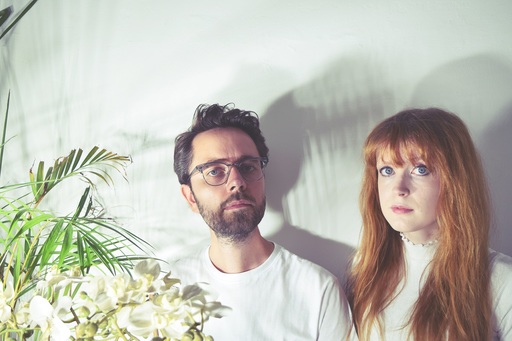 Post Coal Prom Queen
"It's not often we make music we imagine people would want to dance to," Johnstone says of the track, "but we hope one day we'll hear Wait, Wait! Dig! in a club somewhere and we'll enjoy people dancing awkwardly to our rhythms. It's a rare track of ours that we feel would benefit from a 12-15 minute deep house remix.
"Wait, Wait! Dig! had existed as a sketch for a little while before this EP," he continues. "We knew there was something good in there but we weren't sure how to tease it out. After a lot of different arrangements we decided to embrace the kind of music we both love listening to – upbeat pop with huge synths. We really enjoy mixing 16-bit synth tones and glitchiness with more organic sounds like birdsong and harps, it reflects the themes we often write about – speculative and futuristic elements combined with personal insight and analysis."
Johnstone concludes: "We're really happy to have this song on the EP as it's a moment of levity and, at points, silliness, on an otherwise quite cinematic and brooding release. We hope it nestles in people's brains and stays with them for a long time."
Of the song's open-to-interpretation lyricism, Higham tells us: "Sometimes I'll be stuck on a coding problem that I can't solve during the day, but after a restless night of half-awake dreaming about the problem, I'll wake up with a solution.
"This song is about being so close to an answer for something big and important – restlessly trying to uncover the key to the problem. Sometimes you'll never be able to work it out – someone else has or is hiding the key. Other times you might have a eureka moment or figure it out in your sleep. As for what the problem is that we're talking about in this song… we'll leave that for you to think about!
"We really loved working on the vocal layers on this song," Higham adds. "It's the first time we've had so many different vocal harmonies and melody lines overlapping each other in different phrasing. The intro segment builds a mysterious dreamlike mood to set the scene. It seems incongruous with the upbeat rhythm and synths, but when the hook comes in it all makes sense. We had to mix this track remotely due to lockdown, which was a first for us, but Simon [Doherty] at Infinity Bus Studio did an incredible job."
---
Wait, Wait! Dig! is released on 26 Feb; PCPQ is set for release on 29 Apr

postcoalpromqueen.bandcamp.com