NOVA – 30 MINS (Video Premiere)
Watch the video for 30 MINS, the first single to be taken from NOVA's debut album, RE-UP
A year on from releasing her debut mixtape, Risin' Up, and following a nomination in the Best Hip Hop category at the 2019 Scottish Alternative Music Awards, Edinburgh-based rapper and producer Shaheeda Sinckler, aka NOVA, is almost ready to unleash her massive debut album RE-UP on the world.
Following the album's launch party at Sneaky Pete's last night, The Skinny are honoured to be premiering the video, created by rawtape, for RE-UP's opening track, 30 MINS, which you can watch in the above YouTube player (click here if it's not displaying correctly). Celebrating the spirit of the underground music scene, which she's privy to, NOVA asks the all important question: 'Where will you go after the show?'
Featuring clean and chunky production from $1000 Wallet, on 30 MINS NOVA is utterly engaging and nothing short of thrilling. Commenting on afters culture, she effortlessly and ingeniously peppers it with pop culture references ('You all at the after party, panic at the disco / Bodies bouncing hard to a remix of Sisqo') and the everyday mundane ('Gotta perk up, man / I think I need a coffee'). 
"In keeping with the theme of previous NOVA X RAWTAPE projects, the official video for 30 MINS evokes the energy and atmosphere of Glasgow's thriving underground party scene," says rawtape. "It could be said that NOVA is a product of these illusive raves, having first performed an impromptu MC set in a dilapidated factory in the early hours of the morning before her first official gig."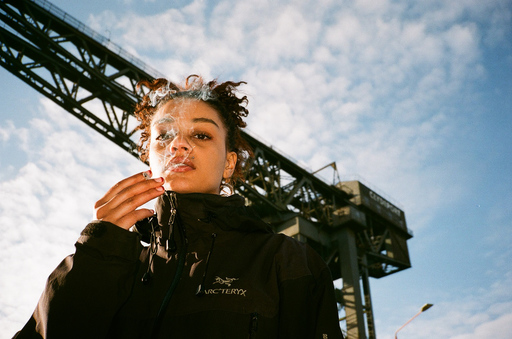 Image: NOVA by rawtape
Sinckler tells us: "Directed by rawtape, the video was shot in a building synonymous with underground music in Glasgow, having been host to two of the most infamous afterparties to brace our generation. The chorus mimics the murmurings of avid partygoers, chucked out of the club, searching for the next place to occupy, the next place to smoke, drink and dance, while $1000 Wallet's beat comes in with an energy that's hard and infectious.
"The verses go over things that are familiar to most people involved in this culture, from the ego to the illegal, from sweat to texts to the trek to the spot, witnessing fights on the street as you journey through the city." She adds: "NOVA X RAWTAPE hosted a takeover of the HQ of Glasgow grime, LVLZ Radio, to shoot the video, an ode to the spirit of underground DIY music and parties and an answer to the inevitable question, where will you go after the show?"
---
RE-UP is released on 25 Jan

facebook.com/novascotiathetruth