Callum Easter – What You Think? (video premiere)
Watch the video for What You Think?, the first single to be taken from Callum Easter's forthcoming new album, System
Edinburgh's premier soul punk Callum Easter clearly isn't constrained by genre. His latest single, What You Think?, sees him dabbling in an unexpected bit of glam rock, although even he's not entirely sure about that. "Does this sound a bit glam rock to you?", he asks via email, possibly rhetorically, concluding with a shrug: "I can't tell any more." Glam or not, the most impressive thing about Easter is that everything he creates is utterly captivating, always managing to sound totally unique yet familiar, like a warm hug from a close friend.
What You Think? is by far Easter's most upbeat, scuzzy and glam-tinged (it is definitely a bit glam) rock'n'roll track to date, instrumentally closer to the abrasive pop sound of Edinburgh three-piece Young Fathers, who Easter has worked with in the past.
Featuring the Leith Congregational Choir on backing vocals (who Young Fathers and Easter have both previously collaborated with), The Skinny are delighted to be premiering the accompanying music video for What You Think?, which you can watch in the above YouTube player (click here if it's not displaying correctly). 
The video was filmed and edited by Easter and Glenda Rome, with Tim Brinkhurst as creative director. It features intense footage from The Callum Easter TV Special, an accompanying film for Easter's forthcoming new album, System, due this September via Moshi Moshi Records, in association with Lost Map Records.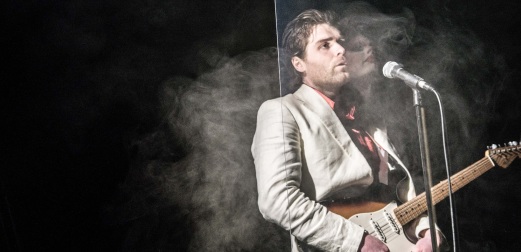 Image: Callum Easter by John Mackie
Hosted by Easter, the upcoming TV special was filmed back in March between Ltd Ink Corporation and the Traverse Theatre and features an array of guest performers including dancers Charmaine Brocklebank, Dan Navarro Lorenzo, Rob Heaslip, Skye Su and Campbell Watt, a knife thrower (Todd Various), a dominatrix (Heather Craig) and prominent Edinburgh Drag Queen Alice Rabbit, all of whom feature in the above music video.
What You Think? is intense and feels almost confrontational, Easter wide-eyed and in your face in the video, repeatedly asking: 'What you think about the world today?' But Easter just wants "to believe there's love and goodness [in the world] despite the evidence of news reports, [and] fragments of conversations overheard, dripping like acid on concrete," his simile as vibrant as his music.
"I don't care what you think about the world today," he tells us. "I'm trying to figure it out for myself, but what you gonna do? Look out the window, here to there. You're either wading through the troughs or gurning through the peaks, AC current all inside your head, noise behind the eyes.
"Well I'm going direct," he continues, "battery-powered surround sound, 12 volts is all you need. It's like old rock'n'roll through the transistor radio, only this time it's across town, probably a car park down Leith somewhere. I can see dust and headlights. Let's start a convoy, tune in your car stereo and open your doors."
---
What You Think? is out now; System is set for release on 3 Sep via Moshi Moshi Records, in association with Lost Map Records; pre-order here