Tae Sup wi' a Fifer w/ Firestations, SHHE & more: video premiere
Watch the latest online episode of James Yorkston's Tae Sup wi' a Fifer, featuring performances from Firestations, SHHE, Brìghde Chaimbeul and Yorkston alongside the Second Hand Orchestra
James Yorkston has been running his Tae Sup wi' a Fifer nights in the Adam Smith Theatre in Kirkcaldy since 2015, bringing together musicians and spoken word artists for beautifully curated evenings of talent, joy and togetherness. 
Like many others over the course of the past year, Tae Sup have been forced to exercise their creativity and learn to adapt during these trying times, and have successfully managed to move the Tae Sup format online for a short series of home-recorded performances stitched together with links from the ever-charismatic Yorkston. With support from Creative Scotland, Tae Sup have been able to provide a source of income for many musicians who have been overlooked by the government in recent months.
Following on from the first three online Tae Sup's, featuring the likes of Andrew Wasylyk, Djana Gabrielle, Faith Eliott, Jenny Lindsay and Rab Noakes, The Skinny are delighted to be premiering the fourth and final instalment in this current series, which you can watch in the above YouTube player (click here if it's not displaying correctly). 
With exclusive performances from Scottish smallpipes aficionado Brìghde Chaimbeul, who transports us to the glens of Scotland with her effortless playing, Dundee's SHHE, who has us longing for sunny afternoons in a field in the middle of nowhere, and Firestations, who take Yorkston back to his days attending gigs at Potterrow in his 20s, and play new music from releases they have due out later this year, there's something for everyone in the latest online episode of Tae Sup wi' a Fifer. And if you make it to the end, there's even a cheeky wee performance from James Yorkston and the Second Hand Orchestra, who perform Struggle from their latest collaborative record, The Wide, Wide River.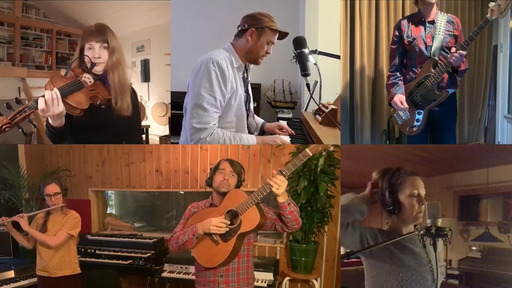 [James Yorkston and the Second Hand Orchestra]
"Working this series of Tae Sup online has been fun," Yorkston tells us. "Offering work to the artists involved, during this rather barren period for gigs, has been most satisfying. I was able to ask artists to create, give them an audience and, importantly, pay them a fee. All things we miss, of course. Also, as you can see from (most of) the videos, I had my son with me when I was filming the links, and I guess that almost counted as home schooling... maybe... although I'm not entirely sure my rudimentary video editing skills are going to encourage him any further into the world of film.
"I'd hesitate to run through the entire list of names and pick out my favourite moments but, collectively, the response from the artists has been positive and grateful throughout," Yorkston continues. "And for me, as a fan, it's been lovely seeing some of my favourite artists perform. Episode four continues with that – the young but great piper Brìghde Chaimbeul, whose The Reeling album last year was a favourite of mine; blessed-with-songs alt-pop Lost Map heroes Firestations; and SHHE, a curious artist who always seems to be pushing and exploring, and is therefore always worth a listen.
"A massive thank you has to go to Creative Scotland, who understood the value for the audience and the artists in an online Tae Sup wi' a Fifer and provided funding for the whole thing. The things I've missed, that an online Tae Sup cannot provide, is the bands meeting one another, the meal we always take pre-show, the soundchecks and, of course, the live shows with the audience." Yorkston concludes: "But hopefully, fingers crossed, we can return to the offline, real-life Tae Sup wi' a Fifer soon enough."
---
taesup.co.uk
jamesyorkston.co.uk
firestationsband.com
shhe.bandcamp.com
brichaimbeul.com