Honeyblood – Gibberish (Video Premiere)
Watch the music video for Gibberish, taken from Honeyblood's latest album In Plain Sight
It's been almost an entire year since Stina Tweeddale released In Plain Sight, her third record as Honeyblood, which saw her working with super producer John Congleton. But lucky for us, especially in these trying times, she's got a wee treat for us in the form of a music video for the album's frustration-fuelled track Gibberish.
"I wrote this song to reflect the absurdity of the current political climate," Tweeddale tells us of the song's inception. "Now more than ever we are told things daily that are simply not true or are used to manipulate us. How do we know what to believe? Who has our best interests at heart? It's becoming ever more difficult to navigate these questions."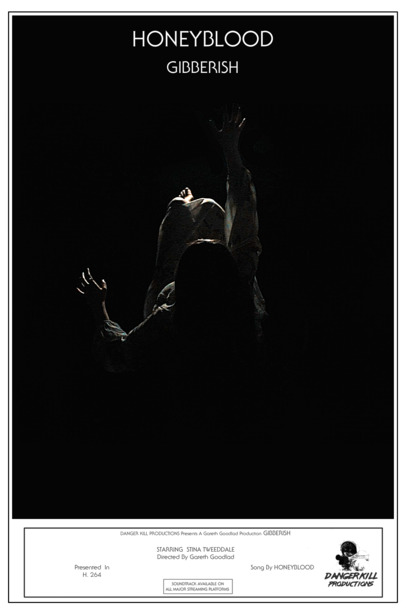 Image: Honeyblood – Gibberish (a movie-style poster by Gareth Goodlad at Dangerkill Productions)
The video was shot in a back alley which could only belong to Glasgow, the city Tweeddale calls home. Director Gareth Goodlad of Dangerkill Productions tells us: "To me the video is about being taken over by your own self perception." And this really does come through with the effects and trippy visuals used – Tweeddale's face coming to life as the artwork from In Plain Sight is both super cool and super freaky in equal measures. Watch the video for Gibberish in the above YouTube player (click here if it's not displaying correctly).
Tweeddale concludes: "I am exceptionally proud of this video and the stunning job Gareth from Dangerkill Productions has done! We work so well as a creative team and I love seeing his mad ideas spring to life!"
And before we forget, Instagram fans will be pleased to hear there's a filter going live today which you can use in the comfort of your own homes so that you too can become a piece of Honeyblood artwork. 
---
In Plain Sight is out now; Tweeddale is streaming live performances across her Honeyblood socials every evening at 7pm right now – keep an eye on her Facebook and Instagram for regular updates and if you're able to, please make a donation via her GoFundMe page.