Sigrid @ Usher Hall, Edinburgh, 26 Nov
Tonight at the Usher Hall, Sigrid proves to be about as good a gateway drug to the world of live music as it's possible to get
Just a couple of years into her short career and Sigrid, the precocious pint-sized Norwegian popstar, is already selling out venues as large as the Usher Hall.
It's an incredibly young crowd drawn in to see the 23-year-old, straining their way to the barrier and screaming delightedly along to Lizzo's Good as Hell as they wait for our star to come on stage. Seeing how many mums and dads have brought their kids along to see the show is also impressive in its own right. The singer is an excitable but assured presence onstage in sparkling silver trousers and a tied up T-shirt, hyping up the crowd for a punchy and energetic set packed with pop hits that whack into your brain like a sugar rush.
Across the first few songs alone she mixes fizzy 1989-era Taylor Swift pop songs with others that rely on explosive vocals reminiscent of Adele, like a Spotify playlist of the best of the decade come to life. The best one-two comes with the enormous synths of Sight of You and the supremely self-assured Sigrid manifesto Don't Kill My Vibe.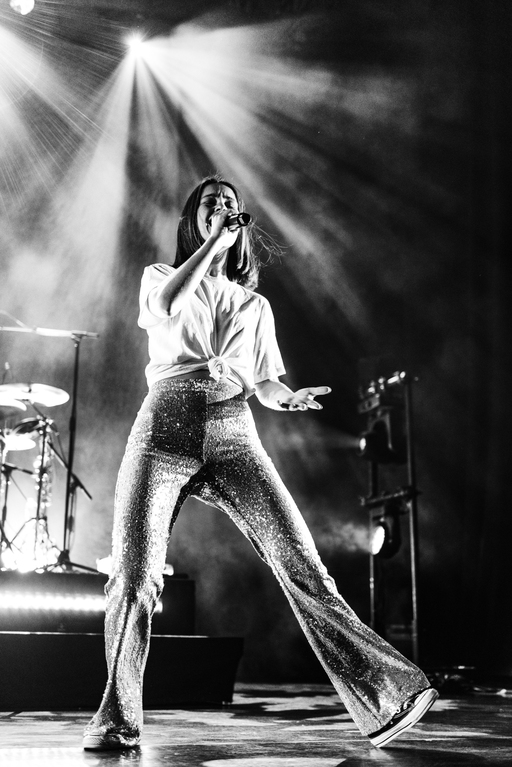 Smash hit Sucker Punch elicits screams and yells from the teen crowd, before the singer switches things up with solo piano versions of Dynamite and Home To You. They're not the most complex of creations but there's a winning and heartfelt simplicity that makes it easy to see what her fans find so appealing.
A rainbow backdrop offers a subtle affirmation and a bundle of colour but the rest of her stage production is pretty minimal; a montage of pencils and times tables risks laying her relative youth on rather thick but it's impossible not to be swept up in the good natured vibes.
By the time that the pounding Strangers and a roof-raising Don't Feel Like Crying fade away, it's clear that Sigrid is about as good a gateway drug to the world of live music as it's possible to get.
---
"I'm 22 and you're still figuring out stuff at that age, so it's strange that everything [I do] is on display if anyone wants to know" – read our interview with Sigrid from our Student Guide