Pictish Trail @ St Luke's, Glasgow, 17 Jan
Johnny Lynch and gang bring their swirling psych-rock to St Luke's, with superlative songwriting, plenty of dancing and a few surprises
Rozi Plain, who can often be found playing bass for This is the Kit, opens the night with a collection of warm, rousing songs from last year's fantastic What a Boost, the arrangements augmented live through a five-piece band, while still retaining their gentle intimacy.
Pictish Trail has moved far from the sparse folk(tronica) that established him more than ten years ago, and tonight's show demonstrates a full-fledged leap into psych-pop and rock, with sprinklings of sampledelica and melodic synth.
The opening third of the set is full-band, full-throated psych-rock, with The Beta Band and Clinic the most immediate influences (the latter possibly because of the matching boiler suits that the band wear). Swirling electronics, tambourines and wide-open choruses fill the packed St Luke's with tales that mix the absurd and the personal, Johnny Lynch keeping it light with banter about life on Eigg, Brexit and almost dying while driving around Wales with Josie Long and James Acaster.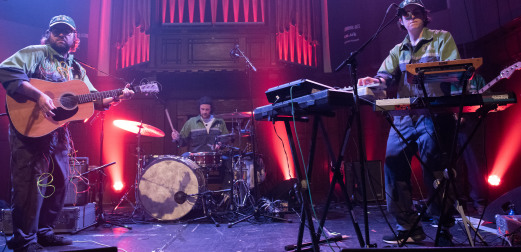 Image: Pictish Trail live at St Luke's, Glasgow, 17 Jan by Allan Lewis
There are a few stripped-down cuts with just Lynch and frequent collaborator, Suse Bear, but much of the main set showcases the forthcoming Pictish album, Thumb World ("directly inspired by Spice World"). Highlights include Pig Nice, Slow Memories and the main set-closing Turning Back, which gives Lynch a chance to show off the lights that dangle from his boiler suit. It's one of the danciest Pictish songs to date, taking a lot of inspiration from Hot Chip, and Lynch doesn't waste the opportunity to get in among the audience for a bit of square-dancing.
The encore brings the most unexpected delight of the night, as Romeo Taylor takes the stage for a rendition of his happy hardcore national anthem Kingdom of Scotland, which is met with either pogo-ing enthusiasm or wild confusion from both band and audience. Lynch is fully in the former camp, even contributing some backing vocals while Taylor gives it some bedroom kung-fu. The moment fades like a hallucination as the band end the night with the wonderful Brow Beaten.
The whole night shows a musician that's still at the peak of his songwriting skills, while still unafraid to experiment with new ideas; a true national treasure.
---
This show was part of the Celtic Connections festival which runs at various venues across Glasgow until 2 Feb