Caribou @ Edinburgh Park, EIF, 28 Aug
Perfectly curated between classics and new material, Caribou tilts towards breezy pop but truly excels with big beats
It was inevitable, much like his buddy Floating Points two weeks prior, that Caribou was going to be in a tricky spot in the Edinburgh Park dome. Although Caribou have become more like a traditional band of late (with live drums, guitar and bass tonight), the music here is undeniably danceable and electronic-focused. However, the spaced-out nature of the venue is actually a plus when it comes to those getting up and dancing; if you want to do so, there's plenty of room, and those who wish to remain seated aren't as pressured to get up as they would be in a tightly packed venue where the whole audience is forced to rise as one.
Like all of the material from last year's Suddenly, opener New Jade feels relatively wispy next to the muscular older songs. Not that it doesn't sound great, with Dan Snaith using his range well and the band forming a tight circle around his synths and samples. However, when it's followed by Odessa, things immediately shift a gear – the overarching blue lights are replaced with sinister reds, the bass drops and the tone is set for the night.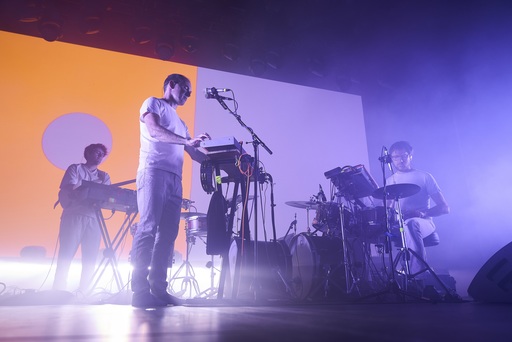 Image: Caribou @ Edinburgh Park, EIF, 28 Aug by Matt Beech
Things potter along nicely for a while; the restrained euphoria of Our Love and Ravi mixing nicely with more contemplative cuts like Lime and You and I. But then Sun arrives, with appropriately blinding lights, to demonstrate Snaith's essential skills when it comes to building suspense and letting it drop. The song is stretched well beyond its studio runtime to over ten minutes, with a lengthy krautrock interlude that seems purpose-built to showcase the excellent drums, nodding towards the harsh noise of power electronics before it eventually explodes into actual rave.
Regardless of whether it's hazy, chilled-out new ones or ebullient raved-up classics, Snaith is always master of his domain. He appears jaunty and nonchalant, frequently praising his crowd and generally having a great time, but there's a meticulousness to the show that shows nothing has been left to chance. When we spoke to Snaith last year, he mentioned going down YouTube holes in his search for sounds and samples. Tonight, thanks to the dizzying visuals, oscillating lights and unpredictable sonic turns, he's taking us with him – and it's a hell of a trip.