Anna Meredith @ Edinburgh Park, EIF, 20 Aug
Anna Meredith returns to the Edinburgh International Festival in triumphant style, celebrating her exceptional second studio album, FIBS
The Skinny last caught Anna Meredith live at Glasgow's Òran Mór in February 2020, just before the pandemic took hold and tour schedules were scrapped worldwide. That's why tonight's Edinburgh International Festival setlist mostly comprises of tracks from the effervescent and exuberant FIBS, but it's not that Meredith hasn't been busy during this forced period of downtime. This summer Londoners have been able to enjoy Bumps Per Minute, the composer's dodgem car sound installation at Somerset House.
Tonight's performance is one of Meredith's first since the return of live gigs earlier this summer, and watching her perform with her band – Maddie Cutter (cello), Tom Kelly (tuba), Jack Ross (electric guitar) and Sam Wilson (drums) – it's almost as if they've been locked up together for the past 18 months, perfecting their craft. Not a single string pluck, pad hit, brass blast or strum is out of place tonight, which is testament to just how talented Meredith and her crew are, tackling deft polyrhythms with aplomb.
Before they even hit the stage, the excitement in the gargantuan purpose-built EIF pavilion is palpable, and as soon as the lights dim and Meredith's name appears on the giant screen at the back of the stage, cheering and clapping fills the space as the band excitedly arriving on stage dressed in white and black outfits, like trendy convicts on day release. But between the hollering and applause, the crowd are pretty sombre, taking it all in tonight in adoration rather than down for rule-breaking.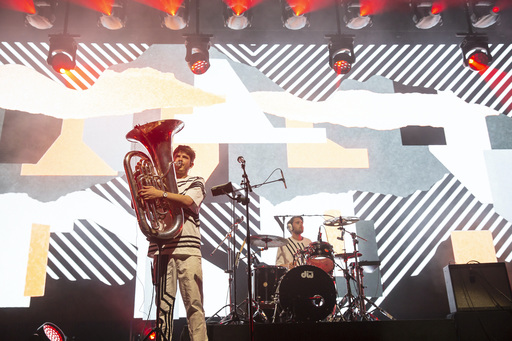 Sawbones, the opening track from 2019's FIBS fittingly starts proceedings, a complex and hefty 90s rave-tinged, psychedelic pounder of a composition that has Meredith jumping up and down and punching the air before too long, visibly delighted to be back doing what she loves. It's a nice touch, then, that the big screen behind the band is put to full use tonight as swirls of colourful abstract graphics are cut with real-time video of the band doing their thing, meaning even those right at the back of the sold-out tent can see their mastery at work.
Following Inhale Exhale, Meredith gives an enthusiastic "Hello!" to the crowd, commenting on how excited she is about tonight being sold out, joking that 50% of the crowd are her parents and their friends. "It feels like a PTA meeting," she guffaws before introducing Calion, and after back-to-back dance numbers, most in the room are foot-tapping, head bopping and having their own private bubble parties in ones, twos and fours.
After an energetic start and slower middle where cuts like Ribbons and moonmoons are given their time to shine, it's a non-stop party from Nautilus to the end with Something Helpful and the exemplary Paramour following, before which Meredith requests an "unhinged vibe" to help "sow the seeds for the filth," i.e. the outrageous encore that follows.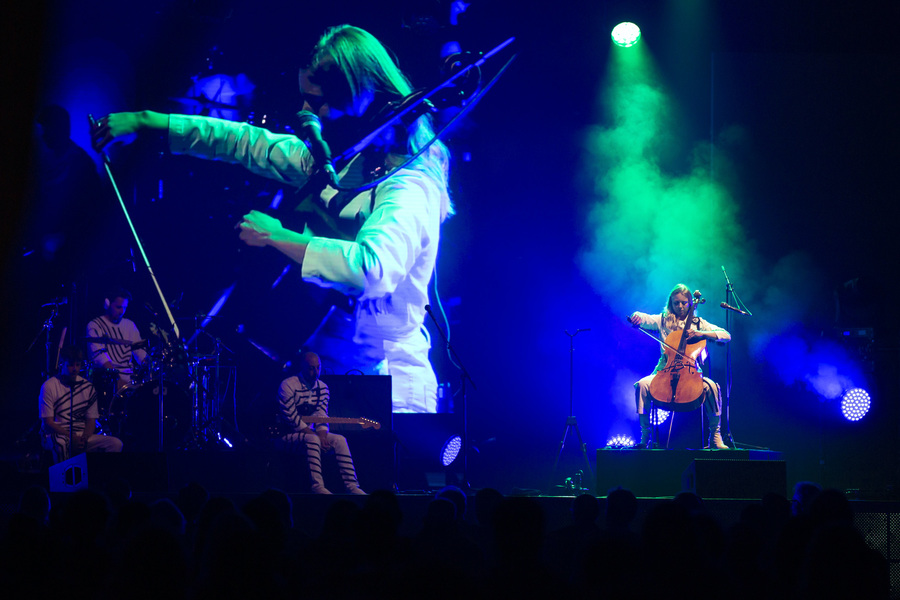 When she last played EIF in 2018, we were rapt by a cover of Metallica's Enter Sandman, but tonight it's a pop medley of epic proportions: Daniel Bedingfield's Gotta Get Thru This, Carly Rae Jepsen's Call Me Maybe, euro banger Ma Ya Hi and Abba's Lay All Your Love On Me, which sees Meredith and Cutter embodying Agnetha and Anna-Frid, dance routines, harmonies and all. It's one heck of a way to end a show, and proof that these talented individuals are as much about having fun as they are about musicianship.
While the medley isn't perhaps met as enthusiastically as the band had hoped, it is entertaining throughout and warrants a standing ovation at the end, perfectly capping off a night of pure joy that thankfully feels nothing like a PTA meeting.
---
annameredith.com
Photos by Jess Shurte / Edinburgh International Festival