Scottish Music Highlights: 7-12 Mar
An eclectic mix of gigs this week, from 47Soul's Arabic electro to intimate Frightened Rabbit shows, as well as the day-long Lake of Stars festival and the family-friendly Major Minor Music Club
Gigs in Edinburgh this week
Aino Elina EP Launch @ Sneaky Pete's, 7 Mar
Edinburgh-based Aino Elina released her debut single Vankina last April followed by Rukous, with its beautiful collaborative music video that we premiered in November. Aino Elina, originally from Lapland in Finland, is now ready with her unique brand of ethereal electro-pop, releasing her debut EP Unissa today with a live launch party at Sneaky's. In a bid to reduce plastic waste, instead of a CD you can buy Unissa as a digital download on a 100% organic cotton, Fair Wear, climate-neutral T-shirt. Yes!
SHHE @ Summerhall Scratch, 9 Mar
Since retiring her Panda Su project at the beginning of the year, Dundee-based musician Su Shaw made her debut performance under her new musical moniker SHHE at Neu! Reekie!'s Burns Eruption night at the end of January. SHHE returns to Summerhall on Friday night as part of two-night multi-arts event Scratch to perform a new piece of music, entitled Dýrafjörður, which she created during a recent residency in Iceland.
Martha Ffion @ Sneaky Pete's, 9 Mar
Glasgow-based, Irish singer-songwriter Martha Ffion, full name Claire Martha Ffion McKay, is set to release her new album Sunday Best on Friday, recorded with her full live band by Jamie Savage at Glasgow's Chem 19 Studio. To celebrate, she'll be playing at Sneaky's on the night of the release and again at Mono in Glasgow the next day.
47Soul Album Launch @ The Mash House, 9 Mar
47Soul is an electro Arabic dabke group, who formed in Amman, Jordan in 2013. They've created their own sound, and although reminiscent of dabke King Omar Souleyman, it's still very much their own, self-dubbed as 'shamstep'. The band will celebrate the launch of their debut album Balfron Promise, on the first stop of their UK and European tour, at The Mash House on Friday, with an afterparty hosted by Samedia Shebeen.
Fuzzystar / Life Model @ Leith Depot, 9 Mar
Edinburgh-based singer-songwriter Andy Thomson, aka Fuzzystar, released his Telegraphing album at the end of April last year, full of jangly guitar pop and rich lyrical storytelling. Support tonight comes from Glasgow dream-pop four-piece Life Model.
Pianodrome presents Alabaster dePlume & Ed Dowie @ Leith Theatre, 9 Mar
In collaboration with Lost Map, Pianodrome bring experimental musician Alabaster dePlume and odd-pop artist Ed Dowie to Leith Theatre, with support from improvisational trio SiNK and visual sculpture from artist Mettje Hunneman. Profits from the event will go towards funding to build a Pianodrome in the Royal Botanic Garden – a first of its kind performance space, bringing art, music, science, movement and creativity under one roof.
L-space @ Sneaky Pete's, 11 Mar
A holy trinity of electro-pop hits Sneaky's on Sunday night, as Scottish electronic dream-pop four-piece L-space celebrate the release of their first single Suneaters on Last Night From Glasgow. Joining them will be Glasgow synth-pop duo Pocket Knife and Dundee ambient electronic duo Beta Waves.
Susanne Sundfør @ Assembly Rooms, 11 Mar
Fresh from releasing fifth studio album Music for People in Trouble, her first on Bella Union, Norwegian singer-songwriter Susanne Sundfør is set to play the beautiful surrounds of Edinburgh's Assembly Rooms tonight. Sundfør's voice is absolutely stunning so this is guaranteed to be one of the most goosebump-inducing nights of the month and one you'll be kicking yourself months down the line if you miss. You have been warned.

Frightened Rabbit @ The Liquid Room, 12 Mar
Believe it or not, it's been ten years since Frightened Rabbit released their seminal album The Midnight Organ Fight, and they're not letting the monumental anniversary pass without a big ol' celebration. Frabbit will play the album in full at two intimate Scottish gigs, in Edinburgh at The Liquid Room tonight and at Glasgow's O2 Academy on 17 March. Both gigs are sold out, obviously, but the band have set up a hashtag on Twitter – #FRticketswap – for fans who are still looking for tickets or swaps for different dates.
---
Event of the Week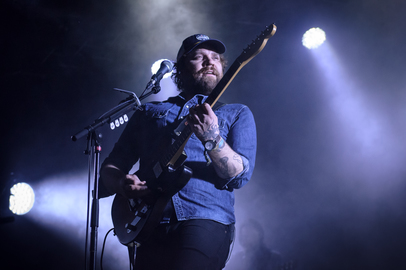 [Frightened Rabbit by Ian Schofield]
Lake of Stars @ The Art School, Glasgow, 11 Mar
One of Africa's leading music and arts festivals, Lake of Stars will celebrate its 15th anniversary this year, with festivals and events taking place in Malawi, London and Glasgow. The Glasgow instalment takes place today at The Art School from 11am until 2am, with free daytime activities and a ticketed evening event featuring live performances from Frightened Rabbit's Scott Hutchison, Ghanaian hip-hop artist M.anifest, Malawi singer-songwriter Faith Mussa, Neu! Reekie!'s Michael Pedersen and DJ Auntie Flo.
---
Gigs in Glasgow this week
Repeater #40: Wendell Borton/Sulka @ Bloc+, 7 Mar
Glasgow-based fuzz-pop three-piece Wendell Borton play the latest round of Repeater, with Glasgow bedroom pop artist Sulka supporting.

Everything Everything @ Barrowlands, 8 Mar
On their latest album A Fever Dream, Manchester quartet Everything Everything explore the insane political landscape they predicted on their previous record, 2015's Get to Heaven, amidst their usual experimental antics. Prepare your ears for the high-pitched vocals of frontman Jonathan Higgs. Oh, and get their early for a wonderful support slot from Pumarosa.
Superorganism @ CCA, 11 Mar
Eight-piece, multi-national oddball collective Superorganism have had a cloud of hype following them around since they released their debut single Something For Your M.I.N.D. back in January last year. They're about to spend the most time they ever have all together as they embark on a UK tour off the back of the release of their much-anticipated eponymous debut album, so let's just say things could get interesting.
Major Minor Music Club @ SWG3, 11 Mar
One for all the family here, with a gig suitable for both adults and children. Frightened Rabbit's Scott Hutchison, poet Hollie McNish, Withered Hand and Neu! Reekie!'s Michael Pederson will all perform at the daytime event.