Gigs in Glasgow and Edinburgh: 27 Nov-3 Dec
Young Fathers, Malcolm Middleton, Hinds, The Vaselines and Years & Years all play the central belt this week while Book Yer Ane Fest celebrates ten years of DIY solidarity in Dundee
Gigs in Edinburgh this week
Self Esteem @ Sneaky Pete's, 27 Nov
Self Esteem is the new solo project from Slow Club's Rebecca Taylor, and so far everything we've heard we've loved. It's a real pop delight, and all of the dance moves we've witnessed so far in her music videos are bloody great, so if you need some cheering up on a cold Tuesday night, this should do the trick.
Malcolm Middleton @ The Caves, 27 Nov
Celebrating the release of his latest album Bananas via the Triassic Tusk label, one half of Arab Strap, Malcolm Middleton plays tonight at The Caves.
Hinds @ The Caves, 28 Nov
It's been just over a year since these four lovely ladies from Madrid last graced us with their wondrous presence in Edinburgh so we're thrilled to have them back so soon, and this time in the vaulted surrounds of The Caves, one of the city's most atmospheric venues. Their sophomore album, I Don't Run, was released back in April and offers more of the same sunny garage rock we've come to expect from Hinds. It's so close to December we can practically smell Christmas, so tonight's show is the perfect antidote; ideal for warming a cold November eve.

Kaputt @ Leith Depot, 28 Nov
Glasgow's Kaputt, featuring members of Breakfast Muff, are responsible for releasing one of our favourite songs in recent weeks with the super catchy Highlight. You could say it's been a real highlight. Yes, we went there. The five-piece play Leith Depot tonight with support from Buffet Lunch. Happy hump day!
Drahla @ Sneaky Pete's, 28 Nov
Leeds-based trio Drahla make their Edinburgh debut with a stop on their brief nine-date UK tour at Sneaky's. The band have already played in Glasgow twice this year – the first in a support slot for Canadian post-punks Ought at Stereo and the second on their own headline tour at Broadcast – but tonight they make a welcome visit to the capital, with support from Sleep Eaters.
Inyal @ Sneaky Pete's, 1 Dec
Inyal meld the worlds of traditional Scottish music with that of electronica, so get down to Sneaky's tonight for what is set to be a unique night of music.
Lord Forgive Me For My Synths @ The Safari Lounge, 1 Dec
This has got to be one of the most ambitious nights we've heard about in a long time. Tonight, Tonic Note Records are hosting the excellently named Lord Forgive Me For My Synths at The Safari Lounge which will feature live sets from Super Inuit, L-space, RAZA, Camshackle, Memorex Memories and Hostel Freaks. The label are using the night to launch their first release, a cassette compilation entitled Blame it On the Bucky. Another excellent pun! On the night you can also enter a raffle to win a copy of the cassette alongside a bottle of bucky and an exclusive Tonic Note T-shirt. Top night all round we say!

Pentagram (Decagram is Five) @ Skylight, 1 Dec
Dear Edinburgh pals, here's some excellent news. A very cool space called Skylight popped up at the Old Tolbooth Market just off the Royal Mile during the Edinburgh Fringe this year, and now it's ruddy well back as a permanent venue, cafe, bar and creative workspace. Fucking yaaass! To mark its relaunch and to coincide with Decagram's fifth birthday, head to the aptly-titled Pentagram tonight for sets from Numbers are Futile (who are also back!), Pleasure Pool, Heavy Pelvis and more. Tis the season to be jolly, fa la la la la, la la la la. Too soon?

Post-Book Yer Ane Fest XII @ Leith Depot, 3 Dec
Following on from Book Yer Ane Fest XII in Dundee at the weekend, head along to the post-BYAF party in the capital's Leith Depot on Monday for music from Dream Nails, Paper Rifles, Fistymuffs and Tim Holehouse.
---
Scottish Event of the Week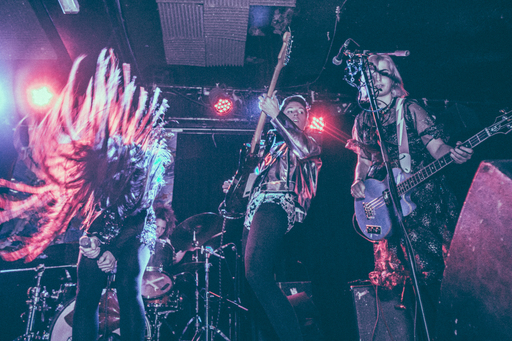 Image: Dream Nails by Ant Adams
Book Yer Ane Fest XII @ Abertay Student Centre, Dundee, 30 Nov-2 Dec
Dundee record label and promoters Make-That-A-Take Records are back with Book Yer Ane Fest XII, celebrating ten years of DIY solidarity at Dundee's Abertay Student Centre this weekend with a massive array of bands playing over the course of the weekend. London punk witches Dream Nails (pictured), who we spoke to earlier in the month, are set to bring their rolicking live show to the city alongside The Twistettes, Paper Rifles, Lou Mclean, Bratakus, Boak, Billy Liar, Fistymuffs and more!
---
Gigs in Glasgow this week
Love Sick @ The Poetry Club, 27 Nov
Following on from the release of their debut EP NO SLEEP, Glasgow electro-pop duo LOVE SICK play The Poetry Club tonight with HYYTS and Baby Taylah on warm up duty.
Sundown Song Nights @ The Glad Cafe, 27 Nov
Sundown Song Nights is a brand new gig series, taking place in Glasgow's Southside, which hopes to explore the broadness of folk, from traditional ballads to indie songwriters. Launching tonight at The Glad Cafe, you can catch sets from Adam Ross (Randolph's Leap) and Claire Hastings.
Years & Years @ SSE Hydro, 28 Nov
London synth-pop band Years & Years released their second album, Palo Santo, back in July and tonight they play what we reckon will be their biggest Scottish headline show to date at the SSE Hydro. Get your dancing shoes ready!
Pardans @ Nice 'n' Sleazy, 28 Nov
Thanks to the lovely chaps at Freakender, Copenhagen jazz-punks Pardans touch down at Nice 'n' Sleazy tonight. Part of the famous Mayhem collective which includes the likes of Iceage, Pardans are big time worth taking a chance on.
Pocket Knife @ The Arlington Bar, Woodlands Road, 29 Nov
Promoters Off the Bat are back this month, tonight in fact, with another free night of live music where synth-pop duo Pocket Knife will be joined by Moonsoup and Jason Riddell at The Arlington Bar from 8pm.
---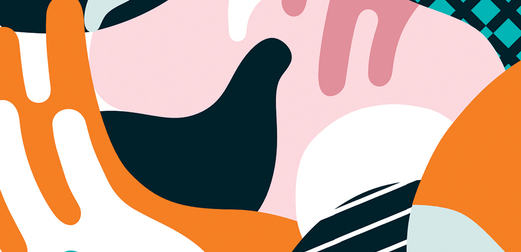 Want to receive the best of the Scottish cultural scene in your inbox every week? Sign up to our mailing list!
---
Pre-Book Yer Ane Fest XII @ Bloc+, 29 Nov
Head along to Glasgow's Bloc+ tonight ahead of the main event in Dundee this weekend (see above) for live music from Canadian Rifle, Mean Caesar, Question the Mark and Tragical History Tour.
GIOfest XI @ CCA, 29 Nov-1 Dec
Glasgow Improvisers Orchestra's annual international celebration of, well, improvisation is taking place this weekend at CCA, so if you fancy something musical that's a bit different then this could very well be the perfect weekend festival for you.
Young Fathers @ O2 Academy, 30 Nov
It's been a massive year for Young Fathers. Since releasing their incredible third album, Cocoa Sugar, in March, they've appeared on Later… with Jools Holland, won the Scottish Album of the Year award, and even had time to release a new single, also called Cocoa Sugar, at the end of October. They're seeing out the year with a brief run of UK dates including this one tonight. Do everything in your power to get a ticket, you won't regret it!
Modern Studies @ The Glad Cafe, 30 Nov
Having played Edinburgh last week, the Yorskhire-by-way-of-Glasgow band play The Glad Cafe tonight for what will likely be their final show of the year. Support tonight comes from Broken Chanter, the new solo project of Kid Canaveral's David MacGregor, which, by the way, is really rather good!
The Vaselines @ The Great Eastern, 30 Nov
Kurt Cobain faves Eugene Kelly and Francis McKee, aka The Vaselines, play The Great Eastern tonight with support from Happy Spendy. A top way to round off a big month of gigs!