An Anxious Energy: Sweaty Palms interviewed
Sweaty Palms are an energetic four-piece garage rock band from the Southside of Glasgow who admit their music is inspired by drug-fuelled anxiety. They open up on fighting sexism, hating conservative bands and channeling negative energy
It was the week before last Christmas when Sweaty Palms announced themselves to the Glasgow music scene in shambolic style while playing the Green Door studio's eighth birthday party. It's the kind of gig unsigned acts are desperate to play, given the esteem in which its organisers are held. The type of event where most groups are on their best behaviour. "It was an honour to be asked to play and we were really up for it – but it turned into a bit of a disaster," reflects guitar player Ronan Fay with an air of nonchalance. "I spilt booze on my amp and it stopped working about mid-way through..."  
"You had a bitch fit," grins vocalist and fellow guitar player Robbie Houston.
"I took Robbie's guitar and we carried on – but we got told it was our last song," continues Ronan. "So we wanted to go out with a bang. Robbie was stood singing on the drumkit, and I might have encouraged him to come off it. But it couldn't have happened in a more uncouth way; the symbols toppled over, the kick drum went on its head, Robbie landed on our drummer... and the sound engineer battered through the crowd and tried to square up to Robbie. I cowered behind my broken amp and got off scot-free."
"A lot of people came up and shook our hands afterwards. I think they just wanted to see a bit of drama," adds Robbie.
It's good to get out: Touring and recording
This unintended piece of performance art could prove to be the making of Sweaty Palms. Post-gig, they were introduced to Dale Barclay, former frontman of The Amazing Snakeheads, and Gerry Blythe, one of the best-connected promoters in the city. The duo were suitably impressed with the Sweats and eager to work with them in the future. The end result was that Blythe arranged for the band to release their first 7" single last month – a 'double B-side' featuring Love Me and Pretty Poor For A Posh Boy, two songs they taped at Green Door. Meanwhile, Barclay invited them to support his new band, And Yet It Moves, on a short UK summer tour.
"We were going to record regardless," Ronan insists, "but Gerry offered to help us. It's through his management we now have something to promote. That's why we played at T in the Park and are booked for Electric Fields. We're trying to get the word out. The more gigs you play in Glasgow, the smaller the city becomes. So it's good to get out."
An unusually humid evening in late July is an appropriate time to meet a band named after uncontrolled perspiration. The Skinny has been invited to a vast industrial estate in the southwest of Glasgow to meet Sweaty Palms. The four-piece rent a tiny shed at the rear of an office block as a permanent rehearsal space and general headquarters. A few chairs are squeezed between amplifiers, a Keith Moon-sized drum kit ("It's not ours, it belongs to And Yet It Moves") and various paraphernalia – including a Rolf Harris cartoon pinned to the wall, which the band swear is an original. Empty Buckfast bottles double as candle holders; an alternate career as interior designers surely beckons.
We're here to look back at what has been an action-packed six months for the band. Ronan and bass player Shaun Montgomery hail from Knightswood and have known each other since school. Shaun met Robbie, from Kinning Park, 'through a friend of a friend' and the pair were jamming together by 2014. Ronan came on board soon after and the proto-Sweats went through a series of drummers before meeting present sticksman Tom.
"We all came together with a mutual interest in inciting anger, fear and any other complex emotions in a nation of empty vessels, staring into an endless void on their iPhones," states Ronan, who just laughs when asked if he's prepared any of his answers.
(Continues below)
---
---
Sweaty Palms play a frantic, thrilling brand of garage rock laced with acerbic commentary. Glasgow's Fuzzkill Records gave them a helping hand last October by releasing Hollywood Wax, a cassette-only EP which offered a beguiling snapshot of a band clearly bursting with ideas. Its stand-out track, Captain of the Rugby Team, a howl of rage against sexism and alpha-lad culture – more of which later.
Introductions complete, let's talk about that name. "It's probably because we're all very anxious people. I've got sweaty palms right now," confides Robbie. "I wrote a song called Sweaty Palms, but we were known as The Sweats first. We were in between the two names until last week or something, until we were forced to choose."
"Promoters were getting pissed off because they thought they were booking two separate bands, and that was getting us extra gigs," adds Ronan. "Most of our songs, at the start, were to do with drug-fuelled anxiety. So the name kind of fitted the bill then. But I'm not worried at all – as has been put to me – about the name 'not fitting the sound' five years from now. I like the ambiguity of it. The band is still ambiguous. It's nice to be playing shows where you're not expecting us four to do the same thing, every time."
Against the alpha-male
A Sweaty Palms song starts when Ronan hands a list of possible song titles to Robbie, who writes lyrics to fit. The group will then jam for as long as neccessary to create a suitable musical template. "The most lyrics I ever write is when I'm on a comedown," Robbie admits. "When it's a lose-lose situation and I feel like shit. But you get something positive from it." Ronan agrees. "You do seem most productive when things are on a downward spiral. But it's channeling negative energy, and that fits under the bill of the Sweaty Palms thing."
So what about the songs? Captain of the Rugby Team opens with a defiant: 'I can't stress enough, how much I want to be a man' – but don't get the wrong idea; this is not a lads' call to arms. "It's more a feminist song, against the alpha-male," insists Robbie. "Especially in Glasgow. Look at places like [city centre nightclub favoured by footballers] Sugarcube, and all the rest of it. It's too much. You can't walk up Sauchiehall Street without some idiot trying to fight you for having long hair."
Robbie describes "almost being bottled" at T in the Park several years ago after walking through the festival while wearing a skirt. "I don't know what I was thinking. I was by myself and was walking to meet my girlfriend. I wasn't trying to be provocative. We think we have it bad, but what women have to put up with is atrocious. You see videos of people shouting abuse with thousands of likes." Ronan picks up the theme. "The whole culture of 'as long as I have mine' encourages it. 'As long as I have my fun at the expense of everyone else.' It's the nature of the internet. You can justify your prejudices."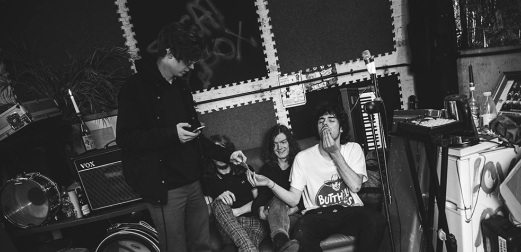 Sweaty Palms, photo: Ryan Johnston
A discussion follows on the impact of the internet on both songwriting and even the names of bands. Halfrican, a Glasgow-based fuzz-rock trio, last month announced they would change their name of four years after discovering it was considered derogatory by some. "But that's the climate," offers Ronan. "They're not shitty people, they're not trying to offend. It's like Viet Cong [the Canadian post-punkers now called Preoccupations, who you'll find elsewhere this issue] – the problem wasn't their name, it was the fact four privileged white men had taken it on."
Not that Sweaty Palms are against the internet or the destruction it has wreaked on the traditional music industry. Ronan admits there are other Glasgow bands – he won't name names – "whose noses have been put out of joint" over the Sweats' attitude towards what some still describe as 'playing the game.' "I find it preposterous when people say, 'I want to sign a major record deal,'" he says. "It's not going to allow you to make the music you want to make. I think it's more important than ever that people should be making honest, challenging music. I'm not saying what we're doing is super-progressive, but at least we're trying to be original. I think the music industry is the best it's ever been – you can find the strangest music you want. Which is why I have a problem with certain bands who are making extremely conservative music."
Following their appearance at Electric Fields, the Sweats will regroup and plan their next move. They are very keen to record an album. But they'll only do it on their terms. "We could make a record tomorrow," adds Ronan. "But we want to make it well. That takes time. If that takes gigging and saving, it will happen eventually."
---
Sweaty Palms play Electric Fields festival, Drumlanrig Castle, on 26 Aug