Supersonic Youth: Hairband on their debut EP and Green Door Studios
We catch up with Glasgow supergroup Hairband following the release of their self-titled debut EP and a pretty successful year
Hairband aren't your typical supergroup. Featuring members of Glasgow bands Spinning Coin, Breakfast Muff, Lush Purr and Kaputt, the five-piece are all regulars on the city's DIY music scene, but not all of them had actually played music before the band's formation.
Hairband grew out of a conversation between bassist Sephi Lock, who had never played in a band before, and drummer Emma Smith, one quarter of fuzz-pop group Lush Purr, about their desire to start a band together and to collaborate with other women. Once the plan was in motion, the pair quickly roped in the band's remaining members: Rowan Wright, Rachel Taylor (Spinning Coin/Rocky Lorelei) and Simone Wilson (Breakfast Muff/Kaputt), to join them.
"I felt so lucky because I had just moved to Glasgow and I met Sephi through friends. It was maybe the third time I had met her at a gig… she invited me to come and I felt really shy about it because I hadn't really collaborated with a number of other women at once before," says Taylor. "I wanted to be in a band that was a lot more chilled out, because my other bands are quite chaotic... just being with all women I guess, it does really chill you out," adds Wilson. Wright continues: "We're all quite, I think, in touch with each other and it makes it so nice; it's more than just playing music." 
Despite not all knowing each other initially, the band quickly formed a close bond and their musical chemistry was almost instant. Each contributing to the songwriting process, every Hairband song is a strictly collaborative affair, with sessions largely taking place in their practice space in Bridgeton. "When we try to write a song together, it just kind of happens on its own and I've never experienced that in any other context with people; it's just the songs kind of write themselves," says Taylor.
"As a band, we're just so excited to play together that we're not really very uptight about any elements of the music, like perfecting things, we just enjoy it genuinely," continues Taylor. "What's nice about Hairband is there's a lot of freedom to tweak something," adds Lock. "It means that you're not stuck in a strain… and then there's not pressure to perfect a song straight away."
On their self-titled debut EP, Hairband's enthusiasm is evident. There's a playfulness spread across the EP and it's hugely infectious, in the jam-style riff-offs on Bubble Sword and the slick vocal harmonies on Sassy Moon. Taylor's sweet, endearing vocals on Flying add an extra dose of youthful energy, and you'll struggle not to get swept away by it. Released by Glasgow's Monorail Music last month on vinyl, the band brought even more friends along for the ride when it came to putting the EP together, with their friend Audrey Bizouerne photographing them for the artwork.
"[Monorail] just kind of approached us and it's only like their second release ever, so it was nice for them to kind of take a chance on the music, and they gave us full rein on artwork and all of that, which was really special," says Lock. Wilson continues: "And to have creative control. This is the first band where I've had complete creative control over every single aspect and Mono just let us do that."
Recorded in Glasgow's coveted Green Door Studios, the band were able to land free recording time, as a result of Wright's participation in one of the studio's Sonic Youths courses – a free 12-week music production workshop series for young musicians, aged 16-25, not in employment, education or training. At the end of the course, participants are given a full day recording session and a half day mixing session; Wright chose to use her allotted recording time with Hairband to record their debut EP.
"Without those courses this EP probably wouldn't have happened, or at least not for a substantial length of time after it has… So many bands in Glasgow have flourished from Green Door courses," says Wright. Smith adds: "They kind of encourage young people to start bands. That's basically the whole thing, just like to encourage them to blossom."
The course is just one of many the studio runs, which have assisted in the rise of bands such as Free Love and Golden Teacher, among many others, attempting to engage and support young musicians in and around Glasgow. Their Supergroups scheme, open to unsigned bands and musicians aged 16-25, gives each band five days in the studio to rehearse, record and mix a four to five song EP, while their Electronic Music Club, open to young people aged 12-25, takes place twice a week, providing introductory workshops on making electronic music.
But much of Hairband's success can also be indebted to the openness of Glasgow's DIY music scene, without which many of them probably wouldn't have even met. "Just the whole music community kind of serves as a stepping stone, because you just get to meet so many nice people and everyone's so enthusiastic," says Lock. "Across genres, the DIY scene is really important… When we started out, we kind of got offered shows before people even knew what we sounded like. I think we only had four songs at our first show," says Wright.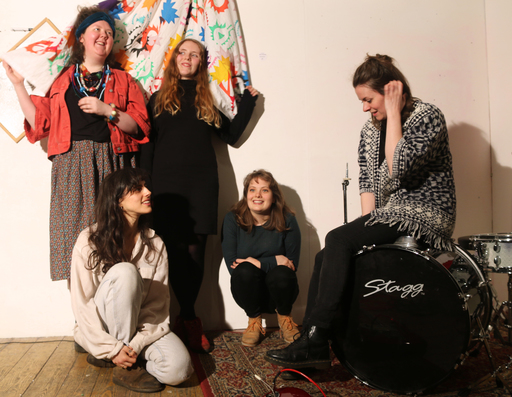 [Hairband by Alice Smith]
That first show was at Glasgow's The Old Hairdressers for annual festival Freakender – the brainchild of Ian Crawford of El Rancho, Holly Calder of Eyes Wide Open and Ross Keppie of Fuzzkill Records. With only a handful of songs to their name at that point, Keppie invited the group to play at Freakender 2017, and allowed them to play an almost unheard of four-song set. But juggling so many different bands is no easy feat for Hairband, and trying to arrange time together can prove to be a struggle when you're attempting to fit in with the schedules of more than five different bands.
"It's just really annoying," says Smith. "I think we're all pretty respectful of each other's schedules and we try and be patient with each other, but yeah, it's quite a challenge." Wilson continues: "It means we have to say no a lot and that's the only thing, that each band has to say no a lot to other things… it's frustrating, there's no other way to put it. It's just frustrating, but we make it work."
While they try and manage this delicate balancing act, finding time to work on new material and schedule touring plans with Hairband is near impossible. Not ones to give up on a good thing though, the band are always trying to make things work. "I think at the moment the album's probably slightly more likely to happen before [a tour] I guess, because we have the material and we can do that in Glasgow," says Wright. "I think especially because it's been a year and a half since we recorded the EP, it would be really nice to go in and do that again... but I don't know if it's something that will come out any time soon."
In the space of just over a year, Hairband have gone from cosy four-song sets at The Old Hairdressers to performances at the Scottish Album of the Year Award ceremony in September to a massive support slot for Sleaford Mods at the Barrowlands just last month. Climbing heights at such a rapid pace, who knows how much further the band will continue to stretch.
---
Hairband is out now via Monorail Records
facebook.com/hairbanddd