Spotlight On... Kapil Seshasayee
We catch up with Kapil Seshasayee to discuss the evolution of his sound in recent years, and we premiere a live version of new single, Rupture of the Wheel
Ahead of Kapil Seshasayee's appearance on our Skinny-curated stage at Kelburn Garden Party this Saturday (2 July), we are delighted to give you a taster of what you can expect from this incredible talent in a live setting. Filmed at Edinburgh's Chamber Studio, in the above YouTube player (click here if it's not displaying correctly) you can enjoy an exclusive first watch of Seshasayee and his band, featuring two drummers (!!), as they play a live version of latest single Rupture of the Wheel.
We catch up with Seshasayee to discuss the evolution of his sound in recent years and we find out more about the shocking story behind the new single.
The Skinny: It's been really exciting to hear your music evolve over the past few years – what has drawn you to this more electronic sound we've heard in your past few singles?
Kapil Seshasayee: I've been into Hyperpop/PC Music artists like SOPHIE and Arca for a long time and this is me finally bringing that influence to the forefront. This song [Rupture of the Wheel] is a massive departure for me in many ways with my first use of Auto-Tune and lyrics in a language other than English; the guest rapped verse is in Urdu courtesy of Pakistani rap heroes Daranti Group.
Despite your sound evolving over the past few years, a clear message is always placed front and centre in your music. Can you tell us more about the shocking story behind your latest single, Rupture of the Wheel?
Rupture of The Wheel revolves around the true story of a [wheelchair-bound] man in an Indian cinema being assaulted for not "standing up" for the national anthem in 2016 – for decades until very recently, the national anthem was played before Bollywood films to drum up nationalist pride but one could argue that it's gone too far with incidents like this. The single explores how nationalist movements are often less inclusive than they claim to be – is loving your country enough to belong? Apparently not.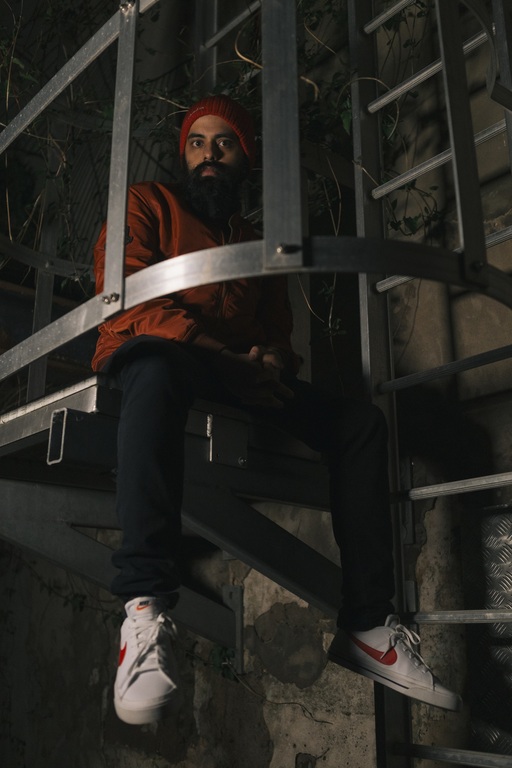 Image: Kapil Seshasayee by Sean Patrick Campbell
You already have an official music video out for the single. Can you tell us more about how this live video came about?
I've been mates with Graeme [Young] from Chamber Studio for a while and I've promoted bands Niall [Sinclair, who engineered and mixed the video] played in (Urvanovic, Damn Teeth) for many years – it's nice being part of such a tight wee community. They approached us about doing a live session a while back and it was nice to perform the new single in its live iteration with both my drummers. While the song is very electronic on record it's an entirely different beast on stage – our live shows are starting to build a real reputation and this song's a great example of how we like to reinterpret the songs in ways which aren't typical of R'n'B and Hyperpop.
The single will feature on your forthcoming new album, which we can't wait to hear. Can you tell us more about what we can expect from the new record?
The new single has found a home at last and [the record] will definitely be out late this year. Expect another single in the next few weeks and another before the record drops in full!
Outwith the current single and forthcoming record, what does the rest of 2022 have in store for you?
This is the most freelancing I've ever done as a musician. Beyond my solo shows at the moment I'm sessioning for composers such as Arun Ghosh – we headlined Glasgow Mela last weekend with songs from his new album – and working on a film soundtrack with Willie Campbell from the band Astrid under our new project The Dalmar Chorus.
---
Rupture the Wheel is out now; Kapil Seshasayee plays Kelburn Garden Party, Kelburn Castle, nr. Largs, 2 Jul

desifuturism.com/kapil